Let Cafe La Vie cook your Hanukkah meal
Published November 14, 2021
Hanukkah is a holiday bursting with meaning, ideas that we can apply to our daily lives. We eat traditional foods fried in oil at our Hanukkah meal to remind us of the miracles and bravery of our forefathers. Admittedly, preparing an entire holiday meal for friends and family takes work, and if you're not in the mood this year, you have a new option.
Café la Vie, the restaurant inside the Le Meridien St. Louis Clayton, is offering "Hanukkah Sameach!" to help celebrate the first night of Hanukkah at home with an elevated, traditional Hanukkah take and bake meal.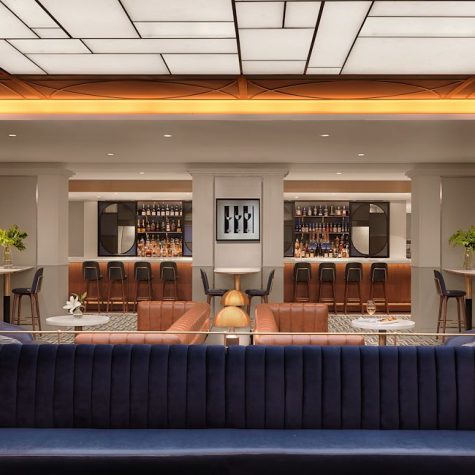 "I believe there are many ways you can go about a classic Hanukkah meal," said Chef Michael Frank, Executive Chef of Le Meridien St. Louis Clayton. 'However, tradition to me always has the same items that stand out: Matzo ball soup, brisket, latkes and Sufganiyot. All these dishes are warm, comforting and remind me of dining with family during the holidays. When creating this meal, I wanted our guests to enjoy it as a classic, comforting dish."
For his starter, Frank's Matzah Ball Soup starts with a good chicken broth. He roasts his own chicken bones slowly in the oven and then deglazes the pan to make sure you get all those delicious little bits. Frank says the key is to simmer low and slow. "I like to add a little club soda to the mix for the Matzah Balls. It helps to make a lighter and more tender Matzah Ball. And I also add a bit of Schmaltz," said Frank.
Like Matzah Ball Soup, there are many takes on Sufganiyot. For this dish, Frank partnered with La Bonne Bouchee, on creating a decadent and delicious Sufganiyot.
Like for most of us, Frank agrees, brisket is of serious business. "I prefer to use a traditional braising method for my brisket. First, I brown it in a pan, but it can also be done with the oven's broil setting. I then combine aromatics such as carrot, onion, celery, tomato paste, red wine, and veal stock or a high-quality beef broth. I boil the broth and add the brisket to a baking dish. Next, the liquid is poured over the brisket before being covered and cooked at 275. This is melt-in-your-mouth delicious and is sure to be a hit for your holiday!"
Orders for the Hanukkah Take + Bake ($140 for 4 people) can be made through OpenTable and must be placed by Saturday, November 20. You can pick up your feast the day before the first night of Hanukkah on Saturday, November 27 between 12-10 p.m.