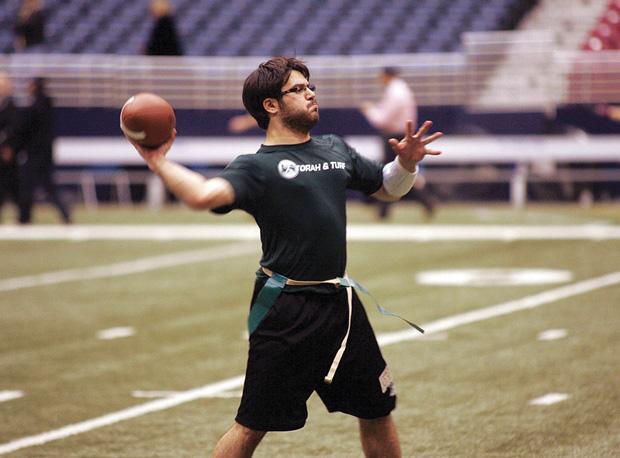 Twelve Jewish programs for children, teens and young adults have been awarded $65,000 in grants from the Kranzberg Family Foundation, a supporting organization of Jewish Federation of St. Louis. This is the seventh year the family has made grants to Next Gen programs. Since its inception, the Foundation has donated more than $360,000 to projects that benefit the St. Louis Jewish community. 
"It is wonderful to see how many amazing programs we have in our city to engage the next generation," says Mary Ann Srenco, president of the foundation that was started by her father, Ken Kranzberg. "I am just so happy that our foundation can make a difference."
Three of the 12 programs receiving grants this year are new recipients. The nine that have received funding before include St. Louis Kollel's Torah & Turf. The program, which combines scriptural study and flag football, has benefited in many ways from the grants.
"The Kranzberg Family Foundation's grant has had a bigger impact than it probably realizes," says Rabbi Shlomo Soroka, executive director of St. Louis Kollel. 
"The Kranzbergs believed in us and not only helped save Torah & Turf, but paved the way for others to take notice and lend their support. The investment they made encouraged others to follow suit."
Rabbi Mike Rovinsky of Jewish Student Union (JSU) is also appreciative of what the grants have meant to his organization. 
"Thanks to the continued support of the Kranzberg Family Foundation, JSU is able to continue both the qualitative and quantitative expansion of our clubs as well as the relationships JSU staff members have with the JSUers, which is so important in inspiring the next generation of our people with a passion for their Jewish identity and their connection to Israel," he says.
The 2014 Kranzberg grant recipients are: 
• Bais Abraham Congregation — Funding will create Mishkan, a mobile, dynamic and engaging program that will connect young adults in their 20s and 30s to one another, to the broader Jewish community and to their Jewish roots.
• Covenant House/CHAI — Funding will start a Tablet Tutor program by building a computer tablet lab at Covenant House to engage young people of bar/bat mitzvah through high school age with a hands-on opportunity to engage with and teach older adults within the Jewish community.
• Hillel, Mizzou — Funding will help revitalize Tikkun Olam and Jewish Learning (Limud) programming offered to undergraduate and graduate students at Mizzou Hillel.
• Nishmah — Funding will support the Banot Buddies program, which engages girls 8 to 12 years old and teenage girls in programming that encompasses Jewish values and fosters leadership building, mentoring and relationship building.
• Jewish Student Union — Funding to support an ongoing program that engages teens in exploring Jewish values and ethics through contemporary media, including television shows, music and movies. This connection will then be used to inspire the teens to become more involved in Jewish infrastructure, such as youth groups.
• PJ Library — Funding a program for children ages 6 months through 7 years to help deepen Jewish family relationships and connections to the Jewish community by giving children free Jewish-themed books and CDs.
• Next Dor — Funding will help this post-denominational, noninstitutional, urban Jewish community space for young adults in St. Louis continue to be a welcoming open space to connect.
• Maryville University — Funding will help the University's Jewish Initiative work to engage Maryville with the overall St. Louis Jewish community, explore ways to engage students in Jewish activities and encourage the creation of bonds between Jewish students, Jewish faculty and staff.
• St. Louis Jewish Light — Funding to support Ohr Chadash: Teen News by Teen Jews, a monthly section in the Jewish Light and an ongoing online feature that is produced by a staff of 13- to 19-year-olds. It provides news, features, opinions and analysis of interest to teens in the Jewish community.
• Judaism Alive: Jewish Rock Radio — Funding the JRR Rocks St. Louis initiative to help local Jewish nonprofit organizations focused on Next Gen engagement develop and implement marketing and advertising campaigns.
• Jewish Parents as Teachers — Funding will help the model at Temple Israel enhance the child's success in school and provide a strong base for the Jewish home.
• Torah and Turf — Run by St. Louis Kollel, funding will help grow this program that combines scriptural study and flag football, engaging a group of young people who might not participate in this study otherwise. Teams participate in Torah study first, then take to the field for friendly competition.