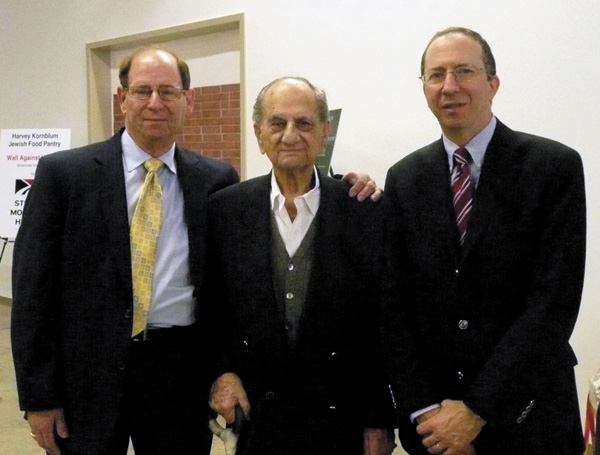 Jewish Family & Children's Service (JF&CS) hosts its 11th annual Tree of Life Society party Sunday, Nov. 18, at the home of Nicola and Scott Stern, off Warson Road in Ladue.
This year the JF&CS Tree of Life Society committee, chaired by Jan Abrams, Cindy Hyken and Judy Kaplan, recognizes Max and Drew Erlich and the benefactors who contribute significant donations to support the organization. Donators help to sustain JF&CS to provide food, financial aid and emotional support to children and families who otherwise cannot afford these services.
This year's event includes a musical performance with dinner and conversation from 5:30 p.m. to 7:00 p.m. The award program and dessert will follow.
Max Erlich, 95, president of Erlich Cleaners and Laundry Company, and his wife, Drew, have most generously donated funds that allowed the purchase of the brand new Max and Drew Erlich Center the home of the Harvey Kornblum Jewish Food Pantry (HKJFP).  Their donations have also helped support the JF&CS volunteer program, renamed the Max and Drew Erlich Volunteer Program. The couple has long been generous to the agency.

Erlich's business has been a part of the St. Louis business community since 1929. Erlich's father and uncle purchased Yawits Cleaners, which opened its doors in 1900, and renamed it Erlich's. Starting as a tiny dry cleaning operation, Erlich's grew to become one of the biggest dry cleaners in the region.
Max Erlich left high school at age 16 to run the business. Soon after, the business was thriving and by the 1960s, it had expanded to include shoe repair. During the height of its success, Erlich's had 20 different locations, including those in department stores such as Famous Barr, with more than 50 employees. Max still runs his business today.
  To find out more about helping the JF&CS's 22 programs and social services or about helping to feed those in need through volunteering or donating, contact Don Meissner at the Harvey Kornblum Jewish Food Pantry or Kelly Meuller for volunteer opportunities. To learn more about the event honoring Max and Drew Erlich, contact Barbara Barnholtz at 314-993-1000.