Jews in the News: 7/7/10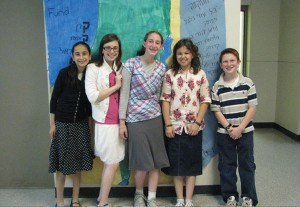 B'nai Amoona
The congregation installed its new president, Marc Lapp, on a Shabbat morning in early June. Lapp succeeds immediate past president Michael Rosenblatt. The installation included four Vice Presidents: Carl Greenberg, David Kantor, Cindy Schuval and Jeff Weis along with Secretary Rick Abrams and Treasurer Michael Goldberg. In his farewell message in the B'nai Amoona Bulletin, Rosenblatt gave particular thanks to the congregation's Nominating Committee Chair, past president, Marcy Williams and the Nominating Committee for its work in selecting the Executive Committee. B'nai Amoona thanked Rosenblatt for his service during a Kabbalat Shabbat service and dinner featuring the congregation's in-house band, Harif.
Crown Center for Senior Living
Jeneta Culton of Operation Food Search and Amber Gress of Gateway Greening teamed up to bring a Kosher/vegetarian cooking demonstration to residents of Crown Center. The dish, a delicious potato and vegetable frittata, filled the halls with its tempting aroma. About 25 seniors had the pleasure of tasting the frittata, as well as hearing about the vitamin value of the fresh vegetables. Culton also discussed the substantial increase in calories due to enlarged portion sizes for some of today's favorite foods and drinks, such as French fries, sodas, popcorn and muffins.
Intercongregational softball league
The United Hebrew Ball-a-Bustas pulled out a 15-13 win over the CRC City Slickers. Stars of the game were Jim Broddon with two monster home runs and Andy Spielberg with a huge defensive dive at second base. Michael Poscover came up with bases loaded in the top of the sixth inning and hit a base-clearing single, which proved to be the game winner.
Temple Israel looked to be in complete control of this one early on, jumping out to a 6-0 lead. But after three and a half games of near-perfect fielding, the Tribe defense unraveled in the fifth inning and Shaare Zedek took advantage, cutting the deficit to one run. After holding TI scoreless in the bottom half of the inning, the Maccabees tied it up in the sixth. The Tribe tacked on two more runs before Shaare Zedek tied the score again in the seventh, giving Temple Israel one last chance to win the game or settle for a tie. With the outfield playing in, Laura Reichman smashed a double over the centerfielder's head, putting the winning run in scoring position. One batter later, her husband, Josh, put the game away with a walk-off double – also over the centerfielder's head. Final score: Temple Israel 9, Shaare Zedek 8.
OTHER SCORES:Traditional Tikkunim 14, Bais Abraham Baisballs 5; B'nai Amoona Meshugga Nuts 17, B'nai El/Temple Emanuel Killer BEEs 7; Traditional Family Values 15, United Hebrew Kosher Krushers 11; United Hebrew Diamonds 25, B'nai Amoona Kippah Catchers 10.
NCJW
NCJW was one of the co-sponsors for the St. Louis Urban Initiative for Reproductive Health Policymakers Breakfast. A group of over 50 elected officials, advocates and local agencies gathered at the Coronado to discuss the teen pregnancy and STD rates in St. Louis and how the community can collaborate together to lower them. Dr. Terry Mason of Chicago was the keynote speaker. Mason is Chief Medical Officer of Cook County, Ill. The event was funded by a grant from the National Institute for Reproductive Health and sponsored by the NCJW-St. Louis Section, the Teen Pregnancy & Prevention Partnership, St. Louis City Health Department, Planned Parenthood of the St. Louis Region, The Spot, and the Teen Pregnancy Center at BJC.
NCSY
Twelve NCSY members from across the country, with a heavy concentration in the Midwest, were winners of the NCSY and V'Ani Tefillah Foundation's Project I.G.N.I.T.E. Challenge.  Over 1,000 Jewish teenagers participated nationwide in the contest, which was to encourage prayer with more meaning, understanding and connection to God among young people.  NCSY is the international youth program of the Orthodox Union. The program, which was already in use in over 100 shuls nationwide, was introduced to NCSY by St. Louis NCSYer Yechiel Bresler, of St. Louis, who was inspired by the book "Praying With Fire" by Rabbi Heshy Kleinman, who is also the founder of the V'Ani Tefillah Foundation. Yechiel wanted to launch the program within NCSY because the book is written in a five-minute daily dose format for clear comprehension over 89 days.
A points-based system was jointly created based on various accomplishments in prayer, and a website was created for participants to log in and keep track of their own points, along with the overall regional points.  The NCSYer who compiled the most points was awarded a $1,000 voucher towards an NCSY summer program or post-high school yeshiva program in Israel.
To create and maintain deeper meaning in prayer, participants were able to receive points by participating in a variety of opportunities: reading a selection from "Praying with Fire;" reading a weekly Tefillah newsletter "Praying With Passion" (by the author of PWF); davening shacharit, mincha or ma'ariv; participating in up to four national teleconferences with Rabbi Kleinman; reading and doing exercises from the NCSYVAT "Kavanah Challenge Pamphlet"; and connecting with God through personal prayer.
Two St. Louisans, Jenny Koshner and Rachel Wolf, were among second-prize winner and received $100 gift certificates to AllJudaica.com.
Shaare Zedek Synagogue
Shaare Zedek's USY (SZSL) led by Liz Redler was honored this year by the EMTZA Region as the 2009-2010 Chapter of the Year, as well as seven other awards including Chapter of Excellence for a total of 8 awards out of a possible 10.  Shaare Zedek USY is also the EMTZA region's nomination for International Chapter of the Year.
Submit your organization or congregation's events to Managing Editor Mike Sherwin at msherwin [@] thejewishlight.com.