Jewish St. Louis distiller of "Righteous Road" has perfect spirit for Purim
Bill Motchan, Special For The Jewish Light
Published March 14, 2022
When we checked in on Righteous Road last September, the distiller had just added two new spirits to its lineup. There's the original Righteous Seven liqueur, its more intense barrel reserve, and The Fifth Cup, the brand's kosher for Passover craft liqueur. Another kosher for Passover option, The Fifth Cup barrel reserve, became available in late February.
Righteous Seven liqueur remains the flagship of the brand, with its distinctive sweet fruity flavor, inspired by the Old Testament. It's flavored with seven species of plants found in the book of Deuteronomy, which praises the attributes of Israel as "a land with wheat and barley, fig-trees, pomegranates, olive oil, and honey." Grapes represent the seventh flavor in the mix.
All the Righteous Road spirits are brewed in Columbia, Ill., at Stumpy's Distillery. The kosher certification for Righteous spirits comes from the Orthodox Union of America (its kosher certification symbol, or hechsher, is the circle with a "U" inside). Stumpy's distilling tanks and processes are inspected by an OU rabbi to certify the spirits meet their requirements.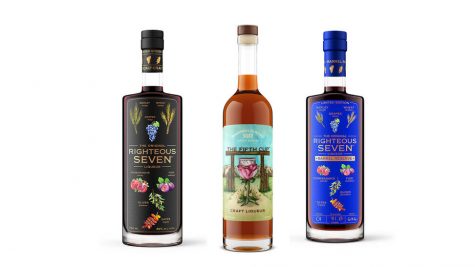 Adventurous whiskey aficionados may want to try out Gibor, which emerged last year from the fertile imagination of Righteous Road's founder David Hermelin.
"I used to enjoy a spirit called 'Bourye' that was sold by High West Distillery in Utah," said Hermelin, 55. "It was a combination of bourbon and rye and it was fantastic, but it was  discontinued."
The High West folks, in a nod to the unusual practice of mixing the two spirits, added a jackalope to the Bourye label. A jackalope is a mythical creature that's half jackrabbit, half antelope. If you see one at a Purim party, it may be a good idea to take an Uber home.
Righteous Seven liqueur
Hermelin wanted to create something similarly unique, so he blended a high-quality aged bourbon with Righteous Seven liqueur to create a slightly sweeter version of Bourye.
"This product, even though it has Righteous Seven in it, is 80 proof, so it's approved as a whiskey liqueur," Hermelin said. "There's really nothing like it out there in the marketplace. I'm having a lot of success with it."
The name for the whiskey blend was also chosen to match the distinctive taste. Gibor – גבור – means "strong and mighty warrior." Hermelin chose a strong image for the label, too: a western motif with a cowboy riding into the sunset. Righteous Seven Liqueur also has a distinctive label, with its colorful depiction of the spirit's ingredients. Hermelin said attention to detail, from taste to label design, is important to stand out on the shelf in a competitive market.
"A lot of work went into developing the label to make it visually attractive," he said. "People love the artwork. I get comments on it all the time. The labels are definitely a factor when someone walks by the shelf or a tasting table. What's going to grab them? I work hard on these the brands and the labels. I think it's worth it because presentation is important."
Click here to view locations where Righteous Road liqueurs are sold.