Jewish motorcyclist noshes on Protzel's pastrami during cross-country trek for hunger relief
Steve Goode, a 67-year-old retired industrial real estate broker, brought rain wherever he rode his motorcycle recently, he explained Friday during a lunch at Protzel's Delicatessen in Clayton.
He arrived in St. Louis the previous night, 10 minutes before a storm featuring 70 mph winds destroyed trees, utility lines and roofs, and knocked out power throughout the area.
The other common denominator for Goode lately has been pastrami, corned beef and lox.
That's because Goode recently completed a 16,000-mile, 75-day motorcycle ride across the country during which he visited 42 Jewish delis, each in a different state. After St. Louis, he had only one remaining stop: Jake's Delicatessen in Milwaukee.
The primary purpose of The Great American Deli Schlep was to illuminate the issue of hunger and raise money for MAZON, a Jewish nonprofit that aims to alleviate the problem through public policy change in the United States and Israel.
The deli road trip also came with sides of memorable interactions with fellow Jewish motorcycle riders, Goode said.
"Now I've got contacts in every state — and if you need to know a deli, I got one," said Goode, who lives in a Chicago suburb and helps organize the Greater Chicago Jewish Festival.
This was Goode's fourth such cross-country trip. A previous one centered around national parks.
In 2019, a friend emailed him a story in The Nosher, a digital Jewish food publication, naming the best Jewish deli in each state. The friend suggested: "This should be your next ride."
Once he started planning it based on those delis, Goode's wife suggested that he do it as a fundraiser and awareness campaign for MAZON. In 2019, 35 million Americans experienced food insecurity, according to U.S. Department of Agriculture data, and Northwestern University researchers estimated that the problem more than doubled during the pandemic.
So on June 1, Goode hopped on his white 2018 Honda Gold Wing, license plate "IMAMOT," as in, "I'm a member of the tribe."
He generally arrived at the delis around 11 a.m. His first stop was at Manny's Cafeteria & Delicatessen in Chicago.
Friends would join him for a few days, but Goode was mostly alone, which is how he wanted it, he said.
"I get up when I get up; I leave when I leave, and if I want to pull over five times in one mile, I pull over five times," Goode said.
Plus, he made new friends.
At a gas station in Brattleboro, Vt., a rider pulled up to a pump and asked Goode if he was heading to the motorcycle races. Goode told him he didn't about the races but was on a deli ride for a Jewish organization.
Next thing Goode knew, the 52 year old was chanting his haftorah portion from his bar mitzvah four decades earlier.
In many other instances, he met riders who shared a mutual friend.
"You know how they talk about six degrees? In the Jewish community, it's one degree," Goode said.
The other pleasant surprises were at the delis. At Bernbaum's in Fargo, N.D., "the guy is hitting it out of the park. I mean he was packed."
At Maccabee's Kosher Deli in Des Moines, Iowa, Goode wrapped tefillin with the owner, Rabbi Yossi Jacobson.
Goode also endured some close calls.
On the New Jersey Turnpike, Goode was driving 70 mph and suddenly saw a tire speeding his direction. He was relieved to see it apparently roll off the side of the road, when suddenly it somehow ended up back on the highway and hit Goode's back-right saddlebag. Fortunately, Goode remained upright.
"I was real lucky," he said.
He had some luck left in the tank when he arrived in St. Louis just before the thunderstorm.
Steven Aroesty, founder of the "Wandering Twos," (a play on the Wandering Jews) St Louis' Jewish motorcycle club, lost some trees at his home but still came to meet Goode for lunch at Protzel's.
Aroesty, an attorney, said he followed the ride online and saw "great pictures of the meals and the people's he's meeting, so we were looking forward to having him in St. Louis. Unfortunately, we had to wait until the very end of the tour."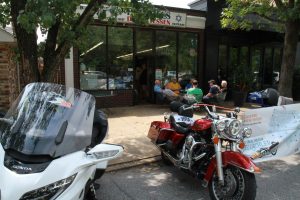 Max Protzel, the third-generation owner of the deli, came out to say hello to the riders. He explained to the Jewish Light that between COVID-19, food costs and a labor shortage, running a deli is not easy. He appreciated Goode's visit and effort to promote Jewish delis.
"There is a reason that there hasn't been a Jewish deli that has opened in St. Louis in over 30 years," Protzel said. "It's hard."
Goode appreciated the hard work that went into his turkey pastrami sandwich.
"I thought Protzel's was wonderful," said Goode, who is now back in Illinois and raised about $16,000 for Mazon. "I ate the entire sandwich, which I usually [wouldn't] do, since I had to ride all afternoon and didn't want to feel sluggish."