These Hanukkah treats are worth your time
Two dishes—one sweet, one savory— perfect for your holiday celebration
Move over latkes and sufganiyot—make room for shlishkas and kokosh. Not familiar with these Hungarian Hanukkah treats? Neither was I. These Hanukkah treats are worth your time.
As I continue my research of our rich Jewish food heritage, I am constantly impressed by the culinary skills of our Eastern European forebears. Those humble families in the shtetls not only learned to make do with what they had, but in the process created innovative and delicious dishes that were affordable. For example, cholent, the rich and filling Shabbat stew made from potatoes, onions, beans, a few eggs, and a small piece of meat or chicken, or the variety of kugels made from noodles or potatoes and eggs. The recipes for many of these traditional dishes have been passed down to younger generations and made their way into our Jewish American cuisine. There are many others, however, like shlishkas and kokosh, that are not familiar.

Shlishkas

Shlishkas could be classified as potato dumplings. Similar to Polish pelushki and made like Italian gnocchi, these dumplings are coated in crispy oiled breadcrumbs just before serving. (Hmm- perhaps they, too, accidently fell into a bowl of crisp breadcrumbs just like our town's unique own toasted ravioli!) The potatoes are first boiled or roasted, then peeled and grated or riced, and finally formed into a dough with the addition of an egg and a small amount of flour. The resulting dough is then kneaded, rolled into long ropes, and cut into 2-3-inch pieces. The pieces are boiled in salted water just like gnocchi, and, finally, tossed in a pan of crisp oily breadcrumbs.
The Jews of Hungry created Shlishkas, which are made from many of the same ingredients as the more familiar Hanukkah treat, potato latkes. This is not surprising as potatoes were a mainstay in the diets of our Eastern European ancestors. They were abundant, affordable and could be easily stored during the bitter cold winters. They formed the backbone of hearty soups and stews and on special occasions were served with a slice of bread and pickled herring. 
Our dear family friend Eddie Jacobs, who grew up in the rural farm community of Dobra near the Hungarian border, recalls his mother making latkes all year-round and shlishkas on Hanukkah. "They were delicious," Eddie told me. "We had them for dinner alongside roasted meat."

Kokosh

And kokosh? Think of it as babka's first cousin. The Jews of Hungary can also take credit for the invention of this rich and delicious dessert. In Hungarian, makosh means poppyseeds, which was the most frequent filling for this cake. Though chocolate would have been a great alternative, it was too expensive for an everyday dessert. But on holidays, it would not have been unusual to combine chocolate and poppyseeds. 
Kokosh is made from a yeast dough much like a babka and similarly filled. However, there are two key differences.
First, kokosh dough is not given time to rise like babka dough, and second, it is not braided the way babkas are.  Once the kokosh dough is made, it is immediately rolled very thin, spread with a filling, and then rolled up like a jellyroll. It is brushed with an egg wash and put in the oven to bake right away.  When this delicious cake is finished, it's sliced on an angle into strips to show off its beautifully coiled filling. Kokosh is both crispier and gooier than its babka cousin—decadent, and perfect with a cup of coffee or tea, or, for me, a glass of milk!
Recipes
Below are recipes for both Hungarian Hanukkah treats. I encourage you to give them a try. I liked the onions in the shlishkas recipe. It really adds to the flavor of this dish.  However, feel free to omit them. Also, I am a fan of both poppyseed paste and chocolate and the two together make a spectacular kokosh. You could opt to use one or the other, or simply fill your kokosh with a hazelnut chocolate spread like Nutella topped with a heaping handful of mini chocolate chips.
Wishing you all a joyful Hanukkah celebration!
Shlishkas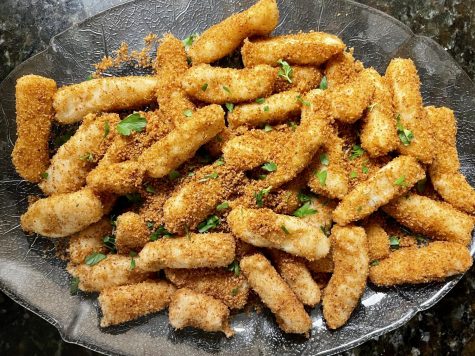 Recipe adapted from Jewish Home Cooking, by Arthur Schwartz)
Ingredients:
Dumplings:
2 lbs. russet potatoes, skin on (about 4 medium, washed and punctured with the tip of a knife)
1 large egg, lightly beaten 
½ tsp. coarse kosher salt + 1 tbsp. for boiling water
½ c. all-purpose flour, plus 3-4 tbsp. for kneading
6 tablespoons olive oil, butter, or schmaltz
1 cup plain dry breadcrumbs
For serving:
6-8 tbsp. unsalted butter, schmaltz, or canola oil
2 medium onions, finely diced
1 c. plain dry breadcrumbs
DIRECTIONS:
1.     Preheat oven to 400 degrees. Place potatoes on the oven rack and roast until fork tender, 45 minutes to 1 hour. When potatoes are cool enough to handle, remove skin. Use a grater, a food mill, or a ricer to process potatoes into a large bowl; do not mash or put them into a food processor!
2.     Sprinkle potatoes with ½ c. flour and the salt. Add the beaten egg and mix gently to thoroughly incorporate.
3.     Sprinkle 3 tbsp. flour on the counter and add potato mixture. Quickly knead the dough, incorporating the flour on the counter until everything sticks together. The dough should be soft but not sticky. You may need to sprinkle the dough with up to an additional tablespoon of flour to smooth it out and make it more cohesive and less sticky.
4.     Line 2 baking sheets with parchment paper. Lightly dust one of them with flour, and lightly oil the other one; set aside.
5.     Cut the dough into 6 pieces and roll each piece into a ½" thick rope. Cut each rope into 2 ½" inch pieces and place the pieces onto the baking sheet lightly dusted with flour. Repeat with remaining ropes.
6.     Add 1 tbsp. salt to a large pot of water and bring it to a boil. Add half of the shlishkas to the boiling water. Once they have risen to the top of the pot and the water has resumed boiling, cook the shlishkas for 2 minutes. Using a slotted spoon, transfer shlishkas to oiled baking sheet. Repeat with remaining shlishkas; reserve.
7.     In a large skillet with oil, butter, or schmaltz over medium heat, sauté the minced onions until they are translucent and beginning to brown. Add breadcrumbs and toss to coat with oil and onions until they begin to crisp. Add the reserved shlishkas to the pan and toss until they are heated and evenly coated with the onion mixture; serve.
Makes 6-8 side dish servings.
Hungarian Chocolate and Poppyseed Kokosh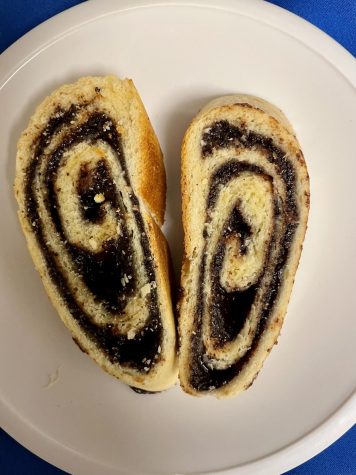 (Adapted from The Jewish Cookbook, by Leah Koenig)
Note: It is not unusual for some of the filling to ooze out of the kokosh while baking. There will be plenty of filling left inside, and you will be delighted by the candy-like "oozes!"
Ingredients:
Filling:
3/4 c. poppy seeds
½ c. unsweetened cocoa powder
1 c. granulated sugar
½ c. whole milk
½ tsp. instant espresso powder
Pinch of coarse kosher salt
1 ½ tsp. vanilla extract
1 tbsp. fresh squeezed orange juice
Dough:
2 ¼ tsp. active dry yeast (or 1 packet)
¼ c. + 1 tsp. granulated sugar
¼ c. warm water, approximately 110 degrees
3 c. (approximately) unbleached flour
1 tsp. coarse kosher salt
1 tsp. finely grated orange zest
1/3 c. fresh squeezed orange juice
2 large eggs +1 egg yolk* 
½ c. (1 stick) unsalted butter, at room temperature
2 tsp. canola oil, for brushing on dough
Egg Wash for Finishing:
1 large egg whisked with 1 tsp. mil or water
DIRECTIONS:
1. Working in batches, grind poppyseeds in a spice or coffee grinder until powdery, 10-20 seconds. Transfer poppyseeds to a small saucepan and add cocoa powder sugar, milk, coffee powder, and a pinch of salt. Stir and bring mixture to a low boil over medium heat. Reduce heat and continue stirring until mixture thickens, 8-10 minutes. Add vanilla extract and continue cooking and stirring an additional 2 minutes..
2. Remove pan from heat and immediately stir in orange juice. Transfer filling to a medium bowl, cover with plastic wrap, and refrigerate for at least 1 hour. (The filling can be made 3 days in advance.
3. Preheat oven to 350-degrees. Line a large-rimmed baking sheet with parchment paper; set aside.
4. In a small bowl, stir together yeast, 1 tsp. sugar, and warm water. Let rest for 5-10 minutes, or until foamy; reserve.
5. To the bowl of a stand mixer fitted with the paddle attachment, add 3 c. of the flour, remaining ¼ c. sugar, salt, orange zest and juice, 2 whole eggs and 1 egg yolk , and all the butter. Add reserved yeast mixture and mix on medium-low until everything is evenly incorporated. Switch to the dough hook and let the machine knead on medium for 3 minutes.
6. Remove filling from the refrigerator and set aside.  To make the egg wash, in a small bowl, lightly whisk remaining egg and a tsp. of milk to break up the egg; reserve. Set a tiny bowl of water, and a separate tiny bowl of oil and pastry brush nearby on your counter.
7. Turn dough out onto a lightly floured counter and cut it in half. Place 1 half of the dough back into the bowl and cover it with plastic wrap. Roll remaining dough into a rectangle 1/8" thick, about 8×10". 
8. Leaving a ½- inch border on every side, brush dough with 1 tsp. oil.  Using an offset spatula, spread half of the reserved filling over the oil, leaving a ½-inch border at every edge. Use your finger to lightly moisten the bare edges of dough with water. 
9. Beginning at long edge closest to you, roll dough toward the top, until the seam is at the bottom. Carefully lift the filled roll, seam-side-down, onto one side of the prepared baking sheet. Repeat with remaining dough and filling and place second roll a few inches from the first one on the baking sheet. Press down lightly on each roll to slightly flatten.
 10.  Brush the tops of each roll with the egg wash and use a small fork to prick the tops about 10 times along the length of each roll. Bake in preheated oven for 15 minutes. Rotate pan continue to bake until the top is golden brown, another 15-20 minutes.
11.  Place pan on a cooling rack for 15 minutes then, using parchment paper to help you, carefully slide rolls from pan onto a cutting board; let cool for at least 15 minutes. Using a serrated knife, cut rolls on the diagonal into 1 ½-2" slices. Transfer slices to a serving platter.
 12.  Leftover kokosh, once completely cooled, can be wrapped tightly in plastic wrap and stored at room temperature. To freshen, slices can be toasted or slightly heated in a 300-degree oven for 5 minutes. You can also freeze the uncut baked roll by storing it in 2, zip-lock freezer bags for 1 month.
Makes 16-20 slices.
*  Note: Don't discard the extra egg white. They freeze beautifully in a zip lock bag for at least 6 months and are perfect for your next Angel Food Cake or meringue. You can add more whites to the frozen whites at any time. Just remember to keep tabs on the number of whites in the bag!