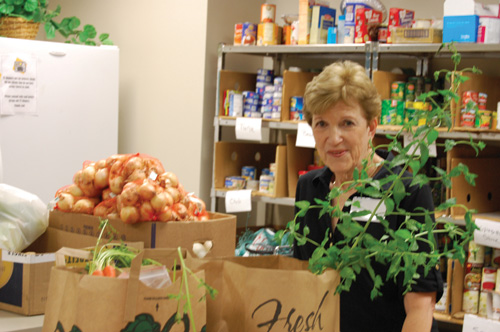 The Jewish Family & Children's Service (JF&CS) reminds the community that the annual High Holiday food drive to benefit the Harvey Kornblum Jewish Food Pantry will be held between Rosh Hashanah and Sukkot (Sept. 8 to Oct. 1). This is the agency's largest food drive of the year.
Synagogues and temples throughout the area can participate by asking congregants to pick up an empty bag at Rosh Hashanah services and return it filled with food or personal care items when they arrive for Yom Kippur services, Sept. 18, or for Sukkot services, Oct. 1. The holidays remind us that there are always people going through hard times. This year there has been a 20 percent client increase from January to June. Items most needed are: peanut butter, macaroni and cheese, canned pasta with meat, rice, beef stew, tuna, fruit and personal care items such as toilet paper, paper towels, bar soap, shampoo and toothpaste. The food pantry will also accept cleaning supplies and is always looking for healthy food options. Kosher food and special needs items such as sugar-free and low-salt products are also welcome.
"The Jewish community has always responded with such generosity over the years," said program outreach coordinator Susan Rundblad. "With the increase in need this year, we are hoping to exceed the 40,000 items donated last year. Wouldn't that be a wonderful total to announce when the drive is complete?"
Staff from the pantry will pick up the donations from each synagogue. Donors can also bring their items to any of the temples or synagogues or directly to the Harvey Kornblum Jewish Food Pantry, located in the JF&CS Allan R. Hoffman building, 10950 Scheutz Road, during regular business hours, 8:30 a.m. to 5 p.m. Monday through Friday or by special appointment.
The food pantry will be closed for the holidays Sept. 9, 10, 23, 24, 30 and Oct. 1. For more information about donations, volunteering or to receive services, call Susan Rundblad, the program coordinator-community outreach for the food pantry at 314-812-9307 or [email protected]