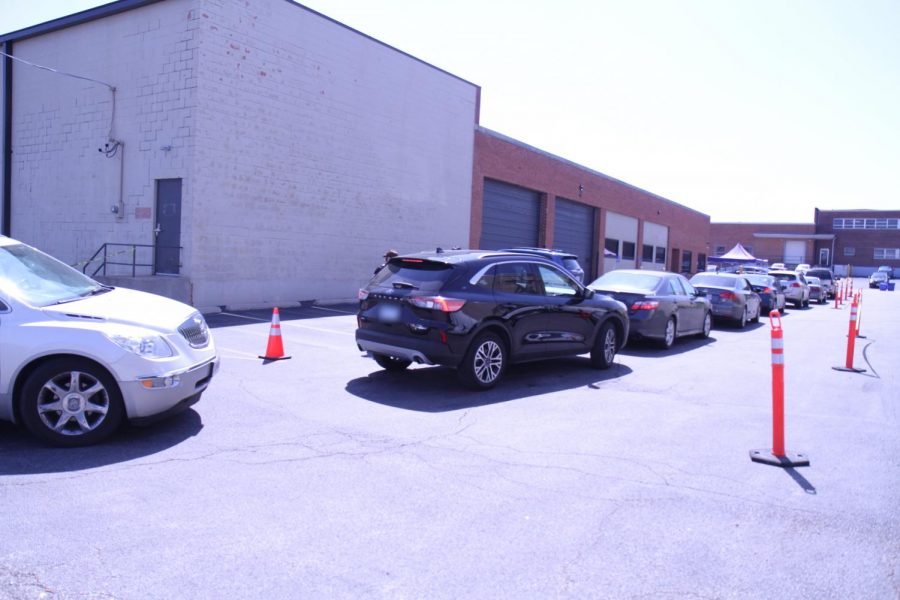 Carlotta McDaniel had been planning to buy rice and milk at a nearby Dollar Tree store during her lunch break on April 8. She works in Overland, at a job manufacturing furnaces.
But while driving on Warson Road, she noticed an unusual sight during this time of social distancing: a line of cars outside a building. She saw a sign that read, Harvey Kornblum Jewish Food Pantry, open from 9 a.m. to 2 p.m. So she decided to pull into the lot.
It had been 30 years since McDaniel, 50, last needed to visit a food pantry. But her employer was now only providing her with 30, rather than 55, hours of work each week. Her husband and son both worked at Lumière Place casino before it closed in mid-March because of the coronavirus pandemic. Now the two were unemployed.
So the north St. Louis resident who lives with her husband, son and two grandchildren is having to care for her family on a reduced income as they wait for her husband and son's unemployment checks to arrive. "I'm trying to figure out how I am going to pay for [health] insurance, pay bills, and I'm just having lots of anxiety," she said.
McDaniel is not alone in, as she puts it, "trying to figure out how I am going to rob Peter to pay Paul."
In recent weeks, the Jewish food pantry has seen both a dramatic increase in the number of new clients and a dramatic decrease in the number of volunteers. That has left the remaining staff and volunteers struggling to meet the demand for food.
And to ensure that clients, staff and volunteers remain safe, the nonprofit has changed its shopping model, so clients now wait in their cars outside the building and receive a box of food rather than pick up individual items inside the pantry, as had been the practice before the pandemic.
As McDaniel waited in a line of cars curled around the building, staff and volunteers stood outside on a sunny day, with temperatures in the high 80s, wearing masks and gloves.
"I think we have come up with the best solution to still be able to help people get food. It's been a lot of extra work and straining at times, physically and mentally," said Anita McCullar, an administrative assistant who has worked for eight years at the pantry, which serves Jewish and non-Jewish people.
Before the pandemic, the pantry would at the most get five new families a day as clients, according to Miriam Seidenfeld, CEO of Jewish Family Services, which oversees the pantry. Now, amidst the economic decline and huge spike in unemployment, the pantry often has been getting 30 new families in a day. One day a couple weeks ago, 46 new families showed up, Seidenfeld said.
"It was clearly people who are not used to coming to a food pantry," she explained. "It's people who were newly unemployed and living paycheck to paycheck and were making choices between rent and food."
The pantry had also seen an influx of clients who previously picked up food from other local pantries that have closed during the pandemic. According to Operation Food Search, a local food bank, 14 percent of the 200 pantries that it supplies have temporarily suspended operations.
Meanwhile, the Jewish food pantry had relied on a volunteer base comprised largely of retirees who are in the age range that is at the highest risk of becoming severely sick because of the virus. The pantry previously had about 200 volunteers, but since the pandemic started, that number has decreased by about 80 percent, Seidenfeld said.
The pantry has been able to manage that void in part because the drive-through model does not require the same size work force.
And some longtime volunteers have continued to show up. Dr. Gary Ratkin, a retired oncologist, has been volunteering at the pantry on Monday mornings for about eight years. He sits in the back of the warehouse and sorts mostly vegetables, sometimes bread, to ensure that nothing is spoiled. He is 77 years old.
"I thought about stopping but we have always kept our distance — usually more than 6 feet — because the building is big and we are working at these tables that are quite long," said Ratkin.
Thus far, the pantry has had enough food because "we are getting just really beautiful donations from people," said Seidenfeld.
Still, the nonprofit has had to hire temporary workers. Robert Hamby, an Army veteran who had once been homeless, he said, stood outside taking information from clients who waited in their cars and rolled down their windows.
Hamby said he wasn't particularly concerned about becoming infected with COVID-19.
"It might be weird, but I don't even think about it, maybe it's because I'm [a veteran] and have been in a lot of dangerous situations in my life," said Hamby, who had three deployments in Afghanistan.
During tough stretches, Hamby had been on the client side at food pantries. He saw the Harvey Kornblum pantry as unique.
"I really like the people I work with, and I can tell that they really care about people. They care about the quality of food that they give to guests," said Hamby.
McCullar, who also spends about three hours each day outside serving clients, said the threat posed by the virus sits in the back of her mind as she interacts with customers and causes her mental stress.
"We hear on the news and the radio about healthcare workers, and yes, they are doing a wonderful job, but I think people forget about food pantries and other agencies that are helping in a different way," McCullar said.
On April 8, McDaniel had to exit the line before getting food because she ran out of time on her lunch break. So she returned to the pantry on Monday afternoon and picked up a package with a whole chicken, apples, almond milk, cottage cheese, raisins and canned goods, among other items.
"It's going to help me out a lot," she said.
Despite her anxiety over bills, McDaniel, who is Christian, said, "I think everything is going to work out OK. I don't know how, but I just think that God will look out for me like he always did."
If you are interested in volunteering at the pantry, visit https://jfcs-stl.org/volunteering-with-jfcs/
For more information on donations, visit https://jfcs-stl.org/donate-food