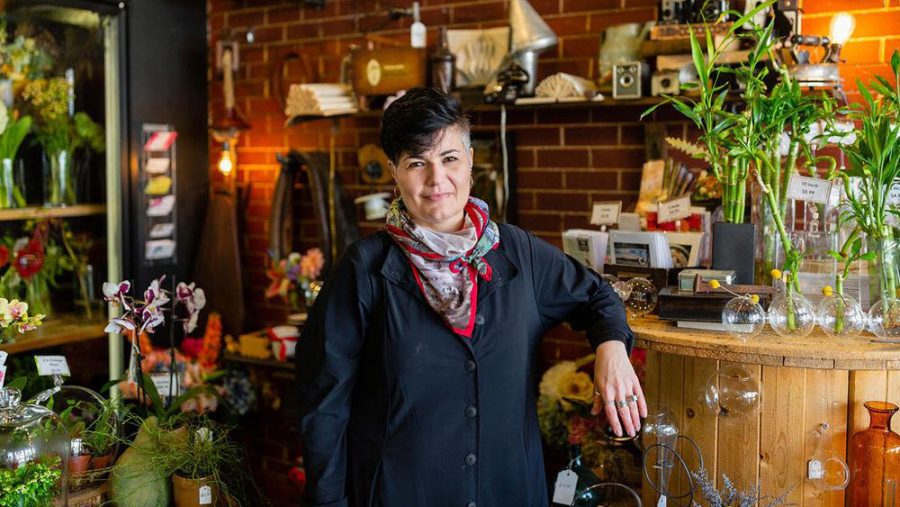 University City police investigated an altercation Sunday between a Jewish florist in the Delmar Loop and pro-Palestinian protestors who had organized a rally and march there. No charges were filed, and no arrests were made.
According to Capt. Fredrick Lemons of the U. City police, some of the protestors and Elisheva Heit, the owner of Flamenco Flowers, "became involved in a verbal argument" because she displayed an Israeli flag outside her store.
"A confrontation escalated to the point where one of the protestors pushed over a couple of the flowerpots she had outside the store and then ran," Lemons said. "The shop owner was unable to identify or give a description of the protester."
Heit, who is originally from St. Petersburg, Russia and has owned her shop here for about four years, has seven children, two of whom are in Israel. One of her children, a daughter who is eight months pregnant and married to an Israeli, lives in Sderot, less than a mile from Gaza, which is controlled by Hamas.
Heit said when she learned that pro-Palestinian protestors were rallying in the Loop, she wanted to show her support of Israel by displaying the flag outside her shop.
"That's when all hell broke loose," she said. "(The protestors) went bonkers. It looked like a magnet attracted them. The whole crowd started moving toward me and screaming at me. One dude snatched my flag and I had to physically fight with him to get it back. It was kind of frightening."
The rally and march were organized by the St. Louis Palestine Solidarity Committee, which also held similar events during the last week at downtown Kiener Plaza and in the Central West End.
A social media post after the rally Sunday called for a boycott of Flamenco Flowers and urged people to "rate them one star for being zionists (sic). At today's protest in solidarity with Palestine, their owner or maybe an employee of theirs sat outside with an israeli (sic) flag, counter-protested us and harassed the protestors."
Heit maintains she was the one being harassed, with numerous protestors yelling obscenities and trying to grab the flag from her. She also said that several negative reviews appeared on Yelp and Google after the protest, chastising her and her business.
Flamenco Flowers was closed Monday and Tuesday for Shavuot. Heit said several customers who had heard about the scuffle came in Wednesday to support her business and show solidarity with Israel.