Jewish and Christian supporters of Israel come together to hear from Israeli soldiers
Bill Motchan, Special to the Jewish Light
Published November 17, 2021
Israeli citizens living along the Gaza border are always in a state of preparation from attack. That was the sobering message delivered by two Israel first responders who patrol the area in an around Eshkol. The report came during "14 Days Living in Eshkol, Israel," an event at Nusach Hari B'nai Zion on Monday night.
The audience included three groups of Israel supporters: The Gentile Ministry, Shaving Israel and St. Louis Friends of Israel (SLFI). As the host for the event, NHBZ Rabbi Ze'ev Smason introduced Irl Solomon, representing SLFI, and Dr. Bryan Sharp, founder of Gentile Ministry. Sharp offered a short history of Israel and its precarious geographic position, surrounded by millions of people who deny the country's right to exist. Gentile Ministry provides support for Israel soldiers, as does Shaving Israel and SLFI.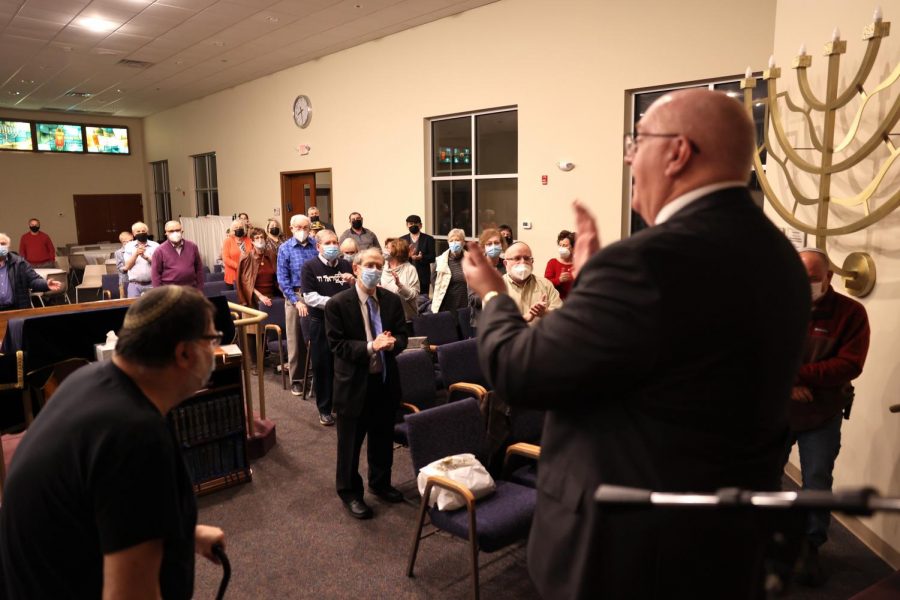 A report from the front line of the Gaza border was provided by two Israeli soldiers, Lt. Colonel Keith Isaacson, head of security for the Eshkol Region, and Captain Dani Gohar, a Ravshatz (watchman on the wall) special ops officer. Gentile Ministry, which is based in the St. Louis area, organized a speaking tour with Isaacson and Gohar, visiting several Baptist churches in the eastern U.S., concluding with the event at NHBZ. 
At NHBZ, Gohar explained that even a seemingly innocent item like a colorful balloon can mask a deadly bomb, so children in Eshkol understand the dangers that exist everywhere.
"Some of the balloons cause fire, some have hand grenades," Gohar said. "So we have to explain to our kids that a balloon is a bad thing. You think of a balloon for a good thing, like a birthday party. But we teach kids not to touch a balloon because it can explode. Instead call a security officer."
Isaacson said even when no mortars or deadly balloons fly across the border, he worries.
"If it's quiet, I don't like that," he said. "That means they are training across the border for an escalation, so we do the same thing—train for an attack."
He also pointed to major Israel defense projects that help protect the Eshkol region.
"First, we build home shelters for every civilian near the border," he said. "Shelter equals resilience. We also put up thousands of mobile shelters. Second is a 65-kilometer concrete wall that extends below the ground and is armed with sensors."
Isaacson explained that even with advances in technology and security, Israelis along the Gaza border must always be vigilant because when an attack comes, there's little time to prepare—often only 15 seconds to seek shelter.