Is Tyler O'Neill's 2021 surge just a tease, or a glimpse of the real deal?
DAN BUFFA, SPECIAL TO THE JEWISH LIGHT
Published June 6, 2021
Tyler O'Neill has carried the look of a superhero for years, but could 2021 be the season where he actually saves an offense?
Cardinals fans have been teased with genuine outfield excitement in the past decade far too often. The farm system (whether homegrown or acquired) has produced some "almosts" while pushing out a proposed star that simply never learns to shine for long enough.
Randal Grichuk, Stephen Piscotty, and the late Oscar Taveras are just a few of the names that come to mind when Cardinal Nation imagines the idea of an outfield force that is something else, instead of something too light. A threat that every opponent must keep an eye on. Harrison Bader isn't going to be a star in this league no matter how much you wish for it. He can be a productive player, but All-Star caliber will never live in a house with him. O'Neill could be all of it. The prospect you acquire in a trade (thanks Seattle) that actually pans out.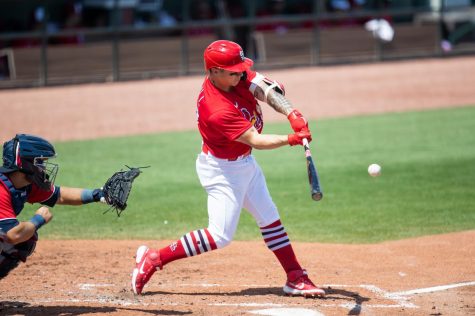 Think about it. O'Neill already owns most of the tools. He has game-changing power at the plate, athleticism on the bases, and a Gold Glove already sitting on his mantle. While the shortened season award win in leftfield took many by surprise, the Burnaby, Canada native has quickly silenced their concerns this season. Take Tuesday's game against the Los Angeles Dodgers for example. O'Neill drives in a crucial run early in the game and literally ends the game with a running catch right in front of the wall. A guy who can beat a team in a number of ways, with or without a helmet on, is a very dangerous element to carry into a game. O'Neill has teased fans for a long time with his potential but as he sits just 18 days shy of his 26th birthday, he's edging closer to being a middle of the lineup force that won't be reckoned with.
Consider the fact that in just 139 at-bats, O'Neill has clubbed 12 home runs and added nine doubles. While the 52 strikeouts to four walks won't impress Billy Beane that much, the Cards left fielder doesn't seem to care much while he's hitting rockets.
Look, if a baseball player could be wanted for the murder of a baseball, O'Neill would be at the top of Manfred's Most Wanted List. Book it. He's the guy that you don't need to check the exit velocity for after a home run, a tiny voice just whispers, "it's very, very gone." Watching O'Neill simply turn the hips and rip a single into leftfield makes you worry about that young ball's family.
But while his hitting becomes stop-and-watch entertainment, I just love to watch the guy run the bases. He's like the guy who ran out of the gym because his biceps were on fire, and he just smashed a 24-ounce Red Bull. There's only one speed and it's launched. He's the old-school power hitter with a new school mentality on how the game could be played. O'Neill is having a lot of fun getting the opportunity to succeed, and the Cards need it to continue.
Even in a lineup stocked with Paul Goldschmidt's stoic "I'll get there" bat trust and Nolan "I'm just a versatile guy" Arenado, this team can find itself stricken to scoring three runs or less far too often. St. Louis either walks the other team to a victory, or they can't turn a golden opportunity into insurance runs. O'Neill introduces a little lumber anarchy into the equation, and the results don't need an introduction.
Take the 153 OPS+. While June is still very young, that's 53 points above average. Something to dig your feet in and start gathering some belief in. There's absolutely no telling if he can keep this up but if he does, the Cardinals have a much larger chance of succeeding that eclipses a playoff invite. If you keep Tommy Edman and Yadier Molina hitting in some capacity and awaken the Goldy bear, in addition to O'Neill and Arenado clean-up work, this lineup won't be boring like much of the last few years. What if they can outslug the other team and learn some small ball tactics as well. Surely better than bunting twice in the ninth inning while down by two runs. There's literally no place Mike Shildt can run and hide from that stinky decision.
O'Neill is the guy who helps you distance yourself from the other team in the box score — if he can keep swinging like this. The defense and baserunning are nice to watch and warms the old-school baseball lover's heart, but the extra-base hit production needs to remain. That's the ticket to higher ground. Home runs and doubles. Let Edman and Edmundo Sosa create singles and just reach base. Tyler cleans the deck.
The Cardinals may have traded for Arenado in January in order to achieve some resemblance of lineup fortitude, but it could be Mr. O'Neill who takes their hitting to the next level. Is he a tease or the real deal? I don't know yet, but he sure is fun to watch.