How touch therapy dogs dispense love and care in the St. Louis Jewish community
Bill Motchan, Special For The Jewish Light
Published July 27, 2022
On a recent afternoon in the Jewish Community Center's Adult Day Center, the staff was overseeing a trivia game, but Oliver Samuels commanded most of the attention. He worked the room, schmoozing with each visitor, often by planting his furry head in their lap. Oliver is a touch therapy dog. He visits the J once a week to spread joy. Therapy dogs are specially trained and screened to provide therapeutic benefits for people. Oliver, a 7-year-old golden retriever, was accompanied by his human, Stephanie Samuels, who explained why she signed him up for the assignment.
"We went to Duo Dogs for training when he was a puppy," said Samuels, who is a member of Congregation Shaare Emeth. "He was certified when he was 3, and we started four years ago. A friend of mine had been doing it, and she really liked it. I got really motivated because I'm always looking for something to volunteer for, and I've done lots of work at the J. In fact, I chaired the Adult Day Services committee for four years.
"I think what's been the most rewarding to me is the one-on-one. When you go into a hospital or when you come here at the J and you talk to the people individually, they give me back as much as Oliver gives them."
In addition to his weekly visit to the J, Oliver visits the Missouri Baptist Hospital Cancer Infusion Center on Fridays.
"It's bone density infusions and other kinds of infusions," Samuels said. "It's a big room, and there are cubicles with curtains you can pull. I basically go around to each cubicle and ask the person if they'd like a visit from Oliver. And usually, they say yes."
Paws for reading
At the Saul Mirowitz Jewish Community School, two four-legged visitors checked in at the front desk in the middle of the school day. Bexley, a 10-year-old Australian shepherd, and Moxie, a 2-year-old border collie, are therapy dogs. Their human companion is Maxine Mirowitz, a 2018 Jewish Light Unsung Hero.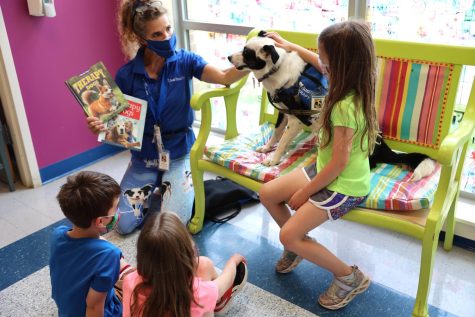 Like Oliver, when the Mirowitz dogs don their Duo Dog vests, they are ready to work. They visited Mirowitz school for the Paws for Reading kindergarten story time. Maxine Mirowitz was the reader. The dogs took turns sitting with the kindergarten class — and being petted — while learning about the many important roles dogs play, from rescue to crisis response to support for people with disabilities.
The kids listened intently, asking questions about dogs, about Bexley and Moxie and their habits. They were so focused on the special visitors, few seemed to notice my camera documenting the class.
"My dogs are very calm and relaxed," Mirowitz said. "They make you feel at ease. Dogs don't judge you, they just are there to listen. And some of the little kids were just pouring out their hearts about how much they missed their dogs. I think there's so many levels to healing."
Maxine Mirowitz was one of the first Duo Dog volunteers when she attended therapy dog training. Her dog at the time was not an ideal fit. Not every dog has the personality and temperament to not be rattled by chaos around it, like a kindergarten class or medical equipment in a hospital setting.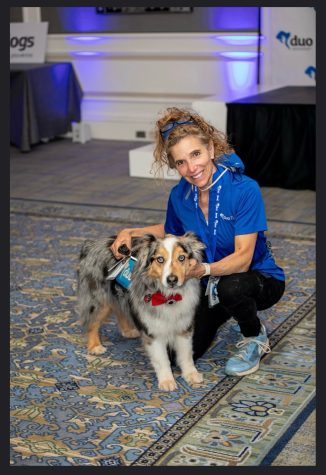 Several bandages dangle from Bexley's vest. One is a Mercy Medical Center volunteer ID. He's been a "hospital helper" spreading his good vibes to children at Mercy Hospital. Recently, he took on a new role at the hospital, offering therapy to the harried doctors and nurses in their break room.
"We go to the ICU unit not to be with the patients, but with the staff, "Mirowitz said. "We go at 8 p.m. because that's when they needed help. It's an intense time. There's instant love. Everyone seems at ease and comfortable and relaxed and calm. And that's what our job is. Basically, it's just to help them relax and take off some of their worries because they have high-stress jobs.
Bexley and Moxie are both rescue dogs. Their calm demeanor makes both perfect for their volunteer assignments.
"Any dog with a sweet temperament can do it, but some dogs, like mine, just thrive," Mirowitz said. "This is what they were built for. I think some dogs are just innately given this ability to love that interaction of touch. And if your dog is even close to that category, any dog breed can enjoy it. The core foundation is a dog who is at ease and with their handler and also with strangers."
Elevating spirits
A touch therapy dog generally visits settings such as schools, senior centers, hospitals and skilled-nursing facilities. Their primary job is to brighten the day of everyone they encounter. Some have specific tasks, like serving as a motivational tool during physical therapy sessions. In St. Louis, Duo Dogs has approximately 250 active touch teams that visit 120 facilities each year.
Another local therapy dog organization is CHAMP, with 90 therapy dog teams that visit 80 locations. CHAMP also has one therapy cat.
Rachel Green-Smith is one local CHAMP supporter. Green-Smith, a member of Congregation B'nai Amoona, is quite familiar with the value of touch therapy dogs. She is a licensed mental health counselor and certified clinical trauma professional who first experienced therapy dogs at a rehab facility.
"I have seen the amazing difference therapy dogs have made," Green-Smith said. "Like patients who have to learn how to move again. Sometimes they have the dog a little bit ahead and the person takes a step and get a pet … then takes another a step and get another pet. To see a therapy dog walk in there and just have that unconditional love, it brings chills when I think about it.
"Therapy dog day was always the best day because spirits were lifted. Sometimes people would get super emotional. Maybe they had a beloved dog when they were young and they haven't connected to any people like they connected to the dog. There were so many just beautiful ways that these therapy dogs elevated spirits, helped people."
Comfort and emotional connection
The most important benefit of the touch therapy dog program is simply to provide comfort to people who are sick or scared or lonely, Mirowitz said.
"But they also provide confidence to the dog, and the trainer-owner," she said. "Everyone experiences this uplift. I've never had a negative experience. You always walk out knowing that moment of that second when the person connected with your dog was the true essence of the program."
There is a unique emotional connection between a dog and person that makes touch therapy work so well, Green-Smith said.
"Dogs don't judge or correct," she said. "In a library reading program, the dog isn't going to pronounce the word for you. The dog's just going to stare at you with loving eyes and wait for you to be able to pronounce the word on your own. It's unconditional acceptance. That's why dogs are so great."
The Jewish volunteers in touch therapy teams said it's a situation in which everyone benefits, including the dog. Oliver knows that when his vest goes on, it's time to work. It's in a dog's nature to want to please. For the volunteer, the rewards are immeasurable, Samuels said.
"I get more out of it than the people Oliver and I visit," she said. You walk out after bringing a smile to their faces and you think, 'I am really a lucky person — when you love your dog as much as I do, and to work with your dog and have a real bonding experience.' "