Our relatives immigrated with little help. How you can change that for new arrivals
Jordan Palmer, Chief Digital Content Officer
Published December 12, 2021
In the first half of the nineteenth century, most Jewish immigrants came from Central Europe. In addition to settling in New York, Philadelphia, and Baltimore, groups of German-speaking Jews made their way to Cincinnati, Cleveland, Louisville, Minneapolis, and St. Louis.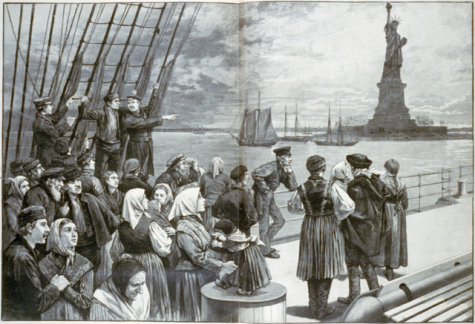 According to the Library of Congress, between 1881 and 1924, more than 2.5 million East European Jews were driven from their native lands by persecution and the lack of economic opportunity. Most of those who arrived as part of this huge influx settled in cities where they clustered in districts close to downtowns, joined the working class, spoke Yiddish, and built strong networks of cultural, spiritual, voluntary, and social organizations.
Many of our ancestors received help from others willing to offer it. Many did not. But, now in 2021, as the St. Louis Jewish community has become prosperous and influential, a new and similar situation mirroring that of our ancestors has arisen, and the need for us to be those willing to help others has returned.
Afghan SIVs & New Arrivals
In her August article, "Where Do Afghanistan's Refugees Go?" Tazreena Sajjad, a professor of refugees and migration studies at American University wrote "approximately 20,000 Afghans who are currently in the pipeline waiting for a SIV (Special Immigrant Visa) the additional 70,000 Afghans — including applicants and their immediate family members — who are eligible to apply.
Add in Syrian and Iraqi refugees, and the numbers grow exponentially.  And among the many U.S. cities where these refugees are going is St. Louis.
"As we approach the end of 2021, the International Institute has settled an enormous number of new arrivals," wrote Alyssa Banford, JCRC, Director of Civic Engagement and Stan Shanker, Chair of the Jewish Coalition for New Americans in a recent email to supporters. "Unfortunately, they have had to rely on temporary housing in hotels more than they anticipated due to the housing market."
How St. Louis can help new Immigrants
The Jewish Coalition for New Americans is hosting a meeting Friday, December 17th at noon to share some information, but mostly to answer questions or concerns about how the members of the St. Louis Jewish community and congregations can get involved in supporting our new neighbors.
In addition to learning about the current status of resettlement in St. Louis, you're invited to participate in an open forum to address questions or concerns you or your congregation may have about anything related to the International Institute's opportunities.
JCNA Representatives, congregation reps, and curious members of the public are all welcome to join.
What Is Needed?
The International Institute is still looking for long-term solutions for local housing and are asking for any help. Here are the basic, initial qualifications they are looking for in housing:
$1,200 / month rent maximum
2-3+ bedroom apartments
St. Louis City or County (must be in Missouri)
Easy access to transportation
The more apartments that can be together in a complex, the better for community building.