How 'Unsung Hero' Arlen Chaleff is helping bring better days to the mentally ill
Each year millions of Americans face the reality of living with a mental illness. Since May is Mental Health Awareness Month, the St. Louis Jewish Light is joining the national movement to raise awareness. This story was originally published on Nov. 7, 2021. 
When St. Louis native Arlen Chaleff was diagnosed at age 33 with manic depression — known today as bipolar disorder — life as she knew it turned upside down.
She had been chugging along on an exciting professional path in marketing with a major data processing firm in Washington, D.C., feeling on top of the world, thinking the best was yet to come.
"I didn't know that the worst was yet to come," said Chaleff, recalling that time in the mid-1970s when she spiraled into a deep depression after a serious boyfriend broke off their relationship.
"It started as depression but quickly turned to despair," she said. "I was falling down a black hole, and there was nothing I could do to stop the fall. I became unable to function or take care of myself. I was almost catatonic."
Chaleff later realized that she would have to redefine herself in order to move forward.
For the next 12 years, she fought the highs and lows of her illness, which including several hospitalizations and multiple electroconvulsive therapy (ECT) sessions. While notions of shock treatment conjure up images of zombielike humans akin to Jack Nicholson's character in "One Flew Over the Cuckoo's Nest," Chaleff felt that they were acting as "booster shots" to help her medications take effect.
After shuttling back and forth between D.C. and St. Louis, she eventually moved back here, where much of her family still lived and where she had roots in the Jewish community. Still, she felt alone and wasn't sure how to get her life back on track.
"I was unable to sustain a job. My illness had robbed me of feelings of self-worth," she said. "But it was a spiritual gift that helped me find my presence."
Rabbi Jay Goldburg, who was the chaplain of Barnes-Jewish Hospital, conducted a Shabbat service for Chaleff and a friend and then invited them into his office where he "listened attentively to my challenges and showed his support," Chaleff recalled.
When a friend from Clayton High School asked her to help with a fundraiser for the Juvenile Diabetes Foundation (now the Juvenile Diabetes Research Foundation), she accepted. Perhaps, she thought, turning her attention outward might help her regain self-esteem.
"Volunteering became one of the best therapies for my wellness," said Chaleff, who wound up serving on the diabetes foundation board. "Counseling and finally finding the right medication, which for me turned out to be Prozac, were also vital components to my recovery."
In the early 1990s, she joined the board of Jewish Family & Children's Service (now JFS), where she helped to found WINGS, a program to support adults and families dealing with mental illness. She remembers those early days well, and the upward battle to raise money for the program, spread awareness and fight the stigma that people coping with mental illness often feel.
"Many denied that mental illness was a major problem in our Jewish community," said Chaleff, who belongs to Congregation Shaare Emeth. "It is a chronic medical condition like diabetes or heart disease, except it disrupts a person's thinking, feeling, mood, ability to relate to others and daily functions. We as Jews are likely to suffer from mental illness as often as any others."
It was through WINGS that Fran Zamler, a Temple Israel and Shaare Emeth congregant, met Chaleff.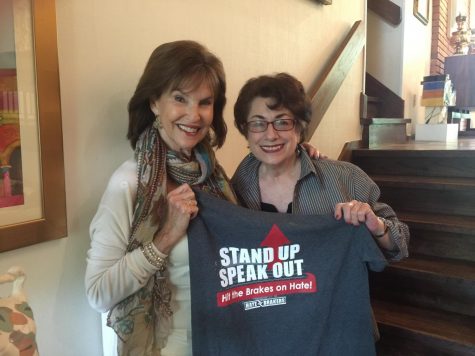 "I was immediately so attracted to Arlen as a leader — she's such a ball of fire," said Zamler, who said she has several relatives with mental challenges. "She was very upfront with her story about severe depression and all she had been through. Her message was that she is here on earth to help others who are suffering the way she suffered."
Chaleff was a presenter at many WINGS symposiums and a featured speaker at more than a dozen organizations, temples, churches and the like, telling her story in the hope of eradicating the stigmatizing that exists around mental illness. Despite those efforts and raising more than $100,000 for the program, WINGS was terminated after five years. According to L. Louis Albert, the executive director of JF&CS at the time, the program was not reaching enough Jewish people living with mental illness.
Disappointed but not at all deterred, Chaleff looked for other ways to share her story and lessons learned to help others. She joined forces with Rabbi James Stone Goodman, along with an advisory board that included  Zamler, to champion JAMI: Jewish Attention to Mental Illness.
"We started with the commitment that mental illness is not the concern of just some in our community, but it is the concern of our entire Jewish community," said Chaleff, who said one out of five adults in the United States live with mental illness, as well as nearly 5 million children.
Goodman credits Chaleff's courage in telling her story to others as making a huge difference in the lives of many.
"Arlen has been upfront with something that is rare and treasured, and that is her story," he said. "She had courage from the beginning of my efforts to be out front in helping us by telling her story and, believe me, it wasn't easy in the beginning. She is a great role model for people trying to heal from serious mental illness."
In 2009, Chaleff joined the board of the St. Louis chapter of the National Alliance on Mental Illness (NAMI), the nation's largest grassroots mental health organization with more than 1,000 chapters nationwide. She rose through the ranks to become board president, the first who has lived with mental illness.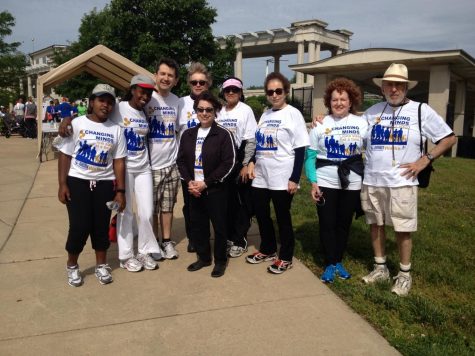 Today, at 80 years old, she still serves on NAMI's board and is focused on its new initiative, Ending the Silence (ETS), a 50-minute presentation to middle and high school students that includes a young adult discussing his or her recovering from mental illness.
"Evaluations from students and teachers have shown the critical importance of ending the silence, starting the conversation and removing the stigma," Chaleff said. "We know what it accomplishes."
While Chaleff has been honored before, including as a Woman of Achievement, a Woman of Worth and a Lifetime Hatebreaker, she says being named an Unsung Hero in the Jewish community has its own special place.
"Arlen said that this was the biggest and most significant honor she has ever received," Zamler said. "She said it was because when she first told her story so many years ago, it was to a young Jewish professional group. After the meeting, these Jewish professionals came up to her or called her privately because they didn't want to admit they had a problem. She said that's what really made her realize she needed to do something in the Jewish community to change the thinking.
"She has made it her life's work to let everyone know that mental illness is not a shanda, it is a disease, and with the right therapies and medicine, people can live extremely productive lives."
---
Arlen Chaleff
Age: 80
Family: While she never married, she has been the in-town grandma for her great nieces and nephews.
Home: Unincorporated St. Louis County, near Creve Coeur
Fun Fact: After a 50-year hiatus, she is bowling again and playing golf.