Harrison Bader's inner chutzpah coming through in the clutch for streaking Cardinals
Dan Buffa, Special to the Jewish Light
Published September 27, 2021
Fortune favors the bold they say, and Harrison Bader couldn't agree more.
If there is one player on the St. Louis Cardinals who lives and breathes confidence on a playing field, it's the centerfielder with the great hair and wicked athletic ability. Streaky at the plate yet elite in the field at all times, Bader's urgency has been a big factor in the Cardinals' thrilling September surge.
Bader has been all over this 16-game winning streak, whether it's hitting game-tying homers (like yesterday) or making the final throw in a miraculous double play that started on the infield. Along with saving the Cardinals close to 20 runs on defense via Fangraphs, Bader has contributed in a big way at the plate during the winning streak.
During the 16 games, totaling 63 plate appearances, Bader is hitting .400 with a swell .429 on-base percentage and otherworldly .750 slugging percentage. He's added nine doubles and four home runs, including a 10-15 performance against the Cubs this past weekend. Like most Cardinals, the baseball has seemed like a beach ball to Bader, who according to Viva El Birdos is attacking pitchers earlier in the count rather than watching juicy fastballs fly by the zone.
When Bader is seeing the ball right, there's not a lot for Cardinal Nation to complain about. That wasn't the case in August, when the Cardinals weren't even sniffing a wildcard berth. In 109 plate appearances in August, Bader hit .152 with just 15 hits and 29 strikeouts to go with two home runs. These are the times where the inner chutzpah, which is Yiddish for extreme self-confidence or audacity, of Bader can rile up fans. He does have the flamboyance of three models, someone who knows what his ability translates to during success. September has been a flip of the switch, and that's boosted his season totals.
Via Fangraphs, which is the sharpest sabermetric tool in the shed for baseball writers, Bader's WAR (wins above replacement) is 3.3, a solid mark when you consider he has only played in 97 games this season. The 114 wRC+, which stands for runs per plate appearance factoring in league and ballpark adjustments (100 is average), continues the small-sample-size performance he produced last season. In fact, if you take out a dreadful 2018 season, Bader's offensive performance overall looks a lot stronger.
The year is easily his best overall season. Bader's .270 batting average would be the highest of his nearly-four-year career, and the 15 home runs and 21 doubles sweeten the pot for a guy usually hitting lower in the batting order. But it's the strikeouts that have been an improvement this season. Normally, Bader strikes out around 28-30% of the time, but this year it's only 20%. In other words, he has more hits than strikeouts.
The defense is on another level. If there's ever been one thing with Bader that can't be questioned, it's the ground he can cover in center field. Bader has saved the Cardinals 15 runs in the outfield this year, producing an Ultimate Zone Rating of 10.2, which is well above average. While the hitting has been widely known as a bonus with him, the defense is a constant in Bader's game.
All a Cards fan has to do is rewatch the weekend sweep of the Cubs. There was Bader smashing late-game home runs, meaningful long balls that padded the lead or made the two sides equal. There was Bader running all over the outfield snagging fly balls and hard-to-reach line drives. There was Bader flying in from the outfield to assist on an infield double play. There was Bader with a late-game double, posing at second base to his dugout allies.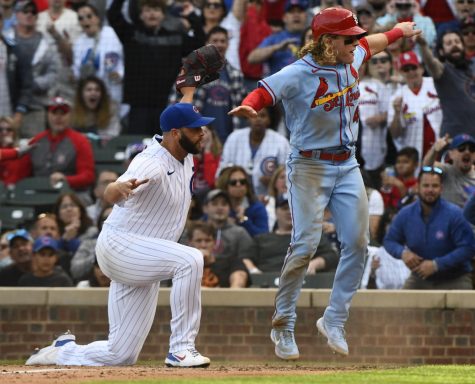 Every winning baseball team needs a player with extra chutzpah, the additional layer of unstoppable confidence that parlays into a field performance that helps that team surge. For the Cardinals, that player is Harrison Bader.