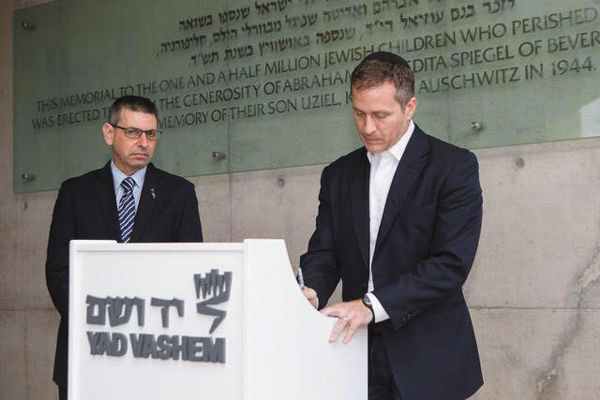 Missouri Gov. Eric Greitens traveled to Israel on Sunday as part of a trade mission sponsored by the Republican Jewish Coalition and the Hawthorn Foundation.
The governor planned to meet with government and business leaders "in an effort to strengthen the economic and cultural bonds between" Missouri and Israel, according to a news release. "The governor will be working to bring more jobs to Missouri and establish innovative partnerships in higher education, cyber security, agriculture, and public safety."
Greitens, a Jewish Republican, took office in January and has also made trade missions to China, South Korea, Switzerland and the United Kingdom. The Hawthorn Foundation, a nonprofit that funds Missouri governors' overseas trips, also paid for those two trade missions.
In addition to meetings with leaders, Greitens visited the Yad Vashem Holocaust museum in Jerusalem, the Gaza Strip, the Golan Heights and saw Iron Dome, the country's missile defense system, according to Parker Briden, the governor's spokesman. He will leave Israel on Saturday.
Greitens, who was elected last year, had met with Israeli Ambassador Ron Dermer during his August visit to St. Louis. The two participated in a roundtable discussion organized by BioSTL, a group that aims to bring Israeli companies to St. Louis. Greitens also presented Dermer with a proclamation declaring him a "friend of Missouri" and offered "Missouri's continued friendship and support for the people of Israel." The two again planned to have dinner in Israel, Briden stated in an email from Israel. 
Former Gov. Jay Nixon, a Democrat, visited Israel four times during his eight years in office. In the last few years, BioSTL has spurred five Israeli startups to open offices in St. Louis. 
Jewish Federation of St. Louis "is delighted that the governor is making Israel one of his first overseas visits in his first year in office," Federation President and CEO Andrew Rehfeld stated in an email. "We have been a strong supporter of strengthening relationships between Missouri and Israel, and we will continue to look for strong bipartisan pathways to connect our elected representatives to Israel."