Before Ben Hochman, the award-winning (and Jewish) St. Louis Post-Dispatch sports columnist, ever penned a word about the Cardinals or the Blues, he was a budding creator of musical theater.
"It was my senior year, 1998 at Clayton High School and we had a student-run musical. Somehow I was chosen to write the musical that year," said Hochman.
As you might expect from the future sportswriter, Hochman conjured up a baseball tale entitled "The Franchise." And while Broadway and the West End never came to call, a fellow Clayton student, Ellie Schwetye, never forgot Hochman's work from 25 years ago.
"So fast-forward to this year, the director of 'Shakespeare in the Streets'— a fellow named Adam Flores — is at a party. He was talking to Ellie, explaining that they were doing a Shakespeare play based on the St. Louis soccer community, and were looking for a local writer to create it," said Hochman. "And Ellie said, 'I know the guy!' "
Turns out, Schwetye has been a force within the St. Louis theater community for decades. Her diverse body of work has earned her multiple St. Louis Theater Circle Awards. She knows her stuff, and Flores was listening.
"I got a call from Adam and he explained the opportunity, and I jumped at it," remembered Hochman.
Now, 25 years after his Clayton High School debut, Hochman is once again a playwright.
"Shakespeare in the Streets: The Game's Afoot"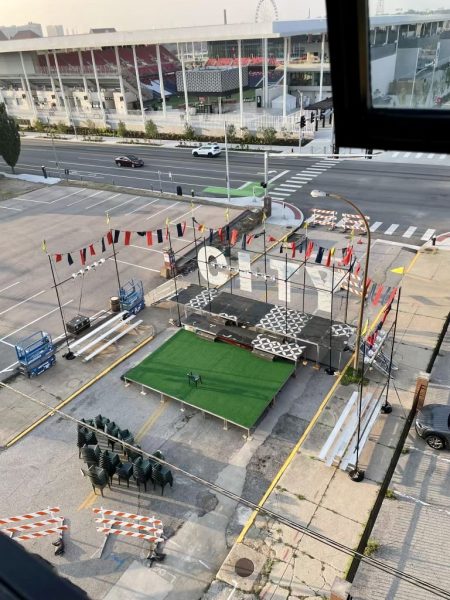 Hochman's "Shakespeare in the Streets: The Game's Afoot" takes St. Louis' legendary soccer history and weaves it into a brand-new adaptation of Shakespeare's Henriad.
"That is a fancy way of saying Henry IV part one, Henry IV part two and Henry V," explained Hochman. "Flores really wanted to incorporate those plays, notably because of the St. Crispin's Day speech from Henry V, which is regarded as the first-ever motivational, locker room speech."
In Hochman's version, the popular pre-battle speech given by King Henry to the British Army in Shakespeare's Henry V is replaced with a soccer coach speaking to his players before the big game.
Many of Shakespeare's main characters, such as Prince Hal, Sir John Falstaff, and Hotspur appear in Hochman's play, along with iconic names of St. Louis soccer royalty: Harry Keough, Ty Keough, Al Trost, and 1975 St. Louis Stars goalkeeper Peter Bonetti.
"It's a history lesson of the St. Louis soccer culture and community," said Hochman.
To prepare, Hochman relied on his sports reporting skills, interviewing dozens of St. Louis soccer people as if he was writing a column.
"The idea was to gather their stories, gather their emotions, learn why soccer means so much to them and why soccer means so much to St. Louis," said Hochman. "I really wanted to identify why St. Louis is such a special and different kind of soccer town. I learned there really is a soul to St. Louis soccer and I tried to capture it all in the play."
What is Shakespeare in the Streets?
Shakespeare in the Streets is a grassroots theatrical experience that invites St. Louis neighborhoods to tell their stories. A festival-selected creative team leads the neighborhood—or, in this case, soccer fans across the city—in developing an original play based on one of Shakespeare's works with themes that reflect the community's character.
Residents contribute to all aspects of the production, from story development to live performance. The result is a weekend-long celebration of their collective effort, with three live, outdoor performances. Free and open to the public, these performances unite the neighborhood and introduce it as a creative force to the greater St. Louis area.
The three-night celebration will take place on Olive Street near the intersection of 22nd in Downtown St. Louis at 8 p.m. on Thursday, Sept. 14 and Friday, Sept. 15, and at 6 p.m. on Saturday, Sept. 16. The festival has opened up its story collection to members of the public and seeks memories from all across the region at all levels of play or fans of the sport.
Accessibility 
ASL interpretations will be provided on Thursday, September 14
Audio descriptions by Mind's Eye Radio will be available on Friday, September 15.