For the first time, NJT readies for a world premiere
JUDITH NEWMARK, Special For The Jewish Light
Published September 7, 2022
New Jewish Theatre fans are excited that, for the first time, the troupe will stage a world premiere: "The Bee Play" by Elizabeth Savage.
Savage is excited that "The Bee Play" will open on September 8,  just before the High Holidays. (Purchase tickets online)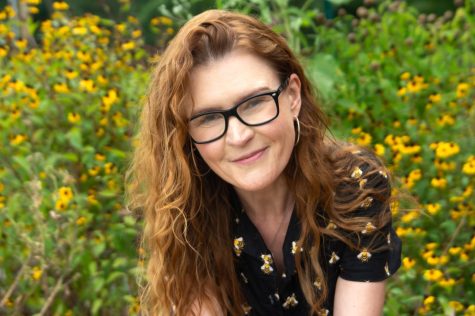 "It's a perfect play for Elul," explained the playwright, whose sparkling conversation artfully weaves together everything from off-Broadway shows to varieties of Jewish practice to household organization. "It's all about forgiveness."
"The Bee Play" was among the most successful scripts submitted to the Jewish Play Project, an organization set up to encourage fresh work at theaters like NJT around the country. Productions like this one are exactly what the Project was meant to inspire.
But the four-character drama might be just as apt at a different kind of ethnic theater, such as the Black Rep. Or at science theater, if such a thing exists.
Because it explores themes of sustainable living, Savage says, she understands why people assume that "The Bee Play" is political,  "and I hate political theater!" 
That means, she clarifies, that she hates theater that virtue-signals, smugly telling the audience how to think. 
"The Bee Play" does, in fact, deal with hot issues. But it's fundamentally about people striving to live meaningful lives in a challenging world.
And bees. It's also about bees.
"The idea for the play came down all at once," Savage said. "I have lived with these characters for 10 years." 
She started with Carver Washington, a high school senior who lives in the Bronx with his disabled grandmother and little sister.
A smart kid with a scientific mind, Carver cultivates bees on the roof of their rundown apartment. He'd like to go to college, would like to live someplace — anyplace — else. In the meantime, he sells his honey at a local farmers market, a bright spot in the Bronx food desert.
Savage said she had "known" the Washington family for a while "when I realized, oh! There's also a girl." That turned out to be Devora (whose name does, indeed, mean "bee").
Fresh out of Yale, Devora is very interested in "intentional communities" where like-minded people choose to live and support each other. She wants to set up a kind of kibbutz in the Bronx, where she has moved. 
"Her parents in Scarsdale can't understand what she is doing," Savage said, perhaps superfluously. She puzzles Carver, too.
"All he wants is to get out of the Bronx, and all she wants is (to get) into the Bronx," Savage said. 
But once they meet at the farmers market, each senses a kindred spirit in the other, and a relationship develops. 
That isn't what anyone might have predicted, including Savage. But she's comfortable with that. 
"Jewish journeys," she observes, "are always long and winding."
Take, for example, hers.
Savage is Jewish by choice. She grew up in the Maine woods, riding her horse and doing some work as a child actor. 
Remember the film of  Stephen King's "Pet Sematary"? She was in that: the little girl in the flashback. "I was in the scariest scene," she maintains. 
Neither her Ukrainian-American father, a writer and editor, nor her "totally WASP" mother, passionate gardener who taught school, is Jewish. 
They always encouraged her to follow her interests, which took her to New York University's esteemed Tisch school to study theater. 
"I went to Manhattan and never looked back," Savage said. "The great love affair of my life is with New York City."
Now 44, Savage spent years acting and ultimately starting her own business as a professional organizer. This, it turns out, is not a bad gig for an actor or a playwright. 
"People tell me everything," she said. "I would never betray their trust, but I learn a lot from them." 
New York is also where she met the other great love of her life, her husband, Nigel Savage.  
"Nigel is Jewish-famous," she says with a little blush. 
He founded and, until last year, headed Hazon, the largest Jewish environmental organization in North America. 
Originally from England, Nigel Savage is spending the current shmita year, 5782, in Jerusalem. (He is, however, coming to St. Louis for the world premiere, as are his in-laws.) A shmita year is "like Shabbat on steroids," the playwright said, noting that "the Torah is, among other things, an agricultural document."
During shmita, farmers in Israel let their fields rest. This is smart in agricultural terms, and not unlike the advice that Carver's namesake, the great agricultural scientist George Washington Carver, gave to black sharecroppers after the Civil War.
Their small plots were not good land. By the second half of the 19th century, most Southern farmland was used up, depleted by King Cotton. Carver advised planting crops that restore nitrogen to the soil, including legumes like (you guessed it) peanuts.   
In other words, Carver advocated sustainable agriculture, just like Hazon. But Savage says that her husband's ideals did not determine the direction of "The Bee Play," just as his religion did not determine her choice to be a Jew. She had already begun the transition before they were a couple.
"There wasn't a ring for me at the end," she said. "I did that under my own steam." 
Savage has chosen to be a very active Jew, now involved in a number of New York congregations. 
In fact, she visits synagogues all over the country. 
"Because of Hazon, Nigel is often invited to speak for Jewish organizations and at synagogues," she said, "and many times, we are invited to an aliyah. 
"That's so thoughtful. I have always felt completely welcome among Jews, never been made to feel 'other.' 
"But I always say no. I have actually had two conversions: first Conservative, then Orthodox. But I haven't been bat mitzvah yet, which is what an aliyah would be for me."
Savage is looking forward to a special ceremony of her own, when the time feels right.
Nothing pointed her way to the hive. She traces the beginning of her "obsession" — that's her word for it — to articles in The New York Times. First, in 2007, she found herself very disturbed by an article on Colony Collapse Disorder. In this syndrome, the majority of worker bees disappear from their hive, leaving behind the queen, plenty of food and a few nurse bees to care for her and the remaining immature bees.
At that time, many observers feared CCD posed a long-term threat to the whole species. Today, the situation is much better, according not only to Savage but to the U.S. Environmental Protection Agency.
She began reading everything about bees she could get her hands on, including another article three years later that fascinated her. Beekeeping, it reported, had been legalized in New York City. 
"Who knew it wasn't legal?" she asks with a laugh. "Bees are hip now."
Gradually, the whole thing — CCD, beekeeping in New York City, her maturation as a Jewish woman who belongs to a large community both ritually and culturally — combined to resonate with Savage, gathering force until she had made … a play.
"When I was studying colony collapse, I had a sudden realization: The things that kill bees, kill us," she said. "Carter is obsessed with colony collapse. Devora is obsessed with another kind of collapse, a collapse in human society. And both are determined to fix the problems that they see."
"That's a deeply Jewish ethic," Savage said. "And I think that makes this a deeply Jewish play."