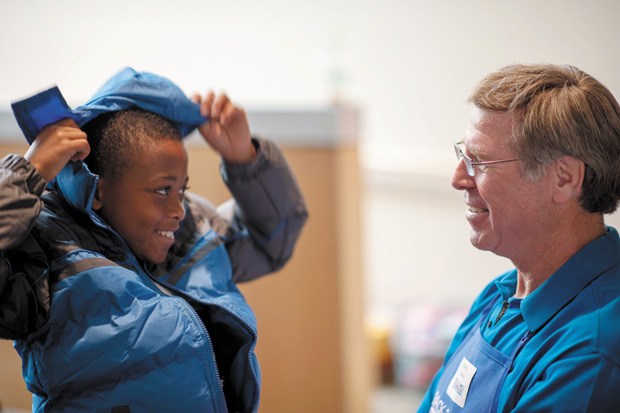 Each summer a fully-functioning, well-stocked and elaborate department store springs up, seemingly overnight, in a multipurpose room at Central Reform Congregation.
The Back-to-School Store, which this year will be held Sunday, July 21, is a one-day event that allows over 1,200 needy St. Louis elementary school students to "shop" for supplies they need to begin the new school year. Volunteers act as personal shoppers to assist the children in choosing books, coats, underwear, shoes, school supplies and more from among thousands of donated and purchased items.
New this year is a partnership with Eye Care Charities of America allowing students needing eyeglasses to receive them on-site.
Setting up the National Council of Jewish Women's annual Back-to-School Store, now in its 13th year, is no small feat; the job requires weeks of transporting clothes, racks and supplies, and over 500 volunteers.
Jenny Abeles, a former BTSS co-chair and longtime event volunteer, said that the preparation and execution of the store is a "tremendous undertaking."
"It's a big job. It's a very elaborate store that we put together," Abeles said. "We serve more than a 1,000 children so we need to go out and purchases 1,200 coats, 1,200 sets of shoes, 1,200 pairs of underwear."
Karen Silverman, a BTSS co-chair, said that the work continues once the hundreds of boxes of purchased items are transported from the NCJW offices, both by committee members and a hired moving company.
"There are several days we spend cutting off tags, several days of organizing clothing by size, days where we break apart and re-organize school supplies that come in large packs," she said. "Then we organize books by grade levels, and line up all the shirts and pants in the multipurpose room by size to make sure everything is in order."
Despite the efforts made to keep all of the supplies organized, NCJW Program Director Nancy Weigley said that each year sees its own logistical issues.
"Every year, it's something," she said. "But there are just such fabulous, committed volunteers. When there's a problem, they do something about it."
Weigley said that the store's success was also made possible by the staff at CRC, who she said are "terrific."
"We basically come in and take over that building for two weeks," she said. "We take over their office space, we take over every inch of that building, and they are absolutely wonderful about it."
Silverman said that one staff member in particular, Terrell Wooten, kept those at BTSS coming back to CRC. Wooten, who is the temple's building supervisor, was honored at the 2012 JProStL Recognition Luncheon for his work with the store.
"Terrell goes above and beyond what his job at CRC is; he will take time out of the day-to-day tasks he has as a CRC employee to help us," Silverman said. "He knows the system and routine almost better than we do, which is so incredibly helpful. Without Terrell's insights, wonderful memory and giving of himself and his own time we just couldn't do it."
"We could not be as successful as we are without CRC's help," Abeles said, adding that the logistics of creating a department store were "insane."
However, despite the project's scope and huge workload, volunteers come back year after year. Silverman and Weigley have been involved with the Back-to-School Store for eight years; Abeles, for more than 10.
"It's an amazing event that our volunteers look forward to," Weigley said. "It's a fun event, it's a great event, but when you look around and realize how many children in our community are in need, it's really sad."
Abeles agreed that it was this apparent need that kept her engaged with the Back-to-School store.
"School should be one place where kids feel safe and comfortable, and they should be excited to continue their learning process," she said. "And anything we can do to help them do that is the reason that I keep coming back."
Silverman said that giving students what the supplies for a positive school year helps to ease the "unseen baggage" carried by a child who doesn't feel prepared to succeed.
"A lot of people don't realize what a large percentage of kids come to school at the beginning of the year unprepared as far as school supplies and clothing," she said. "It can do so much for a child's self esteem to feel like they're ready to start a great year; and it's wonderful to know that we can help kids every year to have just that."