Food biz entrepreneur prioritizes staff, customer experience
BILL MOTCHAN, Special to the Jewish Light
Published May 18, 2021
On his way to work every day, Ben Hillman is greeted by a giant purple chicken.
Hillman manages the year-old fast casual restaurant Chicken Out at Delmar and Skinker boulevards in the Loop. The restaurant's mascot is a 10-foot-high statue known as Cluck Norris. The blue and yellow clawed creature is intended to create a fun vibe to accompany good food and great service.
Hillman, 30, loves the restaurant business. He knew two years before his bar mitzvah at Central Reform Congregation that his future would be in the hospitality industry.
"My dad, Tom Hillman, was on the board of COCA when I was 11, and they had a cooking program," Hillman said. "There was an article in the Post-Dispatch about the program, and I was interviewed. They asked me, 'What do you want to do when you're older?' and I said I wanted to own a restaurant and if I can't do that, I want my dad to buy one so I can work for him."
Tom Hillman actually went a little further. He hired Ben to run the hospitality division of his private equity holding company Lewis & Clark Capital. Ben works closely with his partners in Chicken Out and its sister restaurants, Sugarfire Smoke House and Hi-Pointe Drive-In.
"Ben has not taken an easy challenge, but he has been formidable in accepting the challenge and succeeding," Tom Hillman said. "We sponsor great entrepreneurs, and Ben is a contributing member of our business. It's a proven business model that we believe is scalable, and we are investing together to expand our footprint. The first effort is to open more locations in St. Louis."
Ben Hillman calls his restaurant chef-driven, and he describes the menu as "elevated fried chicken." The signature sandwich, known as the Chicken Out, is served with crispy pickles on a potato bun. A spicy version of it, akin to the popular Nashville-style fried chicken, raises the heat level with Crystal hot sauce. In a nod to vegetarian diners, Chicken Out also offers a plant-based fried chicken option.
The restaurant, in a historic building at 6197 Delmar Blvd., also has a walk-up window. It's convenient and a welcome carry-out option for diners skittish about entering a restaurant. Hillman worked closely with the St. Louis Preservation Board to obtain the permit necessary for the window.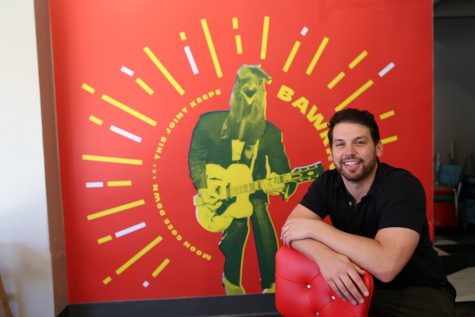 Entering the restaurant business isn't for the faint of heart. Eight out of 10 start-up restaurants fail within the first two years. Those statistics don't faze Ben Hillman.
"I see it as more of an opportunity because those restaurants fail for a reason," he said. "We're in the people business, and I think if you create a culture and environment where people want to come to work every day and you create a community within your restaurant, then success is pretty easy. That's an element a lot of people don't get, so I spend a lot of my time focused on how can we better support our employees and the community, and the rest of it falls into place."
Hillman cares deeply about the hard-working employees who staff Chicken Out. He also has empathy for restaurant workers he's never met. Last year, in the throes of the pandemic, he collaborated with other restauranteurs to create events generating relief for restaurant workers who were furloughed or laid off. He also led a Lewis & Clark Capital effort to provide 900 meals for frontline workers at BJC Hospital.
COVID-19 has made a difficult business even tougher. One of the most challenging aspects of the restaurant business right now is a very basic one: hiring employees. Many restaurants were forced to close or drastically cut back on service last year. The U.S. Department of Labor tracked a decline from 12.25 million restaurant employees in January 2020 to a low of 6.33 million one year ago. That number has rebounded to 10.1 million as of March, but employers have reported that it has been difficult to lure and hire workers to fill positions.
The key to acquiring and retaining talent means more than just good pay and benefits, Ben Hillman said.
"People who work in restaurants get a really bad stigma, like they only do this because they can't do anything else," he said. "But I've found in many cases, no one has given them the chance to do something, or they lack confidence. A lot of my time is spent working with my team to help them achieve their goals and improve their confidence so they can succeed."
Hillman tries to create a fun workplace, and he leads by example, according to his father.
"He's always been passionate about the business and creative about preparing foods," Tom Hillman said. "At the same time, he tries to delight and engage the customer and give them the things they want. He can do every job, and part of that as the leader is when people see that he rolls up his sleeves and can do every job, when he asks people to do things, he doesn't have any pushback because he works as hard or harder than anyone."
Ben Hillman earned a finance degree from the University of Denver, where he honed his restaurant management skills after graduating by working for chains including Chipotle and MOD Pizza. He came back to St. Louis and joined forces with Sugarfire and Hi-Pointe co-owners Mike Johnson and Charlie Downs. That led to Hillman's first solo effort, Chicken Out. He also manages a Sugarfire in Denver and the Hi-Pointe Drive-In on Washington Boulevard in downtown St. Louis.
He and his partners have an interest in 24 restaurants, including 10 franchises, with nearly 300 employees.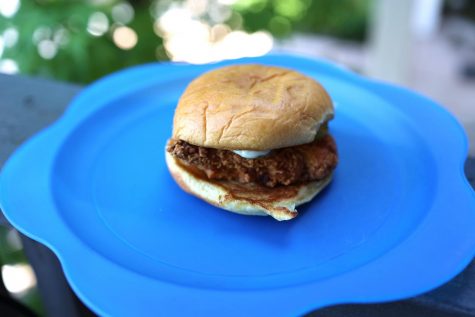 Next up for Hillman is expansion. He's planning the second Chicken Out, a drive-through location in Kirkwood that would open in late summer. It probably also will have a larger than life chicken out front. Or maybe another chickenmobile, like the retrofitted Cadillac outside Chicken Out on Delmar. The car, which has a giant chicken head popping out of the roof, was a branding tactic to call attention to the new business last year.
"My partner Mike Johnson posted on Instagram kind of joking, asking if anybody knew where we could buy a car with a chicken," Hillman said. "Within an hour, someone responded and said, 'Oh, yeah, you can find that in Missouri, there's one sitting on a lot in Bonne Terre.' It was originally created for a fried chicken restaurant in Illinois. So we went down there the next day with our checkbook and came back with it."