First Look: New labyrinth at the J will mark Israel's 75th anniversary
By Bill Motchan , Special to the Jewish Light
Published April 19, 2023
A labyrinth will be unveiled at the Jewish Community Center as part of the April 23 celebration of Israel's 75th anniversary as a nation. The permanent public art installation also will be completed during the event by anyone who wants to help out.
Labyrinths are ancient patterns with a single, winding path that leads to the center. The most famous labyrinth is located in the Chartres Cathedral in France. Labyrinths are frequently associated with faith and mysticism. They are intended for walking a precise path and personal reflection, said Robert Fishbone, who created the design.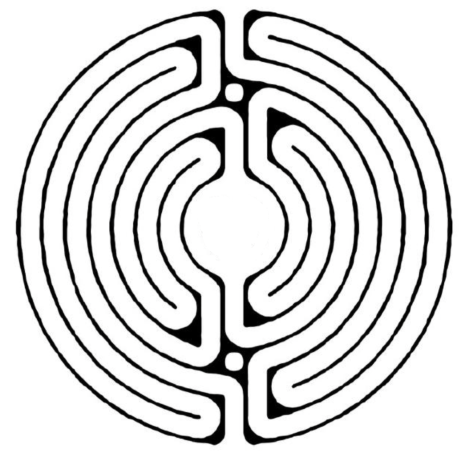 "We wanted it to be interactive," said Fishbone, owner of On the Wall Productions. "I wanted it to be something that people could discover, that would be a thing of subtle beauty, and which people could derive meaning from."
Fishbone is a member of Central Reform Congregation, the site of his first labyrinth. That design evokes the city of Jericho. Fishbone is known for his elaborate and whimsical murals but, in recent years, he has expanded his repertoire to include labyrinths. He explained the key difference between labyrinths and mazes.
"A maze has really tall walls and dead ends and multiple ways you can turn," Fishbone said. "It's meant to confuse and confound and entertain you. A labyrinth is at ground level. There's one entrance, and as long as you stay on the path, you'll always end up in the middle. It has more to do with mindfulness, prayer, letting go, release, surrender and humility. And there are thousands and thousands of them around the country."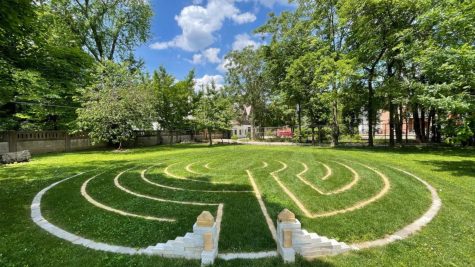 While the experience is intended to be contemplative, Fishbone said, walking through a labyrinth need not be solemn. He said some labyrinth visitors dance along the path. Before wedding ceremonies, couples have used the two entrances of a labyrinth to meet in the middle to represent two paths coming together.
One can experience walking through a labyrinth in a variety of ways. The idea is to gain something spiritual from the experience. The space, adjacent to the J's community garden, will offer an area for visitors to consider the special connection between the St. Louis Jewish community and Israel.
The labyrinth at the J will be unique in that community members attending the Yom Ha'atzmaut celebration can take part in building it, Fishbone said. He also chose design elements that have a direct connection to St. Louis and Israel.
"We're going to have two benches in the center of the labyrinth," he said. "One is going to be made out of midwestern limestone, and the whole top of the other bench is going to be made out of Jerusalem stone. So we're literally and metaphorically looking for ways we can identify Israel, St. Louis and Jewish values, and this notion that you can't get anything done unless you're willing to sit down and be with someone. 
"Nobody knows what's going to happen when they wake up or don't wake up. The labyrinth helps with that. It literally gives you twists and turns, but you need to be paying attention to stay on the path. So it's a mindfulness practice. People are encouraged to walk out on the other path as a reminder to not judge anyone until you've walked a mile in their shoes."