Ex-journalist Nancy Keyser helps repair the world by learning, telling stories
Eric Berger, Associate Editor
Published November 5, 2021
Nancy Keyser has not worked as a newspaper reporter for four decades, but she retains some of the same hunger for stories.
About a decade ago, Keyser retired from a career in public relations, the field she entered after leaving journalism, and was nervous about what she would do next, she said.
She learned of an opportunity to interview Missouri veterans to collect their memories for the U.S. Library of Congress and the State Historical Society of Missouri.
Keyser's desire and ability to tell important stories has not only helped preserve veterans' recollections, but also, by volunteering at the St. Louis Kaplan Feldman Holocaust Museum, helped ensure that younger generations learn about that dark period in history.
State Sen. Jill Schupp, D-Creve Coeur, who started the initiative, said: "The people who stepped up and volunteered like Nancy to be part of the Missouri Veterans History Project are pretty amazing and care deeply about our veterans and about having a record of their history."
Keyser, who attends Kol Rinah, grew up attending Congregation Temple Israel and said her motivation for volunteering is shaped by the Jewish concept of tikkun olam, repairing the world.
"You want your life to be meaningful, and to me, one of the best ways to do that is by being there for others," said Keyser, 68.
As a reporter, she worked at newspapers in Illinois and Texas,  and in Missouri at the former St. Louis Globe-Democrat. In the wake of the Watergate scandal, Keyser was inspired by the reporting of Bob Woodward and Carl Bernstein at The Washington Post.
"I have always been interested in people and, other than being a bartender, it's the best way to hear people's stories," said Keyser, who in public relations represented local corporations such as Monsanto (now Bayer) and Mallinckrodt.
In addition to her volunteer work for the historical institutions, Keyser also served as a board member of the local branch of NAMI (National Alliance on Mental Illness); as a court representative for abused or neglected children; and as a volunteer at a Humane Society puppy adoption center.
"I have always been drawn to vulnerability," she said. "There is an instinct to want to protect or help those who don't have a voice, particularly children and animals."
As a court-appointed special advocate, Keyser represented children who were removed from their homes. That included children whom Keyser suspected had been sexually abused. She tried to ensure that they received appropriate therapy.
"Their parents had the option of having a court-appointed lawyer, and of course the state has its own prosecutors, but there wasn't anyone to represent the children, many of whom were too young to even speak, in the courtroom," Keyser said. "You get trained to do that and try to speak for their needs."
At the Humane Society, Keyser cleaned cages and ensured that the animals were comfortable. She also screened potential adopters.
"It was great because, in many cases, they would come in with their children, and there was a little room off to the side where they could visit with a puppy," Keyser said.
She got to "see them interact. There were a few cases where we had to deny somebody because they were giving off signals that it would not be a safe or appropriate place for the animal."
Keyser learned of the Holocaust museum about 18 years ago and reached out to become a docent. The institution had "fabulous training," Keyser said, and she quickly became passionate about the work.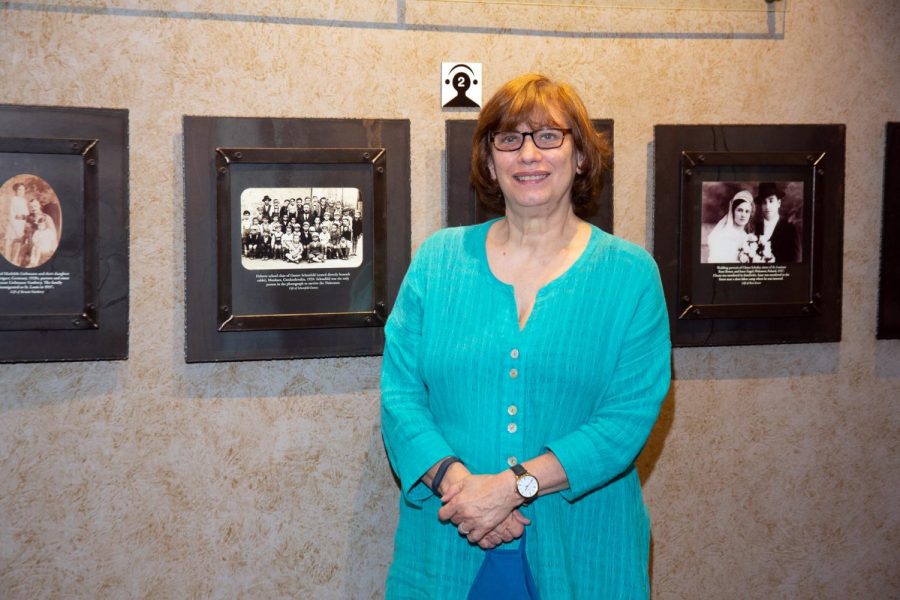 "It's become part of my heart and soul, being involved with that organization for so many years, partly because we have an opportunity to educate people about the lessons and history of the Holocaust, but, perhaps more importantly, to inspire change and promote understanding," Keyser said. 
As a docent, Keyser is effective, said Jean Cavender, former director of the museum, because "she did a really great back-and-forth with the kids, really encouraging a lot of questions, so her tours were not just straight tours. They were often a dialogue."
Keyser's communication skills have been a significant asset for the museum in other respects. In 2018, Keyser launched a digital newsletter, brainstormed content ideas and wrote stories for it. Keyser also helped produce a video for an anniversary of the museum's opening.
The newsletters "helped highlight our work and the people who contribute to it," said Lory Cooper, the museum's volunteer and tour manager. "(Keyser) gets things done. Also, she is a pleasure to work with."
For the veterans history project, Keyser spent four years interviewing about 150 veterans. She would meet them at businesses, churches and Veterans of Foreign Wars halls. 
Schupp described Keyser as "the perfect person to be in that role."
The veterans, most of whom served in World War II, spoke about their experience in the military and periods such as the Great Depression and about their families.
"It was a real window into history," Keyser said.
Keyser has spent much of her time ensuring that future generations learn about people whose lives were shaped by World War II.
"When people hear about some of the places where I volunteer, particularly the Holocaust museum, they often ask, 'Isn't that depressing? Why would you do that?' " Keyser said. "I think it's uplifting to have an opportunity to make an impression on someone who might make a positive difference in the future."
---
Nancy Keyser
Age: 68
Family: Husband (Steve) is a CPA; daughter (Caroline) is a writer; step-son (Michael) is a major in the U.S. Army Reserve; step-daughter (Melissa) is a mortgage lender; two grandchildren.
Home: Creve Coeur
Fun Fact: Nancy likes to read true crime and crime novels.
They are "a little gory for people. I don't why, but I'm into that," she said