Couple's modern home in The Grove keeps a link to old St. Louis
Amy Burger , Special to the Jewish Light
Published March 28, 2023
For more than 20 years, Terrie and Arnie Robbins lived in a beautiful turn-of-the-century mansion in the Central West End, remodeling its main living areas and decorating it with their eclectic mix of furniture and art. 
"Everything was done," Terrie says. 
So why, in the midst of retirement, did they decide to start over and build a new, modern home in the Grove? 
"I wanted an adventure," Terrie says. "I love modern and contemporary, and our older mansion was not that." 
Both retired from the St. Louis Post-Dispatch, Terrie and Arnie have no children and love to travel. They briefly considered moving out of town, to Denver or Santa Fe or Washington, D.C., but ultimately decided to stay in St. Louis. Relocating seemed too daunting a challenge, and St. Louis' central location made travel to other destinations convenient.
Once they decided to stay, the couple began determining where in the city they wanted to build a smaller home. They considered Grand Center and the Hill, but they really loved the vibrancy of the Grove. They purchased three adjacent lots on a quiet street. Partnering with pioneering local design-build firm UIC Homes — based in the neighborhood — made sense. 
Arnie and Terrie were familiar with UIC and its design principal Sarah Gibson through some friends who had a UIC home built. 
"We sort of interviewed them about it," Arnie says. "Then we met Sarah and just really connected with her, and she connected with us." 
Their goal was to build a house that was very contemporary with plenty of natural light, two bedrooms and no wasted space. Gibson started by visiting the Robbins' Central West End home and discussing things they liked and things they didn't. For example, Terrie says, "I had a reading nook I loved at that house, so now I have one here." 
Gibson presented two rough sketches. One leaned toward a midcentury modern aesthetic. But they chose a contemporary design incorporating the shell of an original 1890-built home on one of the three lots. Gibson left what she refers to as "traces" of the old house, mostly areas of exposed brick from its frame and its original brick exterior. The new half of the house is clad in corrugated metal siding. 
The Robbinses sold their fully furnished home in the Central West End in 2019 and moved into the Woodward Lofts in the Grove while their new home was being built. 
In July 2021, they moved into their sleek, 2,100-square-foot home. It features an open main living area that is flooded with light from huge windows at each end, and a more private bedroom wing in the shell of the old house. The glass front doors and uncovered windows often draw the curiosity of passersby, who pause and peer in, apparently mistaking it for a storefront or restaurant.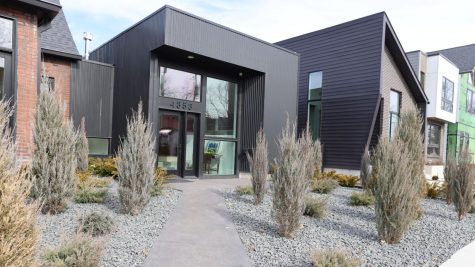 Arnie and Terrie don't mind the attention. 
With clean white walls, tall ceilings and soft-maple floors, the home serves as the perfect gallery for the couple's extensive art collection, which includes pieces by local artists such as Peter Manion, Charley Blood and Scott Leisler, as well as art and artifacts they've collected on their world travels. The furnishings and light fixtures are art in and of themselves, all designer pieces selected specifically for the home.  
"We kept two chairs, an old table in the foyer and a chest that was Terrie's grandfather's," Arnie says. "Everything else is from Centro. [Co-owner] Todd Lannom was fabulous to work with." 
A pair of Poltrona Frau Archibald red leather chairs are the focal point of the living room, and Terrie delights that they are as comfortable as they are beautiful. A quilted Moroso Gentry sofa provides texture and additional visual interest. Terrie's reading nook, in a corner overlooking a sunken foyer, is outfitted with an orange B&B Italia Metropolitan Swivel lounge chair and ottoman, and a painting hung at seat level for admiring.
They styled the kitchen in simple black and white, with all of the upper cabinets banked on one wall to allow for an unobstructed view of the backyard. An expansive island is topped in honed absolute black granite for a soft finish. In an adjacent dining area, a series of nine black ink drawings by Peter Manion framed in rows of three hang alongside a glass-topped sculptural Cappellini Branch dining table designed by Jakob Wagner. 
Glass doors lead from the kitchen to a cozy covered concrete patio fitted with built-in heaters and colorful outdoor seating, including a pair of pink and red Moroso Banjolli woven chairs made in Africa and procured from Centro Modern Furnishings.
 The Robbinses had extensive gardens surrounding their former home, but they kept the landscaping simple, modern and low-maintenance at the new house with only rocks, bushes and hardscaping. They commissioned friend and former owner of the Bug Store, Ken Miller, for the landscape design. A backyard rock garden is punctuated with fiery red ceramic ball fountains and tall blue glass sculptures from the Bug Store. 
The side of the neighboring home's garage faces into the Robbins backyard, and rather than stare at a plain brick wall, they got permission to have a mural painted on it, commissioning local artist Peat "Eyez" Wollaeger, who had previously worked for Terrie in the art department at the Post-Dispatch. The colorful mural features two of Wollaeger's signature stenciled "eyez" flanking a large honeybee — Terrie's favorite insect. 
"It has a lot of intricacies," Terrie says. 
Building and moving into a new home during a global pandemic had its challenges.
"We had to wait four months just to get a permit," Arnie says.
But they are finally feeling settled and have become active members of the Grove community. 
"And we're still friends with Sarah," Arnie says. "We think she's a great architect. We're thrilled with the house."