Dear Reader, I have knish on the brain and here's why
Jordan Palmer, Chief Digital Content Officer
Published March 13, 2023
I have knishes on the brain and here's why:
I have wonderful memories of meeting friends for Sunday breakfast at the old Sherman Brothers Deli on Olive at Mosley roads in Creve Coeur.  While my main dish order would vary, I always had a meat knish on the side. It was served with a side bowl of gravy, and I would drown my knish in that gravy. It was heaven.
Pumpernickels had great knishes. Kohn's has great ones too and Protzels knows their knishes, but that Sherman Brother's knish is seared in my brain.
On Monday, the Jewish Light included a fun little story about the history of the knish in America. Clearly, I have knishes on my brain and for good reason. This week, we all have the chance to learn how to make them.
Making knish
This Thursday, a new group is kicking off at the J. "J Next" focuses on adults between the ages of 40 and 55 who are recent empty nesters with kids around 18-25 years old. The group is open to both members and non-members of the J.
For once, I'm someone's target audience.
And to make matters even better, the first event if focused on, yep you guessed it, knishes.
"So, what makes the Jewish delicacy that is a knish so fun?  For me, it's that anyone can make them with a little practice and with a little practice can put their own personal spin on them," said Chef Jon Hoffman of Papa Mark Catering. Hoffman will be the featured chef Thursday, March 16 at 6 p.m. in the J's Staenberg Family Complex, for the debut of "Cocktails and Knishes."
Hoffman will not only be making his famous knishes, but also teach you how to make them as well. You'll even go home with your own recipe to add to your repertoire of Jewish foods. The cost is $6 per person. Register here.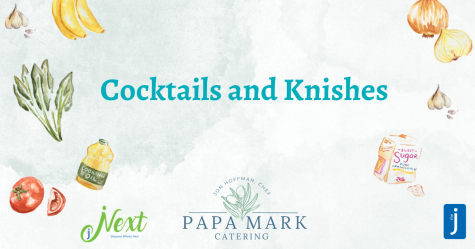 Chef Jon Hoffman
Hoffman, 41 is the former mashgiach and event coordinator at Congregation B'nai Amoona, where also is a member. Last year he started his own catering company, Papa Mark Catering. His focus is on providing both kosher and non-kosher food for private events, along with personal chef services, family meal planning and culinary workshops.
"I have had experience making thousands and thousands of knishes with people of all ages.  They are especially popular with kids," said Hoffman. "After a short period of trial and error, kids and adults will get the hang of rolling, pinching and forming knishes, and then baking them to a crusty and flakey golden brown is a snap."
Hoffman will present an introduction to what a knish is and a demonstration on how to roll, pinch and shape them. Attendees will then be turned loose to create their own knishes to enjoy in the class and to take home to share with friends and family.
"We will do a couple of classics with potatoes and with kasha.  But for our third option, we are going to use a bit of Asian flare with a braised cabbage and vegetable knish, similar to the filling of a vegetarian egg roll," said Hoffman.
Making knishes is something you don't need vast cooking skills for, and if you let your creativity lead the way, can really be a fun way to spend an evening.
"Setting aside a little time with a friend or a loved one to make these savory or sweet treats is very special.  Food, especially a traditional Jewish delicacy like knishes, has a way of bringing people together and reminding them of special moments in time," said Hoffman.