Before Miriam Barr was an adult, she was a survivor. Born in 1937 to Jewish parents living in present-day eastern Ukraine, she was only a toddler when her father died. When Barr was four, the Nazis apprehended her and her mother and put them on a train headed for the Belzec death camp in Poland. She escaped by jumping but watched her mother fall to her death. Barr eventually found asylum in Israel at age 12. There, she excelled as a student and earned a nursing degree.
Barr died in June 2021, but now her son, Eliav Barr, and his husband, Paul Koulogeorge (AB '88), have written a fitting epilogue to her remarkable life story. Last fall, the couple pledged $1 million to establish an endowed fund in University Libraries. The endowment will support a subject librarian, the Miriam Barr Librarian for Jewish and Near Eastern Studies, and provide resources to advance collecting, scholarship, and programming in this field.
"Miriam loved books and libraries, and she used education to lift herself out of hardship and build a fulfilling life," Koulogeorge says. "Eliav and I are thrilled to support an area that was so close to her heart. We hope the Miriam Barr Librarian will inspire the next generation of students to follow Miriam's lead and chart their own paths through learning."
Meeting a Need
Anchored by John M. Olin Library, University Libraries offers students, faculty, and staff an array of academic services, including vast print and digital collections. Subject librarians are among the system's chief assets, bringing special expertise to topics ranging from chemistry and physics to architecture and music.
University Libraries has been without a dedicated Jewish and Near Eastern studies librarian for more than three years. "The job calls for very specialized skills, which makes recruitment challenging," says Vice Provost and University Librarian Mimi Calter. These include command of multiple languages, chiefly modern Hebrew, and a strong understanding of Eastern European history. The gift from Koulogeorge and Barr injects fresh momentum into the Libraries' hiring efforts. "A named and endowed position, like the Miriam Barr Librarianship, will be much more attractive to top candidates," Calter explains.
A full-time expert in Jewish and Near Eastern studies will allow University Libraries to strengthen their holdings on the subject. Perhaps even more important, the post opens new possibilities for partnership across campus, notably with the Department of Jewish, Islamic, and Middle Eastern Studies. The inaugural holder will be a key department liaison, coordinating with undergraduates, graduate students, and faculty on their coursework and research.
Increasing student outreach is one of University Libraries' longstanding priorities, and Calter views this librarianship as a critical step forward. In the future, she would like to see the Miriam Barr Librarian embedded in classes as an on-site resource, particularly for archival research. Accessing special collections can be intimidating for some students, Calter says, but cultivating a relationship with a subject librarian often helps demystify the process.
"I'm so grateful to Paul and Eliav for their transformational gift," she says. "The Miriam Barr Librarianship addresses a real need, not just for University Libraries but for WashU faculty and students as well."
An Indomitable Spirit
An avid collector, Miriam Barr possessed an eye for beauty and the patience to find it. She could spend hours foraging through antique shops and estate sales across her adopted home of Michigan. Barr once dreamed of becoming an academic but opted to focus on raising four children and pursuing a successful career in nursing. "Instead, she became an expert in the objects she loved to collect," says son Eliav Barr, whose Philadelphia home showcases many of her treasures.
Although her collecting interests were broad, Barr was especially drawn to books and Judaica like historical photographs, maps, and other artifacts. "My mother was fiercely proud of her Jewish heritage and having beaten unbelievable odds," he says. "Keeping history alive was imperative to her."
The Miriam Barr Librarianship pays tribute to the position's namesake by investing in the passions and purpose that guided her life. "I really believe she is smiling down on us," Koulogeorge says of his mother-in-law. "She would be so proud to see her name associated with an educational institution like WashU, specifically with the libraries."
Here, There, and Everywhere
For Koulogeorge, the libraries constitute a quiet but powerful engine of university life. The Miriam Barr Librarianship gift marks the latest milestone in his long history with University Libraries. He began giving to this area in 1992. And in 2014, he and Eliav endowed the Paul Koulogeorge and Eliav Barr Fund to provide ongoing collections support. Koulogeorge, who retired from a marketing executive role at The Goddard School two years ago, has served on the Libraries National Council since 2015 and is currently in his second term as chair.
Eliav Barr has come to know WashU through his husband. Together, he and Koulogeorge, who also chairs the Philadelphia Regional Cabinet, have hosted events for alumni and friends in the area. And Barr has worked with many School of Medicine alumni during his career at Merck Research Laboratories, where he is global head of clinical development and chief medical officer. His admiration for the university's mission — and its community — is real. "I've met so many people from WashU who want to make the world a better place, and we need more of them," he says.
Koulogeorge and Barr regard the libraries as ground zero for positive change in an age of disinformation and division. Equipped with experts and resources, these spaces invite students to engage deeply with complex ideas. The couple hopes the Miriam Barr Librarianship will help students wrestle with important issues and become better problem-solvers and leaders in the process.
Like a central nervous system, the libraries reach the entire student body, and every school benefits from their services, Koulogeorge stresses. Calter wholeheartedly agrees. In her words, "No one graduates from the libraries, but no one graduates without the libraries either."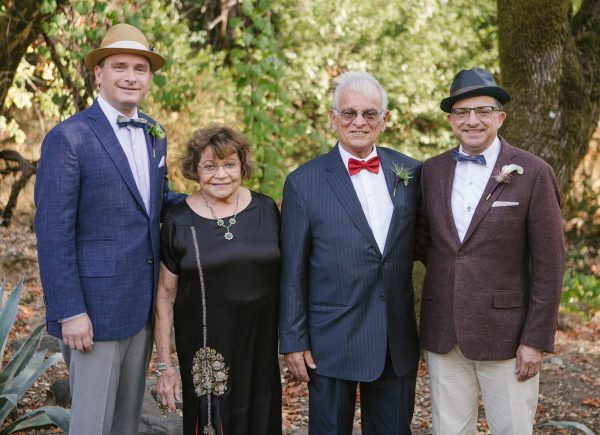 The article originally appeared in The Spirit of Washington University magazine in July 2023.