Company man? Oliver Marmol hiring continues run of in-house hires for the St. Louis Cardinals
Dan Buffa, Special to the Jewish Light
Published October 25, 2021
Eleven days after the St. Louis Cardinals fired Mike Shildt, they have officially found his replacement in Oliver Marmol. Already the youngest manager in the Major Leagues, Marmol is the third in-house managerial hire for the team in the past decade.
Ten years ago, while in the afterglow of their 11th and last World Series title, the Cardinals hired then assistant general manager and former catcher Mike Matheny to be their manager. In 2018, he was fired midseason and replaced with Shildt, who lost the interim tag the following offseason. After three consecutive years of playoff-less baseball, Shildt took the team to the postseason three straight times before being dismissed on Oct. 14th.
Marmol carries a similar makeup as Shildt, especially when it comes to his longtime ties to the organization and how he worked his way up the ladder. Drafted by St. Louis in 2007, he moved to coaching in 2011 as a hitting coach for the Gulf Coast League Cardinals before being selected to manage the Johnson City Cardinals in 2012. Marmol managed the rookie league team to a 39-28 record and a playoff appearance. When he was promoted to manager of the Palm Beach (A) Cardinals in 2015, he took them to the playoffs for the first time in seven seasons. In 2017, the Cardinals promoted him to the Major League bench as a first base coach. Soon after, he would take over as bench coach for the Cardinals when they pulled the interim tag off Shildt.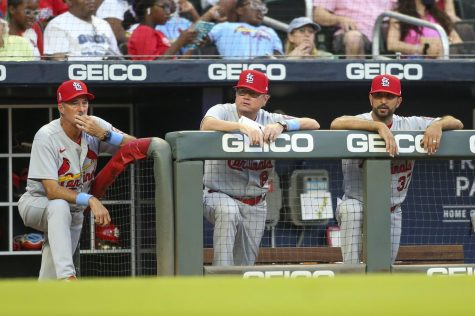 Marmol, 35, born in New Jersey and of Dominican descent, is only the second minority to manage the team and the first since 1940. He is currently the youngest manager in the Major Leagues, and the youngest skipper for the Cardinals since Marty Marion in 1951.
For those wondering if my question from last week was answered — did the Cardinals hire a better manager or another yes man –it's still vague. In his press conference Monday morning, the new manager praised Shildt and called him a mentor. He also pointed out that the goal of this upcoming season, and every subsequent season, is to win a championship. Not that those words should shock you, because that's the business this team has been in since Bill DeWitt Jr. and his ownership group took over in 1996. While the wording has changed at times, being competitive or going for a pennant, St. Louis expects October baseball each season.
Does that make Marmol another company man? Yes and no. It does in the way that the last three hires by this front office, led by President of Baseball Operations John Mozeliak, have all been of the in-house variety. Matheny was working as an assistant to Mozeliak when he was hired in late 2011. Shildt was a bench coach for Matheny when he was promoted. Marmol was a bench coach for the last three seasons under Shildt before he was promoted. Sense a theme yet?
Like it or not, this is the way this particular front office is doing business, and the way they have conducted it for the past decade now. Promote from within over outside trading. That's why Bruce Bochy and Buck Showalter were never real contenders for the job. Before introducing Marmol, Mozeliak tried to clarify, with mixed results, the reasons behind the firing of Shildt. "Internal issues that couldn't be resolved" was about as far as Mozeliak took the conversation. In other words, Shildt wanted one direction and the front office wanted to go in another direction. Philosophical differences or a basic breakdown of communication, Cardinal Nation may not get a real explanation on what went down. The key question is more simple: How different is Marmol's objective than Shildt's methodology, the guy he ascended the ranks in the organization with or under for the past few years?
Judging by his initial comments, Marmol seems to be more in tune and direct touch with the Cardinals' analytical and sabermetrics department. When it came to lineup cards, he suggested they could be different each day depending on the opponent. While Marmol said the goal of every season was a championship and anything less would be a disappointment, that essentially told us very little. What else would the new guy say on the first day on the job, that winning 90 games seems cool? Most of his comments seemed practiced and rehearsed, but that's not a big surprise.
Mozeliak also took the time during the Zoom conference to remind media and fans that the manager makes the in-game moves and that the front office has little influence on that part of the game–which is something I still find hard to believe. Shildt was a company man for over 15 years and respected the Cardinal Way to a tee. Marmol has been one now for 10 solid years. If Cardinal Nation learned anything from this hiring, it was that this is the way things will be run until ownership decides Mozeliak's plan isn't worthwhile anymore.
That's taking nothing away from Marmol, who should bring some younger energy and time-tested philosophy (obviously) to a dugout coaching staff that should look pretty much the same as this past season. While the exterior looks like another company man hired, there will be unique ways that Marmol does business in the dugout. Those details will simply need to be seen and experienced during the season, which is what comes with hiring a manager with no MLB experience. We aren't sure how he will react or not react to a slew of injuries or a tough late-game decision. That's on-the-job training that will occur next summer.
For now, fans can take solace that there is a new face leading this team. He said all the right things and even wore a snazzy red tie to the conference, promising results and excitement while giving off a vibe to fans that should feel familiar by now. Hire from within and see what happens. Will Marmol follow orders or run into the same brick wall that Shildt did? As is the case with most front office/manager interactions, the performance on the field will dictate those decisions, or at least we thought that before Oct. 14.
What we know about Marmol going in is similar to what we knew about Shildt, so the real answers will come later for the Cardinals. Are their methods of hiring/firing the right way, or just their preferred method?