Checking in with Jake Talve-Goodman and "Concierge Gemologist"
Jake Talve-Goodman is a gemologist, which means he identifies and evaluates diamonds and gemstones. He serves his clients by being their "Concierge Gemologist," which he explains as being a consultant for all their jewelry-related needs. Talve-Goodman, 39, lives in Creve Coeur and is the son of Rabbis Susan Talve and James Stone Goodman, both of Central Reform Congregation.
What fueled your interest in gems and precious metals?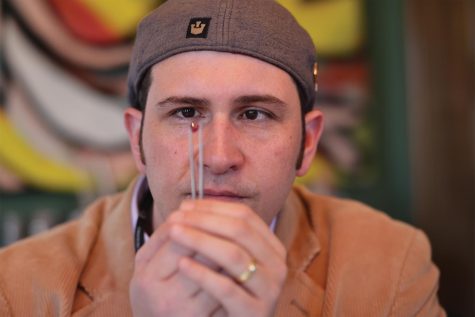 Gems have been a passion since I was a young boy. I started like many kids do with a rock collection, but the real push happened when I was about 8 years old. My mother had a friend who gave me a collection of beads that allowed me to start creating jewelry. I would sit outside my father's concerts all over the Jewish community at a little table with a sign that said "Jake's Jewelry" selling my pieces. To this day I'll be at Shabbat services and someone will approach me to tell me that they still have that little necklace or pair of earrings they bought from me when I was 10.

How extensive of training did you go through?
I am lucky enough to have had the opportunity to study gemology at the world renowned "GIA." The Gemological Institute of America is regarded as the authority in gemstones and diamonds within the United States. Their graduate gemologist credential is ranked as one of the most prestigious in the industry, which gave me an understanding in diamonds, diamond grading, colored stone identification and colored stone grading.
Outside of my gemological training, I also maintain professional trade designations and relationships to ensure that I am always learning and perfecting my craft. I'm also a candidate member of the American Society of Appraisers, I'm a member of the Jewelers Board of Trade and I'm a contributing writer to the International Gem Society.
I know you are a mobile gemologist – you go to the customer. How rare is that? What is the advantage?
It is so rare that I'm not sure if it exists. It's a service that always made sense to me, although I haven't come across anyone that offers anything comparable. My clients prefer not to take their valuables to a jewelry store that offers some of the same services I do for fear of transporting those items. They would also rather not have to leave their precious items out of their sight while the appraisal process is completed. I offer an alternative to that. I will meet you where you are comfortable, outfitted with the equipment needed to properly evaluate your items. Once I have all the information I need, I will begin to build the appraisal documents.
Among gems and precious metals, do you have a favorite? What and why?
That's a tough one, I have too many favorites to pick just one. I recently acquired a new piece for my personal collection, which I had been hunting. It is an Oligoclase Feldspar from India called "sunstone." The stone exhibits a translucent orange body color with an iridescent sheen that is unmatched. There is a variety that can be found here in the USA, but the material from India is commonly found with microscopic hematite platelets that sparkle with a rainbow of colors when hit with the light.
I know this might sound like an odd question, but do you feel as if your Jewish upbringing informs what you do as a gemologist?
It doesn't inform me on what to do as a gemologist, but it absolutely does as a business owner. The man who gave me my first job after gemology school, David Kodner, told me something that has always stuck. He said, "You can't have 99% integrity, it doesn't work that way. You either have it, or you don't." My Jewish upbringing is the source of that integrity. The relationships that I have cultivated over the years inside of this community leads me to make the "right" decisions. After all, I believe that serving my clients' best interests will always be in my best interest.
Have you come across gems and precious metals that people thought were worth quite a bit and it turns out they weren't?
This happens way more often than you might think. Especially when I am called in to renew an appraisal that was written by someone else. In fact, this just happened to me with a new client a couple of weeks ago. I was updating an appraisal that was 10 years old of a diamond ring featuring a pear-shaped diamond in a platinum ring setting. The owners of the ring opted not to have the diamond removed from the setting. In order to provide an accurate carat weight for the diamond, I was forced to use an equation to estimate how big the stone was. The original appraiser most likely used the exact same formula that I did. The problem was that the original appraiser measured the stone incorrectly. They recorded larger measurements than I was able to verify. The result made the diamond equal 2.55 carats against my 2.30 carats, which resulted in a $6,000 decrease in valuation.
I know you are married and the father of two little ones? What's the best part of fatherhood for you?
My boys are 2 and 5 right now. The best part is snuggles, hands down. There's nothing better than that. The 5-year-old comes home from (Saul) Mirowitz (Jewish Community School) every day with a new rock in his backpack. That's my boy.
Jake Talve-Goodman's business, The Concierge Gemologist, is online at www.stlgems.com.