Central Reform Congregation hires new executive director
Adam L. Inlander will be joining Central Reform Congregation as its executive director starting Oct. 1.
A native of California's Bay Area, Inlander graduated from the University of California at Davis and attended the dual master's degree program at Hebrew Union College (HUC-JIR) and the University of Southern California (USC) in Los Angeles. There he earned a master of public administration, and master of arts in Jewish nonprofit management.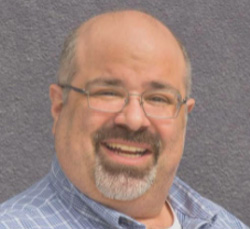 Inlander worked briefly with a couple of Reform Jewish congregations in California before being recruited to become the executive director of the Temple, Congregation Ohabai Sholom in Nashville, Tenn. There he supervised the congregation's $11 million, two-year, two-phase building construction project; compiled and wrote the Emergency Procedures Manual that was characterized as "excellent" by George H. Currey, Major (ret.), Metro Nashville PD and graduate of the FBI National Academy; and facilitated the development of a three-year, long-range renovation plan for the historic, 150-year-old Temple Cemetery.
After six years at the Nashville congregation, Inlander worked at Temple Beth Shalom in New Albany, Ohio, a suburb of Columbus. While in Ohio, he implemented a program of "Audacious Welcoming" in line with the Union for Reform Judaism's (URJ's) Relational Judaism tenet; attended the URJ Schindler Membership fellows program learning skills in attracting and retaining members; and initiated a capital fundraising campaign to burn the mortgage and endow the rabbi's salary.
Inlander returned to California for a one-year engagement with a Reform Jewish congregation in Orange County near Disneyland. Shortly thereafter, he joined Merrill Lynch's Practice Management Development program where he acquired his Series 7 and Series 66 FINRA registrations and an insurance license. 
His interest in nurturing and growing a new generation of "philanthropreneur" caused him to focus a niche aspect of his wealth management practice on impact investing. Impact investing is a way to align an investor's portfolio with an environmental or social purpose. In 2017, he ranked in the top 25 financial advisors in the Newport Beach Market for asset flows into Trust Management.
In late 2020, while living and working from home during the COVID-19 pandemic, Inlander began to feel called to return to temple administration. In spring 2021, when he read the advertised position with CRC, a community that practices "radical inclusivity," he was excited to apply. After a thorough interview process, he was hired in July.
Inlander lives with his partner of many years, Janice Newfield. He also has two adult children, Joshua who attends the University of California at Riverside, and Rebecca who attends Woodbridge High School in Irvine, Calif.