Caleb on the Cardinals | Four Reasons Why Yadier Molina Is Guaranteed to be a Hall of Famer
Caleb Van Grack, Special for the Jewish Light
Published April 23, 2021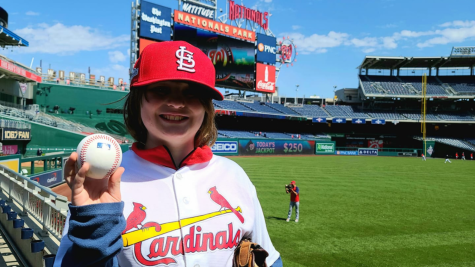 This week, I went to a Cardinals game for the first time since the coronavirus outbreak, and I was able to see a lot of great players including Yadier Molina.  I definitely think Yadier Molina is a guaranteed Hall of Famer.  I have read that some people disagree with that opinion.  Here are four reasons which would easily prove those people wrong.
(1)  Yadier Molina is easily one of the best defensive catchers ever.  Baseball Reference's defensive WAR (Wins Against Replacement) has Yadier Molina second only to Ivan Rodriguez.  Yadier Molina's career fielding percentage is 0.9948 which means that 99.48% of the time, Yadier Molina will not make an error.  Yadier Molina also has 9 Gold Gloves and the most Platinum Gloves of any player (4).
(2)  Yadier Molina is one of the best catchers in all of baseballs at catching baserunners from stealing bases.  Since Yadier Molina started playing in 2004, the Cardinals have had only 847 stolen bases against them, while every single other team has had no less than 1,250 solen bases against them.  This means that Yadier Molina allows a lot less stolen bases when he is playing compared to any other team.  Also only Ivan Rodriguez has made more outs at catcher where Yadier Molina has 13,876 putouts at catcher.
(3)  Yadier Molina has also had very good offense in his career.  Baseball Reference's career share of being the best player for WAR (Wins Against Replacement) in a season has Yadier Molina as the 8th best of all catchers.  He also has the 9th most doubles, 12th most hits, and 15th most RBI of all catchers ever in the history of MLB.
(4)  Yadier Molins leads his team to success in the playoffs.  Yadier Molina has been playing for 18 years and in that time teams he has caught for have been to 11 playoffs and 4 World Series.  He has also won 2 World Championships.  He has had a game winning home run in Game 7 of the 2006 NLCS.  Yadier Molina also had a 1.029 OPS in the 2006 World Series and a .830 OPS in the 2011 World Series.  These numbers are great.  Thus, Yadier Molina helps the Cardinals win Championships.
For these four reasons Yadier Molina is definitely going to be a Hall of Famer, and I am glad I got to see him play this week.