Buffa's Buffet: 5 things that are on my mind
Who's the bald, bearded guy with the loud voice and all these opinions?! It's me, Dan Buffa. Many of you already know me as the sports and entertainment guide here at the Jewish Light-so think of this new column as a way to get to know me even more. Let's have a quick cup of coffee first. I'm a proud South City family man who thinks of Kingshighway and Macklind as his neighbors.
I proposed to my wife after just four months. My son, Vinny, is already a wicked negotiator at just nine years of age. We have five pets, two dogs and three cats. My best friend is my dad, the Cards are like a second wife, and movies are my escape. I've written for KSDK News and St. Louis Game Time as well as my personal site, Dose of Buffa. What I hope to achieve with the Buffet is to provide a versatile array of topics. So, grab an open-minded plate and let's get started.
---
Can you believe that 2021 is almost halfway finished? It's the middle of June and I am trying to think about what I did with the last six months of my life. Have you ever felt like that? Time is on a highway and you are on a regular street just trying to keep up with a car that isn't as fast with every other street producing a red light.
While you chew on that, let's talk about more than a few but no-more-than five things that won't leave my mind as Monday stretches its legs.
1) Speaking of time, the Cardinals sure wish they could fast-forward to August right now. After sitting comfortably in first place a month ago, the Birds started today in fourth place in the Central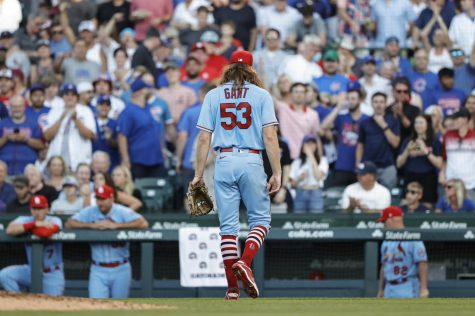 Division, losers of 11 of their past 13 games. This isn't a team in transition; they are a team simply trying to tread water without bleeding out before the fourth of July. Jack Flaherty, Jordan Hicks, Miles Mikolas, and Harrison Bader are all injured. A lineup with the likes of Paul Goldschmidt and Nolan Arenado looks quite pale.
The past two weekend series have involved ugly sweeps at the hands of the Cincinnati Reds and Chicago Cubs, the latter coming at the Cardinal Shop of Horrors… Wrigley Field. What's the remedy? A series at home against the Marlins in front of a full capacity Busch Stadium. Tonight, the ballpark opens back up fully. Maybe a little fishing can get this team a few much-needed wins. If not, I would follow the advice of Sir Michael Caine from "The Dark Knight" and just endure the next few weeks of Cards baseball-because there aren't any answers right around the corner.
2) Nolan Gorman isn't one of those answers though, at least not now. The 21-year-old kid has hit seven home runs in his last five games, including three on Saturday evening. He became the first Springfield Cardinal to accomplish such a feat. But don't expect the Cards to start Gorman's clock just yet; the converted second baseman has no spot on the big team right now. Tommy Edman, Edmundo Sosa, and Paul DeJong have the middle infield covered–and as much as seeing Gorman take swings with the Cards would be right now, it would only exist as a temporary bandage. It's not a "crawl before walk" exercise; more like waiting for the proper platform to present itself.
(clears throat, "enough baseball talk!)
3) Every St. Louis family should consider going to Grub n' Groove this summer. In exactly two months, in my favorite park (Francis), the event of the year takes place. You have live music all day long, food trucks lining Donovan Avenue, kids and teens running rampant, and several other features available. It's the place where parents buy two beers, double-fisting gulps on the way to the ice cream truck for the kid.
The place where a cigar can be purchased and smoked in the same area. And if you're so inspired, a tennis court awaits a match to see who can sweat the most. It won't be hard to find me. I will be the guy wiping the brow of his head every five minutes, but also sipping a 4 Hands brew at the same time. Get some sun, have some fun, and turn off the brain for a few hours. Did I mention great food? Let's talk more about that.
4) Edibles and Essentials should be at the top of your list to eat each week. The St. Louis Hills foodie heaven spot is located right off Hampton Avenue just past the adored "Salt N' Smoke." If you can get past the brisket, fried ribs await you. Head chef and owner Matt Borchardt crafted the latter recipe with his brothers, smoking his ribs on cherry wood. They're delicious and come in 3 pieces. Don't forget about the award-winning (St. Louis Magazine) French fry platter, which should fill up at least three people. Every neighborhood needs a great local restaurant to frequent. This town has several. Edibles is just one of them. Tell them Buffa sent you.
5) What if I told you a band that you had no idea existed released 840 songs and 25 albums, becoming one of the biggest cult favorites in the music world? Say hello to Sparks, led by brothers Russell and Ron Mael, which is the subject of a new documentary opening this Friday in St. Louis theaters. They were an American band that looked like a British pop group, gaining popularity by refusing to contort or bend their music and lyrics to what the public wanted. Director Edgar Wright would tell you they are your favorite band's favorite band.
"They are part of the ecosystem of music."-Beck on The Sparks Brothers
Take or leave their style of music, but it's hard to not be inspired by what these two fellas created with their own minds and against the grain of other bands. Imagine combining Andy Kaufman with an acerbic Queen tune, mixing it with absurd song titles with an eccentric backbone, and you have their work. Music honks shouldn't miss this documentary.
What you will miss is *hopefully* this new column until next week. Five things each week from the loudest area of my head right here at the Jewish Light. Sports, movies, food, beer, and stuff to do around here. Stay tuned and get to know me a little more each week.