Bridge Bread Bakery is finding hope in the baking of bagels
Jordan Palmer, Chief Digital Content Officer
Published January 17, 2023
Bridge Bread Bakery's New York-style kettle-boiled bagels are chewy, delicious, free from preservatives or strange additives. They are made in the traditional New York style beginning with the careful mixing of ingredients, kneading the dough by hand, letting it rise, then boiling and baking. But these bagels are made with something extra; a pinch of hope.
Bridge Bread Bakery is a non-profit social enterprise in the city of St. Louis that employs individuals experiencing homelessness and provides them with marketable skills and reliable employment.
In October of 2017, Bridge Bread moved into the historic Vandora Theatre building at 2639 Cherokee Street in St. Louis. The building serves not only as Bridge Bread's bakery, but also as a retail and dining space for the community to purchase and enjoy their many baked goods. Items available for purchase include breads, cinnamon rolls, bagels, cake, cookies, and more.
"At Bridge Bread, we make a difference in the lives of the individuals who work for us. We are our brother's keeper," said founder Fred Domke, who along with his wife Sharon, created Bridge Bread in 2011.
The employees earn a living wage while learning or re-learning the value of being productive and self-sufficient. The goal is that they become contributing members of the community.
"After training in the bakery and establishing a positive work record, some staff stay with us, while others move on to other jobs and other fields. Bridge Bread is their doorway – to a hopeful and dignified future," said Domke.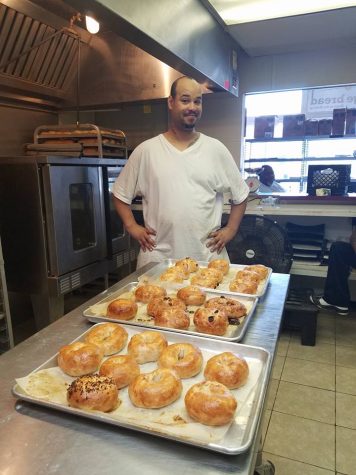 The Bagels
The recipe and initial training on making the bagels came from Master Baker Abby Schwent. She entered a National Baking competition with King Arthur Flour and won the competition.  The prize was an all-expenses paid trip to their baking school in Vermont where she learned, among many other recipes, the New York Style Bagel recipe that Bridge Bread now uses.  She worked with the Bridge Bread Bakers on the made-from-scratch recipe using only flour, water, brown sugar, salt and yeast.
Their process is simple and effective. After the bagels are shaped, they are dropped into the boil six at a time. When the sixth bagel is dropped it's time to flip the first, and so on. The boil, according to legend is what makes the bagel chewy and moist.
Bridge's bagels come in the following flavors; Blueberry, Pretzel, Everything, Cinnamon and classic plain.
Recipe for Success
Domke believes baking is a valuable trade skill that provides a sustainable source of income for homeless and out-of-work individuals.
"Approximately two-thirds of the bakers who have worked at Bridge Bread over the years have been successful. They continue to be housed and employed," said Domke.
You can help
In honor of our "Bagel Week" we're inviting the St. Louis Jewish community to become a part of the Bridge Bakery community. Here's how:
Buy their products online or in person at the Bake Shop.
Volunteer with the organization.
Distribute their products through your synagogue or business
Tell others about the work of Bridge Bread.
Follow us on social media – facebook.com/bridgebread, @bridgebreadon Instagram, and www.linkedin.com/company/bridge-bread-bakery/ on LinkedIn.
Donate:  Financial donations cover rent, utilities, administration salaries, and insurance. Sales of the products made by our bakers cover the cost of salaries and ingredients.
More Bagel Week Content