B'nai Amoona plans 'Operation Max Levin: A STL homecoming' on June 11 and 12
Congregation B'nai Amoona is pleased to welcome Max Levin and his mother, Judy Levin, to St. Louis for a special weekend homecoming June 11-12.
Max Levin will recount, in person, his experience in the 2014 "Operation Protective Edge," the latest of the Gaza- Israeli conflicts as an American-born Israeli soldier who immigrated in 2012 to join the Israeli army. He will share his personal stories as a soldier who joined an elite unit as an American-raised boy, with American values, serving in the modern Israeli army.
As a child and teenager in St. Louis attending Solomon Schechter Day School (now Saul Mirowitz Jewish Community School), Levin traveled to Israel each summer with his parents who were "ardent Zionists," he writes. His father, Bud Levin, served as a chairman of a Jewish Federation of St. Louis campaign.
Levin, who moved to Los Angeles at age 14, also developed a deep connection to Israel. By the time he was in high school, he had decided that he wanted to serve in the IDF. Despite his parents' Zionism, they were fearful of him joining the army, said his mom, Judy Levin, in a 2021 interview with the Light.
They agreed that he would first do a gap year program in Israel with Young Judea, a Zionist youth movement to "make sure that this is really what he wanted to do, and then of course we would support him," she said.
After the gap year and participating in programs designed for prospective "Lone Soldiers," as people who enlist in the IDF from other countries are called, Levin decided to join and earned a spot in a special forces unit, Palcahan Tzahanim.
In America, Levin had been a mediocre student, but his time in the top unit instilled "a sense of discipline, a sense of pride, a sense of self confidence that was missing, and I have been able to take that and be a lot more successful in my life," said Levin, who grew up attending Congregation B'nai Amoona.
But the experience also included tragedy.
The book, which is available for purchase on Amazon, focuses on the 2014 Gaza War, also known as Operation Protective Edge. That round of the ongoing conflict started when members of the terrorist group Hamas, which controls Gaza, kidnapped and murdered three Israeli teenagers. The IDF then launched an operation to arrest Hamas leaders, and Hamas responded by firing rockets into Israel, which resulted in a seven-week conflict.
"We were so frightened at that time because we couldn't speak to [Max], and you knew that people were getting killed," said Judy Levin.
Levin's unit entered the fray on what was supposed to be a two-day mission to destroy tunnels used by Gaza fighters to enter Israel and commit attacks.
As they marched through the territory, trying to take control of buildings and locate the tunnels, they had to avoid gunfire and explosives.
On the fifth day, another unit was ambushed. Levin helped carry wounded soldiers laying on stretchers for kilometers from the scenes of attacks to a medical unit.
"I could feel the adrenaline rushing through my veins and hear the blood pumping in my ears as we ran to the site with the stretcher in tow. I no longer noticed the pounding sun or weight of my armor and equipment," Levin writes.
On their sixth day — four days longer than planned — Levin's unit tried to blast their way into a building with an explosive device, but as they approached the building, they were met with a giant explosion from a booby trap.
"It felt like a baseball bat struck me on the side of my head," Levin writes.
Blood began pouring down his face. Levin and other wounded soldiers were evacuated from Gaza in a tank. Four soldiers were killed and 18 others were wounded.
Levin underwent surgery and spent five days in a hospital in Petah Tikva, east of Tel Aviv, and an additional week recovering and then returned to his unit for a new operation in the West Bank.
Judy had suggested that he keep a journal during his army service, and when he was honorably discharged in 2015, he had more than 300 pages of notes, which led to the book, Levin said.
He spent six years writing it, "with the goal first and foremost of helping to remember those that we lost, especially from my team and unit, but also I wanted to create a road map for anybody who may have been interested in going into the IDF," he said.
Levin has a similar goal of honoring those who died on his annual trip to Israel for Yom HaZikaron. He and fellow veterans planned to travel to the soldiers' grave sites and visit their families.
"Although it's difficult for us, it's obviously incredibly difficult for their immediate families and their parents, and we want to stay very close with them, especially on days like Yom HaZikaron, to gather together and mourn together," Levin said over Zoom from Kfar Yona, a city in central Israel.
Levin, 28, returned to the United States in 2015 and attended Columbia University in New York. In Los Angeles, he has a number of different jobs, including working as a management consultant and for a real estate firm.
He would like to move into venture capital. And what better place than Israel, described in a 2009 book as the "Start-up Nation."
Levin said his experience in the war is also "why I see myself coming back to Israel and living here because I am surrounded by that community, and being around everybody makes things a lot easier."
He will be signing copies of his book, "Under the Stretcher," and introducing his army friend, Eial, who now makes mezuzot from Israel's olive wood and resin.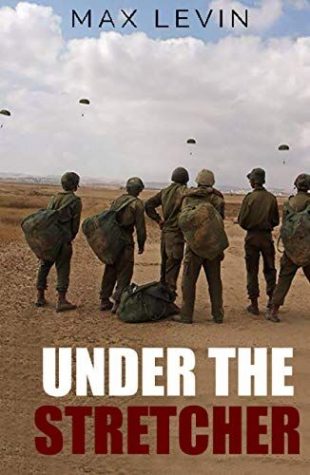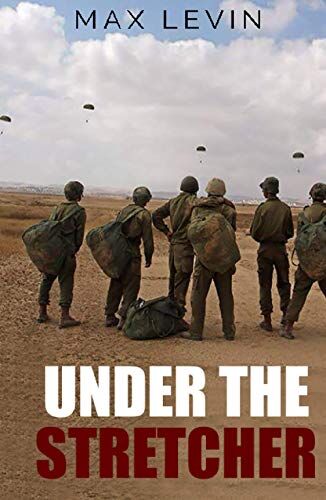 Sponsors will be invited to join Saturday, June 11, for Havdalah and a safely COVID distanced Sponsor's Dinner where Max Levin will entertain questions about his experiences. At 1 p.m. Sunday, June 12. B'nai Amoona will host a community-wide program to hear Levin speak and to meet his friend Eial. After, the community is invited to the official ribbon-cutting and grand re-opening at 2:30 p.m. of the Gallant Family Judaica Shop, where Levin's book and Eial's mezuzot will be available.
Honorary co-chairs are Leslie and Michael Litwack and Galia Movitz.
For more information or to sponsor, or to purchase book talk tickets, books, etc. go to www.bnaiamoona.com
Tickets are $18 each; two or more family group are $36. Books are $18. Mezuzot made by Eial will be available for purchase, with proceeds benefiting the Bishvil Hamachar organization, which helps heal emotional scars caused by war.