Advocacy leader's work inspires others to become activists
BILL MOTCHAN, Special to the Jewish Light
Published May 4, 2022
If you've ever signed a petition, written a letter to the editor or marched for a cause you believe in, you participated in a form of advocacy. It's an act of free speech that can help call attention to important issues.
Cindy Levin has made advocacy her life's work. Levin, a mother of two teenage girls and a member of Congregation Shaare Emeth, began her advocacy work in 2003 after her first child was born. Breastfeeding proved difficult, and her daughter wasn't getting enough food. Her doctor told her to start using a bottle, which worked.
"It was pretty simple, but it got me thinking about moms around the world who don't have access to clean water or extra formula, and it just kind of opened up a whole host of things that I hadn't thought about before," said Levin, 50.
Levin got involved with the hunger and nutrition advocacy group Bread for the World (online at bread.org) where she learned the basics of writing letters to Congress. That evolved into making calls to lawmakers, writing letters to the editor and, eventually, lobbying.
"There are organizations that can teach you how to sit down and talk about these important nonpartisan issues in a very civil way," Levin said. "And I got this notion that there are other moms who would find empowerment and fulfillment doing that if I could write a book and talk about it more."
That was the genesis of Levin's first book, published this month. It's called "From Changing Diapers to Changing the World: Why Moms Make Great Advocates and How to Get Started." The book, available on Amazon.com, is a how-to for nascent advocates who are passionate about an issue and willing to make their voices heard.
"My book is designed with discussion questions at the end of each chapter, so that moms can use it alone for reflection or gather and talk together about advocacy and what kinds of issues they would like to affect in the world," Levin said. "My goal is to empower moms to move from thinking, 'I can't change the world. I'm just a mom,' to 'I can change the world because I'm a mom!'"
Prior to motherhood, Levin was an engineer with a career at General Motors. Her natural analytical side came in handy when she started working on advocacy projects that required talking to members of Congress about numbers and statistics. Levin said it's essential for citizens to tell elected officials what's on their mind.
"We have the right and the power as constituents to do that," she said. "In the book, I talk about my nonpartisan and relational approach to advocacy. The kind of advocacy I promote is when you get to know the person on the other end of the line. For instance, with (Missouri U.S.) Sen. Roy Blunt, we don't agree on everything. In fact, I've never met a member of Congress that I've agreed on every single thing with, but (Blunt's) aide knows who I am. She knows my name, she knows me by sight."
Levin said Blunt understands issues like global health, and he sits on the Senate Committee on Appropriations.
"He is one of our allies when it comes to understanding things about polio, HIV/AIDS and COVID," she said. "So it's nice to know that when I send things up to his aide, she knows who I am."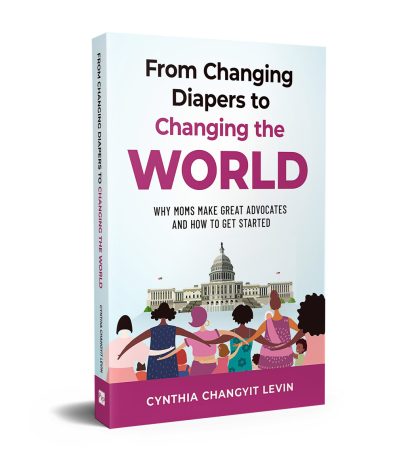 Lawmakers benefit from hearing from advocates, Levin said, because they don't always have time to research the nitty gritty of every issue. An advocate like her is doing it out of a sense of service to the community, unlike lobbyists, who also earn a paycheck for their efforts.
A big part of advocacy is creating awareness of emerging issues, such as COVID was two years ago. Because Levin is committed to global health, she was trying to raise awareness at the outset of the pandemic.
"I was on Capitol Hill for a [email protected] conference, and I was sitting in (Missouri Republican) congressman Blaine Luetkemeyer's office with him, talking about how bad I thought COVID-19 was going to be," she said. "Then everything went into shutdown, but that's one of the things that I think is great about being an activist, when you're highly involved and something happens. At least I could put my head on the pillow and say, 'I did everything that I could, and I was in there talking to the decision-makers.' "
Levin has also mentored other advocates, among them Sarah Borgstede, a Belleville mom who was new to advocacy before meeting Levin in 2016. She subsequently became Levin's co-leader of the RESULTS St. Louis group working on global poverty.
Borgstede said, "Working with Cindy inspired me to start a group in my hometown because I wanted to find more advocates who live in the same state and congressional district that I do. Members of Congress want to hear from their own constituents.
"Cindy taught me to be persistent, to understand that advocacy is something that you undertake over time as lots of small actions come together to create powerful influence. And Cindy taught me how to use my own experiences in life to speak powerfully about public policy. I'm so glad she's written her book so that more people out there can have the kinds of transformative advocacy experiences that I have had."
Borgstede eventually started her own RESULTS chapter in Belleville. She works for ACTION, an organization advocating for global tuberculosis programs.
Levin said, "The most rewarding part is when I can bring somebody else in to advocate, and that means that the movement is growing. When I can see, my actions have a greater impact than just what I'm personally able to do."
Another advocate who got his start with Levin is Raj Jaladi, a student at Parkway West High School, who directs classmates and adults in taking action.
"I have been advocating with Cindy since sixth grade," Jaladi said. "I'm now in 10th grade, and I am the group co-leader for RESULTS St. Louis. The biggest thing I love about Cindy is that she gives us high school and middle school students the opportunity to jump in and do various advocacy activities irrespective of our age or our experience. She gives everyone equal opportunity to lead and dive into leadership roles such as media leader, fundraising leader, point person to a member of Congress, and even as a group co-leader.
"I have learned from Cindy to be bipartisan, keeping my political inclinations on the sidelines, avoiding the heat of a partisan discussion and staying laser-focused on the problem and the solution. The policies and bills we advocate for, be it tax credits or vaccine supply, our talking points are exactly the same if we are meeting with a congressional member who is a Democrat or Republican."
---
Upcoming event: What would you change about the world if you could?
When: 10-11:30 a.m., Sunday, May 15
Where: Congregation Shaare Emeth, 11645 Ladue Road
How much: Free but register at https://congregationshaareemeth.shulcloud.com/form/changetheworld.html
More info: An in-person discussion about the many ways to be an advocate with congregant Cynthia "Cindy" Levin.