Adam Wainwright rides trustworthy curveball to late-career dominance
DAN BUFFA, SPECIAL TO THE JEWISH LIGHT
Published April 27, 2021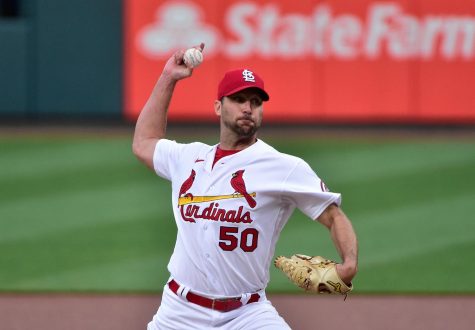 Monday evening, before an announced crowd of 12,866 at Busch Stadium, Cardinals pitcher Adam Wainwright turned back the clock once again. While the driver's license may tell you he's 39 years old closing in on 40, the arm is writing another story entirely.
Facing a Philadelphia Phillies lineup with four guys batting over .300 and a guy named Bryce Harper parked in the middle of it, Wainwright allowed just two runs on six hits, striking out eight and walking none. The lone damage came on a pair of solo home runs from Rhys Hoskins, something a very long but just short Nolan Arenado ninth inning flyout couldn't erase. The Cardinals may have lost 2-1, dropping their first game since Thursday, but the takeaway was #50 and his still-potent curveball.
While Phillies ace Zack Wheeler logged the five hardest-thrown pitches (via the trustworthy Baseball Savant) and outdueled the Cardinals starter, Wainwright kept Philly in check with a fastball that hung around 90 and a curveball that remains deceptive. Nine of his 13 pitches in the ninth and final frame were curveballs, with the last three outs being extinguished by Uncle Charlie's assault. The only bad one he threw all night went off Hoskins' bat in the seventh.
All of this reminds you of how baseball is a constant "you never know" endeavor and experience. A few years ago, Wainwright was close to retiring, the result of a slew of injuries and ill-fated performance bringing the door to a near-shut. But 2019 and 2020 showed better form, with his arm being the most reliable down to the wire in last year's chaotic playoffs.
He hasn't skipped a beat in 2021, just don't look at his win-loss record. One of the least-valuable ways to evaluate a starting pitching happens when you look at something he can't control. The 4.08 earned-run-average is a result of an opening series shellacking by Cincinnati. After allowing six runs in his first start of the season, Wainwright has only given up seven earned runs in his last 26 innings. In fact, he has struck out more batters (31) than hits allowed (23) during that span.
No longer a hopeful bottom-end of the rotation has-been, Wainwright is now rewriting the story of how an aging lion brings the candle to a dark whisper. In a career that started out of the bullpen back in 2005, covering 331 starts and nearly 2,200 innings since, he continues to amaze and confound.
Wainwright hasn't looked this dominant since 2016. That's taking into account strikeouts versus hits, stringing big games together this early on, and doing what top-flight competitors do on a regular basis. While Jack Flaherty is the ace in spirit and future, Wainwright is reminding the masses that health and brains are the key to remaining a long-lasting threat in the Major Leagues.
The curveball is the key, but the ability to control the chaos and understand how to get outs is where Wainwright has thrived since that first pitch thrown to a big leaguer back on Sept. 11, 2005. A guy who nearly perished in 9/11 threw his first pitch on that same day four years later. Few could have predicted him dropping the hook against Harper 16 years later. That's baseball. That's Adam Wainwright for you.
There are many incredible things about the Cardinals' oldest pitcher. Traits that remind you he's much more than just a great pitcher. Stats can tell you that, but the good stories require more digging. The countless charities he conducts year-long, the tomato garden that helped sparked a Matt Carpenter hitting barrage back in 2019, and the ultimate cheerleader attitude. Everything about Wainwright and how he conducts himself should be written into a manual and given to every minor leaguer.
Case in point. Monday night. Bottom of the ninth, and the Cards are down 2-1 with an out left and Nolan Arenado walking to the plate. Normally, a starting pitcher who is on the wrong side of a close game may wash off the night in the showers and clubhouse. No big deal. But there was Wainwright, right outside the dugout with his hands on his knees, as Arenado's deep fly fell comfortably into a Philly glove in left-center. The game was over, but the man wasn't missing a second.
One day, he won't be throwing baseballs to Yadier Molina anymore. One day, he will be coaching. If 2021 is any indication, that day is still a decent amount of time away. All thanks to the curveball, something Wainwright never has trouble with.