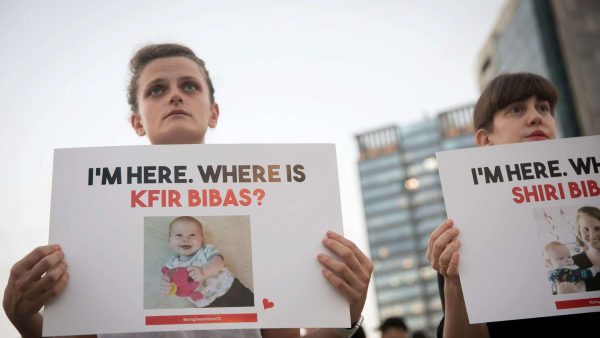 Qatari mediators are trying to negotiate an agreement in which Hamas would release some 50 of the civilians it holds hostage in the Gaza Strip in exchange for a three-day ceasefire, an official briefed on the negotiations told Reuters on Wednesday.
The proposal, which has reportedly been coordinated with the U.S., would also see Jerusalem release some terrorists from jail and increase the flow of humanitarian aid into the Hamas-controlled enclave, the official said.
As of Wednesday, neither side was said to have agreed to the exact details of Qatar's latest proposal.
While both Israel and Hamas have reportedly accepted Doha's "general outline," Israel's Kan News public broadcaster on Wednesday cited an official as saying Jerusalem is seeking "a more significant deal."
An agreement for the release of all approximately 240 hostages is currently not on the table, Reuters reported.
On Wednesday afternoon, the mother of one of the hostages held by Hamas urged the government to negotiate a comprehensive agreement to free all captives.
"As soon as we start with deals that include only women or children, we will miss the opportunity that exists right now—Hamas has its back against the wall," Orly Gilboa, the mother of 19-year-old Daniela, told the Galei Israel radio station.
"The deal can be done in several waves, but only with guarantees from the mediators as part of a comprehensive deal to return all the hostages," Gilboa stated.
Prime Minister Benjamin Netanyahu said on Tuesday that "our hearts are always with the hostages and their families.
"Since the beginning of the war, we have been working relentlessly for the release of the hostages, including using increased pressure since the start of the ground incursion," Netanyahu was quoted as saying in a statement from his office.
"If and when there will be something concrete to report—we will do so," he said.
Netanyahu's remarks came shortly after U.S. President Joe Biden signaled that an arrangement might be imminent. "I believe it's going to happen. But I don't want to get into detail," the president told journalists at the White House.
Asked what his message is to the families of the hostages held in Gaza, Biden responded, "Hang in there, we're coming."
The Washington Post reported on Monday that Israel is seeking the release of 100 women and children, whereas Hamas is considering freeing 70.
War Cabinet member Benny Gantz has said the Israel Defense Forces operation against Hamas will not stop, "even if a ceasefire is required in order to return hostages.
"We continue until our goals are achieved," Gantz told troops serving on the northern border on Tuesday.
Israel has stated that its goal is to topple Hamas and Palestinian Islamic Jihad as military and political entities. Hamas has repeatedly vowed to destroy the Jewish state.
| RELATED: 300 St. Louisans attend 'March For Israel,' finding unity and community among 290,000 others