Some 100 young Jewish men and women from around the world have decided to make aliyah and enlist in the Israel Defense Forces as Israel wages war against the Hamas terrorist organization.
In a month, they will put on their uniforms. Meanwhile, they are completing a preparatory course run by the Defense Ministry's Defense and Society Department. The course is taking place at an immigrant absorption center in Karmiel, in the Galilee—an area where strikes by the Lebanese-based Hezbollah terror group are a daily occurrence and the threat of a major confrontation looms.
During the four-week program, the participants will prepare physically and mentally for their service, study Hebrew and get to know Israeli society.
"About 100 Jewish youngsters from the Diaspora chose to leave their families, friends and work to come to Israel, and volunteer for the IDF," Udi Dror, head of recruitment at the Defense and Society Department, said. "They do this at a time of war to take part in the defense of Israel. This is not taken for granted. We support them upon their arrival in Israel and will continue to do so throughout their entire military service."
One such youngster is 18-year-old Esther Brown from Mexico.
Brown knew from a young age that she wanted to move to Israel.
"I always wanted to help Israel, and certainly, in the current situation. I arrived in Israel in July, and when the war broke out in October, I had the option to fly back to Mexico and not join the program," she said.
"I thought about it a lot, my parents wanted me to return at first, but I decided to stay despite the difficulty. And now? The pride that they feel is much greater than the worry.
"I want to serve in a combat unit, and if possible—join the K-9 unit or the search and rescue unit. Another option is military service in the foreign relations unit because I feel that I can really help in public diplomacy," she explained.
'I really want to get into Golani'
Nineteen-year-old Soleil Tibi from Paris will also don his uniform next month.
When asked which unit he most wants to join, he immediately answers "Golani." So far in "Operation Swords of Iron" in Gaza, the Golani Infantry Brigade has lost the most soldiers, but it has also reached the most impressive achievements.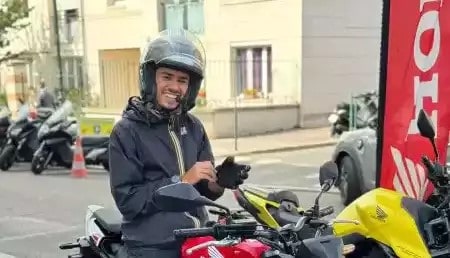 Tibi has three siblings, and most of his family members still live in Paris. He said he developed his passion to join the IDF while studying in Israel.
"Ever since I was little, I knew I would come to Israel, but I didn't think it would happen at the age of 17, and my parents didn't really like the idea either," he said. "In France, I met friends who told me about Israel, the school and the army. As a result, I decided to come to Israel to study at a school in Holon, near Tel Aviv.
"There, I met friends who had to enlist in the IDF and older friends who already had—and their stories encouraged me to enlist," he continued. "Although I am not obligated to enlist, I decided that I wanted to … and to join a combat unit. I really want to get into Golani."
Tibi was on a brief trip to France when the war broke out; he immediately returned to Israel to fulfill his dream.
"My family was very worried and told me that it is dangerous these days in Israel, but they understood that this was my wish and supported me," he said. "Moreover, it is also difficult in Paris at this time as well due to the antisemitism, and this is felt on a daily level."
"The war only increased my motivation to enlist in the IDF," said 20-year-old Abraham Matt, originally from New Jersey.
Born and raised in the United States, Matt moved to Israel about two years ago and studied in a yeshivah. "I want to enlist in the Sayeret Matkal special operations unit [the General Staff Reconnaissance Unit] and intend to reach as high as possible," he said.
When asked what motivated him to enlist, Matt explains that last year, he visited Masada. "The tour guide told us the story of the place, that it was the last place of refuge for the Jews" in the Great Revolt of 66 to 74, "and that they had nowhere to run. At that point, I realized that in order for that to never happen again, I had to volunteer and contribute. Israel is the country of Jews from all over the world—from the U.S., France and Russia. It is our home."
Matt said he heard about the events of Oct. 7 when in the United States on a visit. "This increased my motivation to enlist," he said. "I feel that fighting is really a sacred mission, that the people of Israel should be united and defeat Hamas."
Originally published by Israel Hayom.