Growing number of young Jews turning to service to express their Jewish values
Sara Ivry, JTA
Published January 26, 2023
When Jon Cohen was in college a decade ago studying biology and chemistry with plans for medical school, he knew he wanted to make a difference in the world beyond the Florida State University campus in Tallahassee.
So he and some friends decided to launch a community project teaching science to children from low-income households living nearby. Every Friday, they'd conduct experiments with the kids designed to spark excitement and curiosity about the world around them in a way that would leave an impact on them beyond school.
The idea of service was something Cohen had grown up with in his more affluent Miami suburb, and he wanted to take some time off between college and medical school to devote to it. When, as a college senior, Cohen saw an email about a Jewish service fellowship with Repair the World, he applied.
"I was really interested in seeing what justice-minded Judaism was like," Cohen recalls.
His family didn't practice Judaism framed through the lens of morals and values, he said, but rather through rituals like Sabbath observances and attending synagogue. He didn't go to a Jewish day school or summer camp, he didn't know Hebrew, and when his parents divorced, they stopped observing Shabbat, leaving Cohen with few pathways for Jewish connection.
When Cohen started his fellowship in New York for Repair the World, he realized he had found a different model for Jewish action — one that felt more meaningful. Cohen worked with Digital Girl, an organization that teaches computer coding to kids of all genders in underfunded schools in neighborhoods like Chinatown, Bedford-Stuyvesant and East New York where many people live in poverty.
Cohen is one of over 230 people who have "served" full-time through Repair the World's fellowship. Another 740 have completed Repair's service corps, a three-month, part-time Jewish service learning program for young adults. Since 2009, Repair has partnered with approximately 2,880 service organizations, resulting in over 516,000 acts of service and learning. The goal is to reach 1 million by 2026.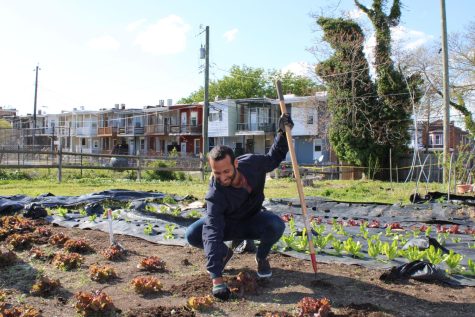 This kind of Jewish engagement is indicative of a sea change in the Jewish communal world: Service is now an integral part of American Jewish life and a meaningful form of Jewish expression, especially for younger adults. Service projects increasingly are how American Jews put their faith into practice and find purpose through humanitarian acts.
"Younger generations are deeply passionate about making the world a better place and improving their communities," said Robb Lippitt, chair of Repair the World's board of directors. "Connecting this passion to their Jewish values is something that Repair does really well."
The organization sends Jewish young adults to serve both with Jewish and non-Jewish organizations addressing needs such as food, housing, and other local needs. Repair the World's activities are structured with an eye toward making them meaningful Jewish experiences.
"Everything we do is done through both a Jewish and a social impact lens," said Cindy Greenberg, Repair's president and CEO. "In addition to hands-on service, we look at the issue area at hand and ask: Why is my service needed? What are the underlying societal challenges impacting this issue and how might it be healed? And what does Jewish wisdom have to say about these challenges and our obligation to repair the world?"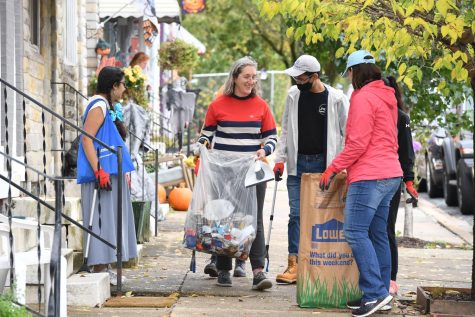 Greenberg said expanding the Jewish service movement will lead to a flourishing Jewish community and strengthen society generally.
Repair the World was founded 13 years ago to make service a defining element of Jewish life. Since then, studies have shown that Jewish young adults increasingly express their Jewish identity by caring for the vulnerable.
"Over 13 years, Repair the World has been the driving force of the Jewish service movement, ensuring that these experiences are grounded in serious Jewish learning," said Barry Finestone, president and CEO of the Jim Joseph Foundation, one of Repair's funders. "Repairs organizational partnerships, fellowship programs, and proven best practices define the movement today — and enable so many to find purpose in Jewish life while creating change."
While most of those who serve with Repair — about three quarters — are Jewish, much of the impact is in non-Jewish communities. About eight years ago, for example, the organization began partnering with St. John's Bread and Life, a faith-based emergency food provider in Brooklyn that operates a food pantry, serves hot meals and hosts a mobile kitchen.
St. John's serves approximately 1,000 hot meals a day, according to Sister Marie Sorenson, the chaplain there. The current Repair the World fellow serving with St. John's has continued volunteer outreach, ensuring that unhoused and food-insecure individuals and families in the neighborhood have their nutritional needs met with compassion and respect. Repair also has organized volunteers to give thousands of toiletries, personal hygiene kits, baby wipes, diapers and baby formula to clients of St. John's.
"Because we are both faith-based service organizations, we have really connected well with each other," Sorenson said.
This commitment to food justice is connected to Repair's service impact nationwide. Repair has mobilized volunteers to donate 200,000 pounds of food and prepared or served more than 100,000 meals to people in need throughout the country.
In the partnership with St. John's, the Christian participants tend to be locals who have extra time or are retirees, whereas the Repair volunteers are "young people who value service, who value giving back to the community," Sorenson noted.
Repair is funded by a wide array of supporters, including Jewish federations across the country, the Jim Joseph Foundation, and the Charles and Lynn Schusterman Family Philanthropies. Repair's expansive pandemic response, Serve the Moment, drew funding from philanthropist MacKenzie Scott and the Jewish Communal Response and Impact Fund, known as JCRIF.
Repair has also invested significantly in partnerships with other Jewish organizations to maximize reach and impact.
"The power of Repair's model is the opportunity it provides for young adult volunteers to learn from and work in deep partnership with the communities they are serving — while engaging in Jewish life and learning," said Lisa Eisen, Repair's founding board chair and co-president of Schusterman Family Philanthropies. "We saw this so clearly through the pandemic, when Repair mobilized tens of thousands of young Jews to support people in need while also providing an avenue for them to stay connected to each other and Jewish community."
Eric Fingerhut, the president and CEO of the Jewish Federations of North America, described service programs as a gateway to greater Jewish involvement. "We believe service is a powerful tool for expanding engagement in Jewish life across the system," Fingerhut said.
Lippitt, Repair's board chair, noted that Repair's service work is especially important given the divisions in the country right now.
"It's a vitally important bridge-building experience with our neighbors in these divided times," he said. "The benefits that come at this moment in American history of getting out in the community and serving alongside people who may not see the world as you do are just immense for the community and for society."
Many of the young Jews who work with Repair the World come from cohorts that traditional Jewish organizations have struggled to reach. In the most recent data collected by the organization, Repair found that between 19 and 25% of participants identify as having a disability; 25% of participants and 44% of corps members identify as non-white; and 75% of fellows, 42% of corps members, and 22% of participants identify as LGBTQ.
After Jon Cohen finished his yearlong fellowship with Repair, he went to medical school as planned, but he soon realized it wasn't the path he wanted. When an opportunity came up to join Repair's staff in Miami, he jumped at the opportunity, staying for three years. He now is the director of community mobilization at Keshet, the Jewish LGBTQ+ rights organization, and serves on Repair's board of directors.
"Service has always been something that was important to me but never existed through Judaism until I did the fellowship," Cohen said of his experience. "It was groundbreaking for me to learn about tikkun olam and all of my Jewish values. It was such an educational experience, and now I feel so proudly and passionately Jewish because of the foundation Repair the World gave me."
This story was sponsored by and produced in collaboration with Repair the World, which mobilizes Jews and their communities to take action to pursue a just world, igniting a lifelong commitment to service. This story was produced by JTA's native content team.