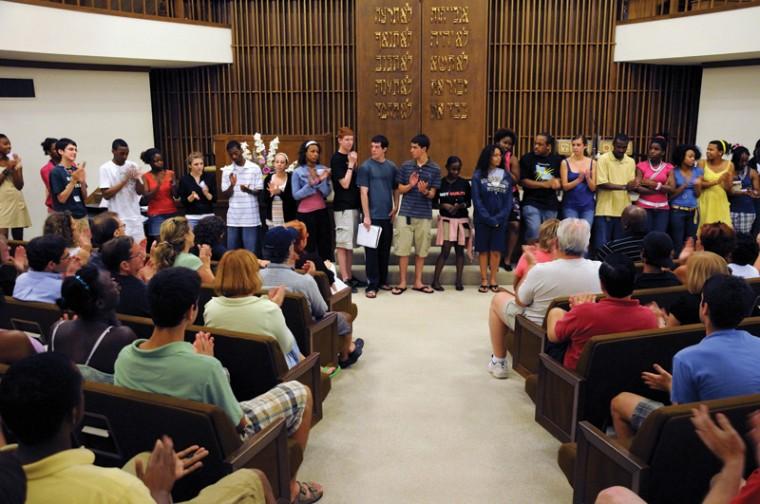 If you talk to professionals on the front lines in the fight against hate, three things become clear: Success is vitally important, endlessly rewarding – and largely impossible to measure.
"It's not like when you have a physical ailment and you can say, 'Do these exercises and over six weeks you'll see a 65 percent increase in your flexibility,'" said Karen Aroesty, regional director of the Anti-Defamation League (ADL) of Missouri and Southern Illinois. "You can't do that with anti-bias work as cleanly."
While it may not be quantifiable, Aroesty, like other anti-bias advocates, knows it's a job that has to be done. While programs abound to fight hate, the best methods are not always clear. Instead, most "hate busters" seem to coalesce around one theme: education.
Making a world of difference
The ADL runs a variety of programs to combat prejudice and misinformation. One of the longest-running is the aptly named A World of Difference Institute, an educational program targeting classrooms. Started in 1985 after race riots in Boston, the initiative quickly moved into other areas of the country, arriving in St. Louis two years later with support from the Danforth Foundation.
Aroesty explains that the institute consists of "a large number of three-ring binders that contain activities designed to help people begin to address personal issues around bias and stereotypes. Some of these activities can be done in a few minutes, some take longer to discuss and process."
She says the activities are very "hands-on" and the curricula can be tailored to fit all age groups, from pre-school to college campuses to work places and beyond. "We're starting to design special programs on racial profiling and bias issues for police officers that grew out of our expertise with the institute," she added.
Yet Aroesty stresses that A World of Difference, which now operates under the aegis of a larger No Place for Hate initiative started in 2007, is still more a departure point than a destination.
"It's the process of beginning bias reduction," Aroesty said. "It's not the kind of thing that's going to hit you over the head after an hour or two. You are not going to say, 'Eureka, I've figured out how racist I am.' It doesn't work that way. Our programs tend to start the process of engaging people in a discussion and awareness of their own bias."
The original Danforth funding meant that the institute could be offered on a wider basis in the years just after its introduction than it is today, but Aroesty said about 2,000 children a year still participate in the program. She estimates that as many as 130,000 area students have been exposed to the message since its inception.
"That may not seem like a lot, but the reality is that you take one school, you teach one group of teachers and the potential to impact those students is significant," she said.
Connecting with the law
Not all educational efforts are geared toward children nor is A World of Difference the only local ADL program. In 2004, the organization adopted a program first piloted in Washington, D.C., for police. The initiative, Law Enforcement in Society, done in conjunction with the St. Louis Holocaust Museum and Learning Center, reinforces its message about the dangers of bias by examining the history of Germany in the opening stages of the Holocaust, with a particular focus on the actions of police officers. Participants hear from historians on the Weimar Republic and receive a tour of the museum.
Last month, the ADL and the Holocaust Museum trained nearly the entire police forces of Clayton, Olivette and Washington University. Aroesty said the program, which is often geared towards cadets or recent graduates of police academies, has been well received. Her most recent batch of comment cards showed that 19 of the 32 participants would recommend the program and all but one of the group found it relevant. Officers left assessments such as: "It raised my awareness of how police powers can get out of control" and "If it's wrong, don't do it no matter who ordered it."
"Right now, I think we're the only region in the country doing this besides D.C.," Aroesty said. "We are presenting the program to so many we may break 500 officers this year."
Partnerships with law enforcement and other official agencies are vital for battling prejudice, especially in the area of hate crimes. Philip Deitch is community education chairperson for the U.S. Attorney's Hate Crimes Task Force of Eastern Missouri and Southern Illinois, which meets several times a year. The Clinton Administration-era effort grew out of an earlier group co-founded by Deitch, and now acts as a nexus between law enforcement, judicial officials, civic leaders and civil rights groups to exchange information about bias-motivated crimes and incidents and build trust. At the moment, the task force is working on training authorities on enforcement of provisions related to the passage of last fall's federal hate crimes bill. Confusion, even within the ranks of the judiciary over new law is not uncommon, though it becomes an even bigger issue when dealing with the general public, who frequently think hate crimes and other anti-discrimination measures cover more territory than they really do.
"People often don't understand a lot of the legislation out there," Deitch said. "Many people think that's it's illegal to fire someone because they are gay or lesbian or to refuse them service at a restaurant or hotel. It's actually legal in Missouri to do that. Most people think it's wrong, but they also think it's legally protected."
In Deitch's view the problem is one of divisive attitudes in which people single out various minority communities as targets.
"What I've come to believe is that across the board we need to work to understand the need for equality and justice and respect for everybody," said Deitch. "Too many people, groups and organizations make a distinction and say 'Yeah, I believe in American values except for this group because they don't really deserve it.'"
Finding leaders
Increasingly, schools are a major focus for anti-prejudice programs, both because tolerance advocates feel it is good to address bias topics early and, more disturbingly, because schools are fast becoming hotbeds for such behavior. Troubling issues like cyberbullying are finding their way into classrooms, principal's offices, and even newspaper headlines across the country.
"Schools are a microcosm of society and often a very intense one," said Maureen Costello of the Southern Poverty Law Center (SPLC). "We often get reports of things happening in schools and we advise people on how to deal with this."
"We prefer not to be called in at the point at which [an incident has] already happened," she adds.
Costello heads the SPLC's Teaching Tolerance project, a nationwide effort by the organization to fight exclusionary attitudes at their embryonic stage. The program was in 3,000 schools last year and hopes to hit 5,000 this year. It carries a message of acceptance of others through "Mix It Up at Lunch Day" in which children are encouraged to mingle during the midday meal.
"It might be jocks vs. nerds. It might be racial issues, but every school has barriers," Costello said. "The basics of our approach are that anti-bias education starts out with empathy and an understanding that the person on the other side is an individual just like you."
The nine-year-old program encourages some schools to go even further, becoming "model" institutions that incorporate the "mix it up" philosophy all year long. Costello believes that this type of program helps prevent problems, but its benefits go even further than that.
"We also feel that schools that do that are better prepared when something does happen," she said. "You want to build leadership in the schools among students who can step up to the plate, whether it's bullying or targeting groups, they can say 'no, this isn't right.' That's the key to fighting hate, if you can get those bystanders to step up and say no."
That's just the kind of person Karen Kalish is looking for. In 1994, she founded Cultural Leadership, a Washington D.C. program that brought black and Jewish high school children together. Kalish brought the concept to St. Louis in 2004. The yearlong initiative, which has trained 148 area sophomores and juniors since its inception here, kicks off with a get-to-know-you retreat on Martin Luther King Day weekend. That's followed by educational programs throughout the spring on Jewish and black history, culture and religion. Then there's the highlight, a 23-day summer trip to New York, Washington, D.C., and historical sights across the South.
Kalish stresses that this is no vacation.
"There's no shopping. There is no Empire State Building. There is no Graceland," she said. "It is all people and places that have to do with civil rights and social justice."
The program continues with sessions on prejudice, ethics and leadership. Finally, it concludes in December when students meet with local civil rights leaders, such as activist Percy Green and Central Reform Rabbi Susan Talve.
"We teach the kids how to go into groups of people and facilitate conversations on all of these issues, including hate, so they can get people talking about all (what) divides us," she said, adding that the program was expanded last year to include teens of other races and religions. "If we don't talk about them, they'll never get solved."
St. Louisan Susan Margolis Winter Balk couldn't agree more. A journalist and author, Balk is currently working on a project called Hatebrakers. The program spotlights potential leaders who have been victims, bystanders or even perpetrators of hate. The initiative recently showcased a Rwandan law student who survived the genocide and hopes to return to her native land to improve conditions there. Another example was a Palestinian-American Christian who spoke of her experience of being spat upon by a friend after 9/11. She now works with groups that include Americans, Palestinians and Jews.
"One man we interviewed in San Francisco underneath his long sleeve shirt still has his prison tattoos of swastikas and thunderbolts," Balk said, "but he has come to the other side now and explains in very clear detail what led him to the streets and prison and how gang life led him to white supremacy."
Balk said it's all about real-world examples of snapping the pattern of hatred and vengeance that so often becomes a self-reinforcing cycle. She hopes that by looking at how people escape from the disease of hatred, Hatebrakers can find a cure for the illness.
The power of dialogue
Education is one solution, but it's one that can take many forms. One of those is breaking down barriers, or in the case of the Jewish Community Relations Council (JCRC) of St. Louis, exposing students who might otherwise never meet a Jew to peers from the Jewish community who can teach them about the religion. It's a way to personalize experiences with individuals from other groups.
"A human face is a wonderful antidote to prejudice and stereotyping," said Batya Abramson-Goldstein, executive director of the JCRC. "In general, the more person-to-person contact we can engender the more we can reach that goal of preventing prejudice."
The council also directs other face-to-face dialogue groups. Some have now been subsumed by another initiative under the organization's aegis. The Michael and Barbara Newmark Institute for Human Relations, which came into existence just this month, aims to promote pluralism and diversity by organizing and supporting educational and other programs to that end.
The first official initiative will be a program with internationally known speakers on Christian-Jewish relations. It will be co-sponsored with the Aquinas Institute and Eden Theological Seminary. Abramson-Goldstein calls it "a high-impact program, one of many to come that the institute will be involved in."
In any event, there is little doubt where the council and Newmark Institute place their bets when dealing with the problem of combating hatred. It's all about talking.
"We believe in the time and efficacy of people learning about each other and building bridges of understanding," Abramson-Goldstein said. "Lack of contact leads almost invariably to lack of understanding."