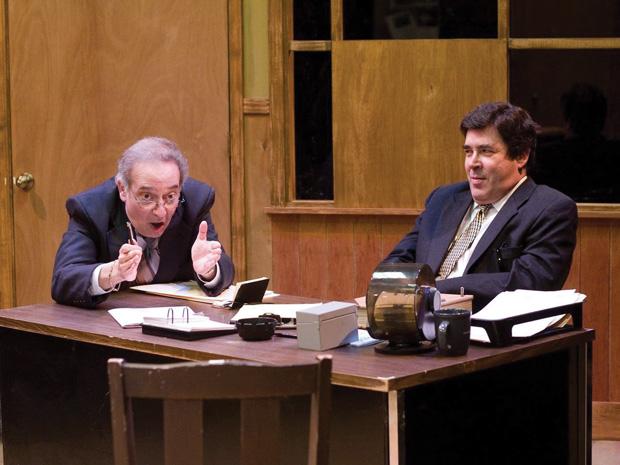 Some people just make life easier and better for the rest of us. Jerry Russo was one of those people.
The wonderful, multi-talented and much-loved Jerry died suddenly and tragically young last Wednesday, May 28, of an apparent heart attack. He was 59 years old. 
As technical director for the New Jewish Theatre, and all-around "audio-visual" guy for the Jewish Community Center since 2010, Jerry could make the most uptight speakers feel at ease when they took the podium. He always had their backs and their fronts. His skills at knowing how to calibrate sound and lights, at building sets or whatever other essentials were needed on a stage to make someone look, sound and feel good, were second to none. And he did it all with such aplomb and apparent ease.
I remember when one of the speakers for our "Can We Talk?" community forum (Jerry engineered many Jewish Light events) showed up at the JCC in a wheelchair. We all knew this gentleman was in a chair, but we'd forgotten to make accommodations to get him onto the podium/stage. 
No worries. Within seconds — and I do mean seconds — Jerry had the necessary equipment in place to raise the wheelchair onto the podium. Neither our speaker, nor anyone else for that matter, knew the rest of us had screwed up (until now!).
And the thing is, Jerry's behind-the-scenes genius at the JCC was but an adjunct to his acting career. For the better part of 40 years, he was a gifted performer with bachelor's and master's degrees in his craft from Marquette University and Ohio University, respectively. 
Chances are, over the years, you saw him perform in theater around town or in a number of local television ads. Some of his most well-remembered roles include Teyve in Mustard Seed's "Fiddler on the Roof," Petruchio in St. Louis Shakespeare's "Taming of the Shrew," and the fiery salesman Ricky Roma in HotCity's "Glengarry Glen Ross," for which he won a Kevin Kline Award as best supporting actor.
Colleagues at the JCC spoke passionately of Jerry, a teddy bear of a guy who didn't seem to know the word "no." 
"He was the kindest, gentlest, most-willing-to-help-whenever-someone-needed-him guy, and he always did it with a smile on his face," said Lynn Wittels, CEO of the JCC.
"I never met anyone so dedicated to his craft," said Rabbi Brad Horwitz, who heads the JCC's Helene Mirowitz Center for Jewish Community Life.
"A lot of people do their jobs well, but Jerry always did his with joy," said Diane Maier, a program associate at the JCC.
Kathleen Sitzer, artistic director of NJT, took a little time to collect her thoughts: "Jerry was respected by all for his consummate skills, affability and for going that extra mile. His dedication to the job at hand meant an absolute commitment to perfection."
Sitzer recalled what a "generous and giving scene partner Jerry was and just a lovely soul onstage" when the two acted together in the 2007 NJT production of "Broadway Bound." And off-stage? "He wielded a mean screw gun," she added with a sly smile. 
After he died, Jerry's tool belt was hung on the set of the NJT stage before that night's production of "Old Jews Telling Jokes." Craig Neuman, one of the actors in the show and the JCC's program director, said the cast knew Jerry would want the show to go on, but seeing the tool belt, being able to touch it, allowed him and his cast mates to keep Jerry close.
People talk about the vibrant theater communities in New York, Los Angeles and Chicago so much that one sometimes wonders what keeps talented performers here in St. Louis.
One of the answers was readily apparent when news of Jerry's death spread, as social media was abuzz with heartfelt remembrances from stunned and saddened friends, many of them fellow actors. 
The passion that unfolded on the Internet, however, was nothing in comparison to seeing more than 200 people gathered at the JCC last Saturday for an impromptu memorial service to honor Jerry. 
A few were relatives, but most were colleagues, friends and so many members of the local theater community, all of whom felt like they were part of Jerry's extended family. They came to listen and to tell "Jerry stories" during a service that lasted well over two hours.
There was much to say, so many memories, laughs to rehash, tears to shed together. Yet it seemed wrong without Jerry in the back of the room, working the soundboard, making sure the service went off without a hitch.
From those who spoke, we learned that Jerry was a terrific singer as well as an accomplished actor and master carpenter; that he enjoyed a cigar and the occasional poker game; that he always had a joke no one ever heard and that it was always hilarious; that he was fond of the ladies and called people "babe" as a term of endearment. And that he was an excellent kisser.
His best friend of 44 years, Tom Conway — as in Tom and Jerry — spoke about his buddy's ability to master accents, what a great cab driver he was and how he was "completely and brutally honest," even correcting strangers in public. "We were a bromance before anyone knew the word," he said, in a loving tribute to his BFF.
Actor Bobby Miller talked about meeting, in 1983, "this Italian kid with great hair that had a voice that could blow you back three feet." The two worked together several times, including in "Glengarry Glen Ross," where Bobby played Shelley Levine to Jerry's Ricky Roma. 
Apropos of the professional Jerry was, Miller told the following anecdote from a dress rehearsal of the show: 
It's top of the second act when my character blows into the tiny real estate office like a tornado, having just closed the biggest deal of his career.  As Shelley bounces between the other characters, with backslaps and high-fives flying, I finally reach Jerry as Roma, and grab him in a huge bear hug.  
"Jerry, I keep losing my balance here, can you do me a favor and hug me back til I get my feet steady?"
"No." 
"Whaddya mean no, I need you to hug me back til I can steady balance."
"Roma wouldn't do that, he'd be jealous of the sale."
Things got heated as things do, between two actors rehearsing a scene full of tension, Miller explained.
"What are you talking about? I played Roma back when you were in the 8th grade, it's not gonna hurt you to hug me for a second."
"In Jerry's low, trademark, sure-of-himself Kojak voice, he again refused. Sorry Babe … Roma wouldn't do that."
Ten minutes later, after I had walked away and cooled off, I realized he was right.  With Jerry, every second, every movement, every nuance of his performance had to be perfect, totally true and honest and organic.  He was that type of perfectionist and it always showed in his work.
What I also realized Saturday is that actors stay in St. Louis for the same reason many of the rest of us do — it's a great place to raise a family. Because in addition to everything Jerry did well — acting, singing, dancing, technical direction, set design and so much more — his greatest role was being a parent to his two grown sons, Anthony, 30, and Phillip, 23, who were seated in the front row with their mother, Tracy Davenport. 
Every person who spoke mentioned how proud Jerry was of "his lads" as he called them, and how he was quick to offer a story about them when asked. His sons, who each got up to speak lovingly about their father, clearly were Jerry's greatest accomplishment.
One of Jerry's friends noted that Jerry's heart couldn't hold out much longer for as much as he gave of it and spread it around. Then this friend turned to a collage of Jerry photos and invited us to do what we all were thinking — rise to our feet and give the amazing Jerry Russo the standing ovation he deserved.