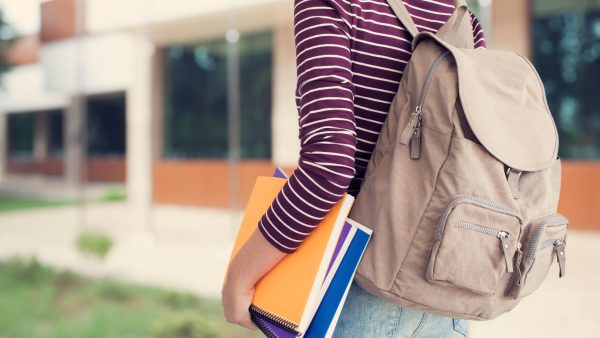 (JTA) – Nearly one in three current Jewish college students has witnessed or experienced some form of antisemitism on campus, according to a new survey.
| RELATED: 'Anti-Israel events' up on college campuses last year, ADL tally shows
The survey was released today by Jewish on Campus, a student-founded antisemitism watchdog group, and conducted by the polling firm Ipsos, which surveyed more than 1,000 college students nationwide who identify as Jewish and approximately 2,000 who reflect the general population of students and are largely not Jewish. The survey was conducted between March and May and has a credibility interval — similar to a margin of error — of 3.1%.
Of the Jewish students, 14% said they had directly experienced antisemitism on campus, while another 16% said they had witnessed an antisemitic incident. 
The findings regarding personal experiences of antisemitism show a lower rate than a similar survey conducted by Hillel International and the Anti-Defamation League in 2021, which found that a third of Jewish respondents had personally experienced some form of antisemitism on campus in the previous year.
Jewish organizations have long expressed concern over campus antisemitism, particularly having to do with student conflicts over Israel but also relating to bigotry from across the political spectrum. In 2019, then-President Donald Trump signed an executive order on antisemitism that spurred a series of federal civil rights complaints from Jewish and pro-Israel groups, including Jewish on Campus, alleging that public universities have not done enough to respond to antisemitism on their campuses.
Protecting Jews on campus is also a prominent feature of the Biden administration's national plan for combating antisemitism, which was unveiled this spring.
The federal complaints and resulting investigations, which in some cases predated the Trump administration and have continued into Biden's tenure, have spurred some universities to change their policies. Last school year, months after downplaying the threat of antisemitism on his campus, the president of the University of Vermont issued a formal apology to Jewish students and promised to improve the school's techniques for addressing the issue.
The Jewish on Campus survey also found that 84% of Jewish respondents believe antisemitism is a threat to the country and that more than a third had heard of the Boycott, Divestment, Sanctions movement against Israel that has a pronounced presence on college campuses. The words "Israel" and "Zionism" do not appear in the survey results. 
Notably, among respondents from the general population, the survey found that only 11% had heard of BDS. Nearly twice as many, meanwhile, 21%, said they had heard of the International Holocaust Remembrance Alliance, a group best known for a controversial definition of antisemitism that a range of Jewish groups have pushed universities to adopt, in many cases successfully.
Jewish on Campus CEO Julia Jassey said in a statement that the survey should push college students and administrators to "meet this moment and take antisemitism seriously."
The survey "underscores the urgency of our mission to elevate the voices and experiences of Jewish students," Jassey's statement said. "As the new school year begins, these findings provide key evidence of the breadth and depth of antisemitism students face."
While Jewish on Campus has surveyed campus antisemitic activity in the past, it relied on self-reported data. This was the group's first survey conducted via a reputable polling firm. It joins a series of studies, conducted by the ADL, American Jewish Committee and others, that aim to measure bigotry against Jews by tallying reported incidents or polling the public — yielding a range of results and sparking debate over which statements or actions, especially regarding Israel, count as antisemitism.
—
The post Nearly 1 in 3 Jewish college students has witnessed or experienced antisemitism on campus, survey finds appeared first on Jewish Telegraphic Agency.