South Florida fraternity suspended for swastika incident amid national wave of campus anti-Semitism
Faygie Holt, JNS
Published February 28, 2022
(JNS) A fraternity at the University of South Florida was suspended after photos circulated of a Feb. 11 event in which members of the group, including a Jewish student, reportedly had swastikas drawn on their "shirts or body parts."
Noting that the school's rules against hazing and alcohol were violated at the off-campus "bid party" by the Pi Kappa Phi fraternity, university officials said in a letter to the president of the fraternity that "the continual operations of the organization at USF likely pose an ongoing threat, disruption, or interference to the health and safety and continued functions of the USF community."
"Reports of fraternity pledges forced to have swastikas drawn on their bodies as a means of initiation and posts endorsing Hitler and the death of more than 6 million Jews is obscene," Hillel at USF posted on social media. "Mockery of the Holocaust, the use of hate symbols and the trivialization of genocide is unacceptable. This behavior not only harms the Jewish community on campus but also undermines the foundational values of the university."
What is particularly alarming about the incident is a report "that a Jewish student who was pledging at Pi Kappa Phi had a swastika painted on his head, was paraded around, and then further humiliated with his image circulated on social media," said Liora Rez, executive director of StopAntiSemitism.org.
Fraternity at University of South Florida suspended
A meeting between school officials and a representative of the fraternity is scheduled for March 1, at which a hearing officer will determine if the suspension is to "remain, be modified, or be lifted."
The suspension of Pi Kappa Phi's USF chapter comes amid a string of anti-Semitic and anti-Israel activity at colleges and universities across the country in recent weeks.
"The dangerous escalation of anti-Semitic rhetoric on far too many campuses exposes the urgent need for immediate action that needs to be taken by university administrations to clearly address anti-Jewish bigotry and ensure that Jewish and pro-Israel students are safe and supported on campus," said Roz Rothstein, CEO and co-founder StandWithUs, an education organization that combats anti-Semitism and supports Israel.
According to the AMCHA Initiative, in just the first seven weeks of 2022 there have been more than 50 incidents of anti-Semitism, anti-Zionism and BDS activity at American colleges and universities. These include numerous instances of swastikas on campuses, "Zoombombing" of a virtual talk by an Israeli researcher, hate-filled fliers being left on buildings and attempts to ban food items from Israel.
This wave of anti-Semitism and anti-Zionism isn't limited to the U.S
Students at the University of Manchester in the United Kingdom arrived on campus last week to a large-scale display of hate as someone spray-painted "Israel R Killers" and "Israel=Apartheid" on a stone wall there.
"Campuses today are as politically charged and polarized as I've ever seen them, with zero tolerance for individuals whose identities, beliefs or opinions run afoul of dominant campus ideologies," said Tammi Rossman-Benjamin, director of the AMCHA Initiative. "This has especially affected Jewish and pro-Israel students, who are cast as 'white, privileged oppressors' or 'supporters of an apartheid, oppressor state,' and subject to escalating bullying and harassment that threatens their safety and impedes their ability to fully participate in campus life."
Incident at Indiana University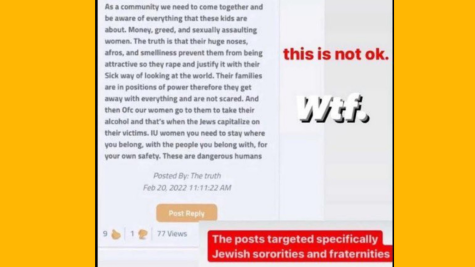 At Indiana University, an anti-Semitic social media post by a user with the handle "The truth" took aim at Jewish students, as well as Jewish fraternities and sororities there.
The Feb. 20 rant came after months of anti-Semitic incidents at Indiana University, including mezuzot being stolen from dorm-room doors and swastikas appearing on school grounds.
"We are aware of the disgusting, hate-filled, anti-Semitic posts on the Greek Rank website—an external, independent site—that named several Greek-letter organizations on our campus," said Rahul Shrivastav, the school's new provost and executive vice president. "This attempt to anonymously spread hate is cowardly, horrific, and simply unacceptable in the IU community."
"We have contacted the site to ask for the messages to be taken down immediately," he said, noting that a police investigation is underway, and that the poster will be "held accountable."
Anti-Israel sentiment was on display at Princeton University on Feb. 22 as a "small number" of students protested outside the Center for Jewish Life-Princeton Hillel where an Israel summer programs fair was being held.
"As with many campuses, we have seen several incidents in recent years involving anti-Israel sentiment," said Rabbi Julie Roth, executive director of the Center for Jewish Life. "Our students were great last night. Many of them simply walked past the protesters to attend the fair and learn about study and work opportunities in Israel. Others took part in a very respectful counterprotest to showcase their commitment to Israel."
Strong action needed
While school officials may condemn acts of Jew hate on their campuses, organizations that work to combat anti-Semitism and anti-Zionism say they aren't taking strong enough action, while they increase diversity efforts for other marginalized groups.
Even schools' efforts to combat anti-Semitism are fraught with challenges. For instance, as reported in The Washington Free Beacon, Jazmin Pichardo, a diversity staffer at the University of Maryland who has been put at the head of the school's anti-Semitism task force, has a history of anti-Israel comments on social media.
"We are horrified someone with such displaced biases like Pichardo would ever be chosen to lead a diversity position," said StopAntiSemitism's Rez. "Rather than stopping anti-Semitism she's instead happy to spread false narrative that do nothing but put Jewish students in harm's way. Pichardo is not fit to hold such a position and we request the university step in to investigate."
Pichardo is not the only diversity officer to voice anti-Israel views. A report by the Heritage Foundation that examined the personal social media accounts of diversity officers at a variety of higher-education institutions found that "of the 633 tweets regarding Israel, 605 (96 percent) were critical of the Jewish state."
Change needed
Jewish groups say that for the climate facing Jewish students to improve, there needs to be change from the top down.
According to Rossman-Benjamin, "university administrators have been ignoring or downplaying the harassment of Jewish and pro-Israel students, while promptly and vigorously addressing similar behavior targeting other identity groups. The situation will only improve when university administrators stop using this egregious double standard and commit to providing equal and adequate protection from bullying and harassment to Jewish and pro-Israel students, and all students."
Rothstein of StandWithUs agrees.  "Students are regularly expressing their deep concern and are motivated to work with their universities to take appropriate action. In many cases, however, students are disappointed that their administrations don't respond with greater speed and clarity."
She continued, "We commend these courageous students and expect that now, more than ever before, university administrations will support and collaborate with them in their efforts to fight the menacing rise of Zionophobia and anti-Jewish racism."