St. Louis Jewish Light – Apple Latkes for Hanukkah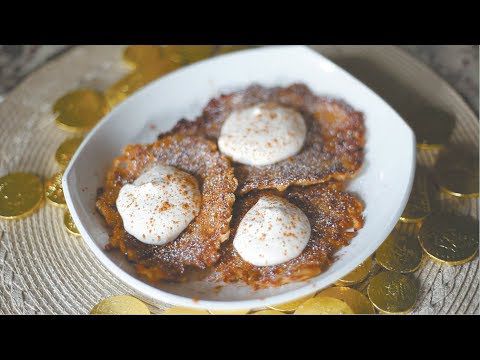 Published December 6, 2017
Apple latkes
Ingredients:
3 large Granny Smith apples 
2 eggs
1 lemon
1/2 c. all purpose flour
1/4 c. sugar
2 tbsp. brown sugar
1 tsp. baking powder
3/4 tsp. cinnamon
1/8 tsp. salt
oil for frying (neutral flavored oil, such as canola or vegetable)
powdered sugar, whipped cream and cinnamon to garnish
Directions:
Squeeze juice from lemon in a mixing bowl. 
Peel apples, rolling each in the lemon juice to prevent browning. Grate apples with the larger holes of a box grater. Place grated apple back in the bowl with the lemon juice.
Place grated apples in a colander lined with paper towels and squeeze out excess juice (save the juice, if desired, for a refreshing drink).
In a separate bowl, mix together the dry ingredients (flour, sugar, brown sugar, baking powder, cinnamon and salt. Pour dry ingredient mixture over the apples and stir to incorporate.
Break the eggs into the now-empty bowl and whisk eggs. Add beaten eggs to apple mixture and stir to incorporate.
Heat a skillet over medium to medium-high heat. When hot, add 2 tablespoons of oil to pan. 
For each latke, add about 2 tablespoons of the apple mixture to the pan, using a fork or other utensil to flatten out the mixture. Don't crowd the pan. Most pans will hold 4-5 latkes at one time.
After 3-4 minutes, when the bottom is a deep golden brown, flip each latke. Cook 3-4 minutes more.
Remove latkes from pan and place on paper towels to remove excess oil.
Add another batch of latkes to the pan, adding oil if necessary.
Makes 10-12 latkes (approximately 4-inches wide).
Tips:  If not serving latkes immediately, preheat oven to 200 degrees before cooking and place cooked latkes on a sheet pan in the oven to keep warm. Other apple varieties may be used in this recipe, but if using a sweeter apple, you may need to reduce the amount of sugar in the recipe.