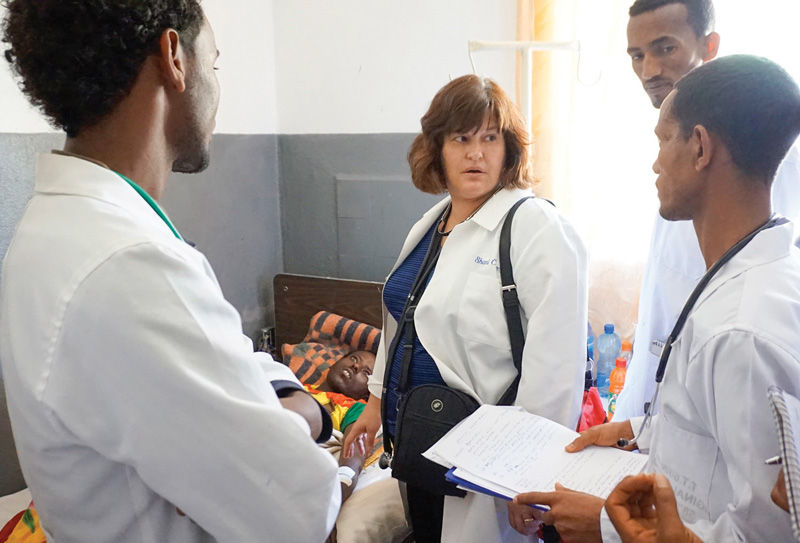 For two weeks in March, Dr. Shari Cohen taught medical students in the morning and saw patients in the afternoon in a town in the northern region of Ethiopia, a country that has just three physicians for every 100,000 citizens and where the gross national income per person per year is $410.
That said, in the past decade, the country, which has a population of more than 96 million, has established 30 universities in the hope of educating medical professionals who will later staff hospitals and clinics currently under construction. 
Cohen, 52, said the medical students she met were extremely knowledgeable, the patients were sweet, the countryside was beautiful and it was not uncommon to see donkeys and camels among pedestrians and tuk-tuks (three-wheel rickshaws) on city streets, as there are few private cars. 
Cohen traveled to Ethiopia with Partnership Ethiopia, a nonprofit organization established in 2013 in St. Louis by Gayle Bogenschneider and Bruce Schmidt (partnershipethiopia.org). Schmidt, a psychotherapist, works in Cohen's office, and he invited her to make the trip. 
Cohen, a member of Congregation B'nai Amoona, made time recently to talk about her experiences in Ethiopia. 
What are the goals of Partnership Ethiopia?
They will send doctors to teach at Aksum University, arrange for medical equipment to be sent to the hospitals and clinics and help raise money. 
So the hospitals and clinics are in need?
There isn't a single CAT scan machine in the entire country. Just along Ballas Road, there probably are 10 of them, but Ethiopia has none. They do have X-ray machines. At the hospital, patients keep their X-rays under their mattresses. To look at a film, you have to pull out the X-ray and walk to the window. 
What are conditions like?
The hospitals are overcrowded, with people waiting to be seen – sometimes all day – while seated on wooden benches. There is no privacy for patients, and people with a lot of infectious diseases are in the same room.  
What other limitations did you observe? 
With no access to technology, you can only use a physical diagnosis. For 
instance, tuberculosis is endemic there, and it's not easy to diagnose. So if someone comes in who may have pneumonia, you treat it with antibiotics. If there is no response, then you consider that it might be tuberculosis.
What did you teach at the medical school?
I focused on critical care because a lot of the patients, especially those from rural areas, don't come in until their diseases are advanced. I talked about cardiology and lung disease. I always had to keep in mind they don't have the resources, the technology, that we do. 
Was that troubling?
What's unsettling is that we are so over the top in the U.S. We have more than enough, even too much, and the people in Ethiopia struggle with the bare minimum. But I met an amazing group of young doctors — many of them born there and trained there — who are trying to make a difference in their part of the world.
What made you decide to become a doctor?
I grew up in St. Louis, and by the time I was in middle school, I had decided to be a doctor. I always loved science,  and I wanted to help people. I knew all along I wanted to go into internal medicine, because I love solving puzzles and every body is mystery. 
Before this trip, had you considered volunteering in another country?
I'd always wanted to, for as long as I've been a doctor, but I haven't had a lot of opportunities, what with my training, building a practice and having three kids. 
Will you go back to Ethiopia?
Yes, in a heartbeat. Now it feels like I have a duty to help, though it's hard to get time away from my practice. One of my daughters is in medical school, and one is in nursing school, and I would like to take both of them. Also, I'll probably be involved with getting other physicians to go. 
Is there anything else about your trip you want to share?
In Aksum, I was near the site where Ethiopians believe the arc of the covenant is stored. It's housed in a building, guarded by a monk, and no one can see it. The story goes that King Solomon and the Queen of Sheba had a son, Menelik, and that Ethiopian Jews are descended from him. That was interesting from a Jewish standpoint.