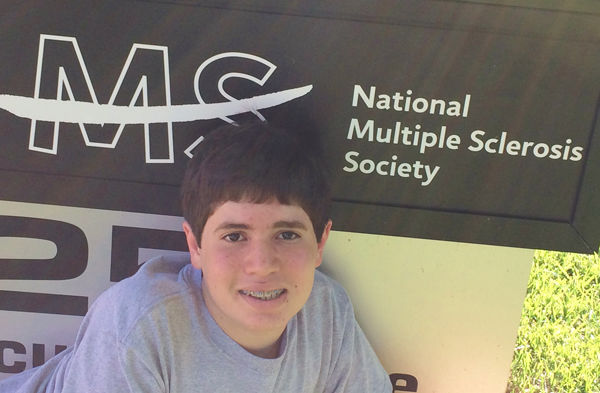 Andrew Goldberg| Congregation Shaare Emeth
Andrew's mother has been living with multiple sclerosis for 11 years, and he understands there is no cure for the disease. For his mitzvah project, Andrew wanted to support his mother and all those living with this debilitating illness. Andrew, who is the son of Nancy and Glenn Goldberg of Creve Coeur, volunteered at the Gateway Chapter of the National Multiple Sclerosis Society. 
When the M.S. society was in the middle of moving office locations, staff members needed help. They were preparing for a spring season featuring events such as Walk MS and Bike MS while continuing to provide the services and support to those with the illness. For six months, Andrew worked with the volunteer engagement coordinators, Diana Post and Sarah Christmann, who gave him assignments. He spent 1½ hours each week doing general office duties including the disposing of old paper work, mailings and stringing bead necklaces together for the walkers and bikers who crossed the finish line. Andrew was knee deep in paper from using the paper shredder. 
In addition to working in the M.S. office, Andrew asked if he could help lead his family's team, Goldberg's Gang, in the 2017 Walk MS. Every year they participate in the walk and host a benefit night at the Creve Coeur Noodles & Company. In preparation for the walk, his mother posted information on social media and Andrew provided insight on ways his family could collect money for their fundraising efforts. At their annual Noodle Night, he manned a table selling T-shirts and kept a watchful eye on incoming donations while his mother talked to friends and family who stopped by. In the end, Goldberg's Gang raised just over $1,800 and were recently added to the Elite 100, which represents the top 100 Walk MS fundraising teams in Missouri. 
A student at Parkway Northeast Middle School, Andrew definitely felt fulfilled with his mitzvah project. He said, "When I do these jobs in the office, I am allowing the professionals to focus on what they need to do to continue their efforts to find a cure."  
Christmann said the M.S. office really appreciated everything Andrew did for the society. "He was always willing to do whatever project we had for him that day. He did everything from labels, shredding paper, to putting packets together and he always did the job with a smile on his face. Whether the project was big or small, Andrew helped make a difference."