Israeli company brings 'pee-tech' to the Apple Watch
A Bluetooth connection lets the watch display real-time health data based on passive urinalysis performed by the Olive KG device on the toilet bowl.
Brian Blum , Israel21c
Published April 19, 2022
Olive WatchOS, an app that communicates via Bluetooth with Olive Diagnostics' KG toilet-mounted sensor to display real-time health data based on passive urinalysis, is now available on the Apple Watch.
The app, which is free for individual use, is available by monthly subscription to registered caregivers who have been trained to use the Olive KG and can use the app to track the measurements of multiple users.
Jerusalem-based Olive Diagnostics' KG sensor uses advanced optics to analyze molecules in urine, including various proteins, ketone and creatinine, as well as red blood cells. KG also measures the volume, pressure, color and frequency of urination (which can indicate dehydration or a urinary tract infection), as well as pH levels.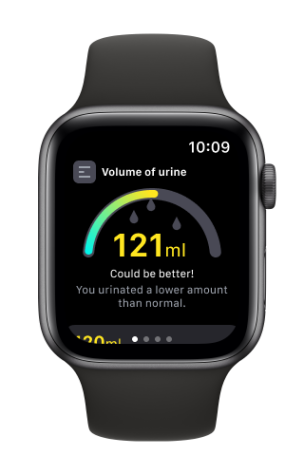 KG can translate the biomarkers in urine into warning signs for more than 600 medical conditions relevant to such illnesses as heart failure, kidney stones and renal failure.
"Olive Diagnostics enables quick and early detection of conditions and diseases that could negatively impact the health of a person and place an unnecessary load on healthcare professionals," notes Guy Goldman, CEO of Olive Diagnostics.
Bluetooth connectivity with third-party devices was enabled in WatchOS version 8, released in September 2021. As a person wearing an Apple Watch approaches the toilet, the watch pairs with the Olive KG device mounted on the rim of the bowl.
Medical practitioners can then view directly on a dashboard the volume urinated and benchmark this to patients' previous urinalysis data or a recorded medical average. All data analysis in the cloud is subject to privacy protection to GDPR and HIPPA standards.
Olive Diagnostics was founded in 2019 by Goldman and Corey Katz. The company has raised $4 million from Maccabi Healthcare Services, Cleveland Clinic, the Israel Innovation Authority, eHealth Ventures, Amgen Ventures, Venturing, and private American investors.
Testing at Hadassah Medical Center in Jerusalem found the Olive device was highly accurate, with 98.7% sensitivity and 100% specificity.