Chesterfield to Ukraine: Family separated by distance, united by love
Bill Motchan, Special For The Jewish Light
Published March 2, 2022
Between work conference calls, Olga Gorodetsky anxiously checks text messages from her mother Valentina Timoshina. They live in vastly different circumstances. Gorodetsky is in her second-floor home office in Chesterfield and Timoshina is hiding out in a cellar storage area amidst bombing in Kharkiv, Ukraine.
Gorodetsky, 49, grew up in Kharkiv and moved to Israel as an adult. She's lived in St. Louis for 25 years and raised a family here. Timoshina still lives in her home country. She is an Israeli citizen and could have moved there or the United States before Russia invaded Ukraine on Feb. 24.
Chesterfield to Ukraine
Now it may be too late.
Nearly a half-million Ukrainians have fled as Russian rockets battered the country. Russian shelling continued early this week in Kharkiv and on March 1, a video showed a rocket striking directly in front of an administrative building in the city. The United Nations reported at least 136 civilians were killed in the first five days of the invasion. Those deaths included 13 children.
"Ukrainians did not believe this would happen, that their brother would attack them," Gorodetsky said. "Russians are bombing civilians. She did not want to leave and today she said, 'I'm so sorry that I didn't leave.' But she's in the northeast corner of Ukraine. For her to go anywhere now would be difficult. I haven't seen her for a while, so we are mostly texting. And I'm reaching out to her when I hear something on the news to see how she's doing. Just to show her unconditional love, and support."
Americans who didn't know much about Ukraine are receiving a crash course in Eastern European geography and politics by watching the news. Gorodetsky, who belongs to Chabad of Chesterfield, is proud of her Jewish and Ukrainian heritage and of the leadership shown by the country's Jewish president, Volodymyr Zelensky, who is Jewish. She is eager to share with others why she loves her home country and the conviction to freedom they hold dear.
Ukrainians are tough as nails
"Ukrainians are tough as nails," she said. "There are long lines to donate blood. Everybody wants to pitch in and the lines to defend the country are long. They are also grateful for the support of the world.
"I'm praying every minute and every day for justice and for Ukraine to win. They look like they are very outnumbered. But now they have a lot of support from Europe and a lot of the world is uniting. I think they still have a huge battle ahead of them and huge work on rebuilding the country, but I think that's their war for independence. They want to win."
Timoshina and the Ukrainians in her building have water, food, and electricity in their basement makeshift bomb shelter. That is small comfort for Gorodetsky, who is struggling to stay positive given the Russian Army's resources.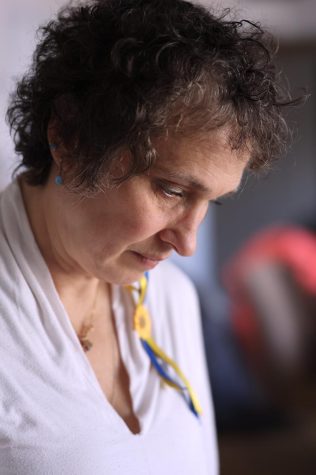 Texting Ukraine from Chesterfield
"I feel an entire range of emotions from anger to hope to worry to trust in G-d that things won't happen," she said. "I can't really sleep much. So I'm watching TV, and then calling or texting my mom."
Gorodetsky's husband Uri is also Ukrainian. Their son Daniel, 30, lives in Los Angeles and has expressed an interest in fighting for his homeland. Their daughter Tali, 21, is a student at Tulane University and is also proud of her Ukrainian heritage.
"In 2018, I took my daughter to Ukraine a year before she started college," Gorodetsky said. "We went to my mom's birthplace in central Ukraine. And we went to Kharkiv and walked everywhere. It's a very beautiful city, very European. There are a lot of young people and coffee shops everywhere. They have beautiful things in the winter, a big ice-skating rink in the town square. We were planning to go Next year. G-d willing we will be there to support them."
She looks forward to that trip with her family, hopefully in a peaceful environment, where they can enjoy Ukrainian delicacies like varenyky, a dumpling filled with potatoes, or sour cherries. Ukrainians consume a lot of vegetables, including beets. Not surprisingly, the country is the birthplace of borscht.
Support Ukraine from Chesterfield
Meanwhile, she is working to support Ukraine from St. Louis. On Monday afternoon, Gorodetsky and her father Evgeni Buchstab were busy making pins with yellow and blue ribbon and a sunflower, depicting the colors of the Ukrainian flag and the national flower.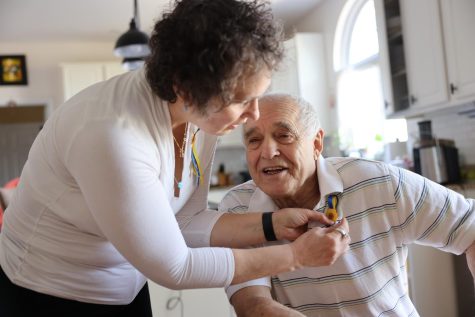 "It was therapeutic for me to make the flag pins," she said. "We all need to advocate in the way we can and the way that's natural for us. Some people do it with fundraisers. Other people just speak and tell stories. I think I'm a storyteller. So for me, this is very therapeutic and healing."
Gorodetsky said it's important for Americans to understand the ramifications of the Russian invasion and how it impacts them.
"I don't think Russia anticipated such harsh sanctions," she said. "It also puts the world at risk for nuclear attacks. For us as Americans and Europeans and the whole world, we will face higher inflation. I know it's hard and I am grateful for every American for their support.
"I don't wish any harm to any of the Russian soldiers. These poor kids have been sent to the slaughter for somebody's ambition. I wish for peace. I wish for them to return home."