Car parade celebrates 3rd grader's return home after brain cancer surgery
The Creve Coeur police and K9 unit and the Creve Coeur Fire Department showed up as did Louie, the mascot of the St. Louis Blues. The principal of Bellerive Elementary was also on hand, along with the school's roadrunner mascot, as well as massive tow trucks from McNamara's Towing & Transport, Midwest Off-RoadHERS — a women's-only Jeep group — and members of a local Tesla club.
Dozens of friends and relatives also braved below-freezing temperatures to take part in a car parade last Sunday to welcome home Drew Patchin, a third-grader at Bellerive. He had spent roughly six weeks at St. Jude's Children's Hospital in Memphis, undergoing 30 rounds of radiation, following surgery in September at St. Louis Children's Hospital to remove a cancerous tumor on his brain.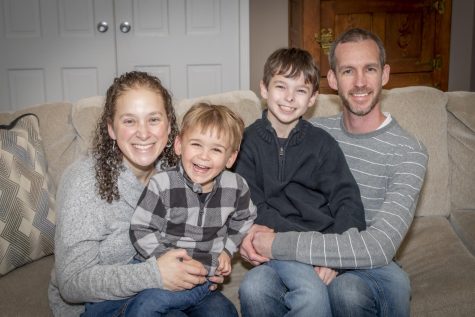 Drew Patchin
Drew, who is 8½, was diagnosed in 2019 with ependymoma, a tumor that can form in the brain. Soon after the diagnosis, he underwent 29 hours of surgery to remove the tumor, which was also followed by 30 rounds of radiation.
For roughly two years all seemed fine, until this fall when a routine scan detected the new tumor on his brain.
His mother, Jennifer Patchin, explained that this time around, doctors at St. Louis Children's didn't want Drew to undergo radiation again because they felt it was too risky. And while doctors at St. Jude's agreed that there were risks involved, they felt radiation would be his best chance.
"There is a lot of fear that the radiation could cause brain damage," said Patchin, who was with Drew during his time at St. Jude's, from Nov. 15 to Dec. 30. "We don't know what the outcome will be yet. The doctors said typically this kind of damage could show up four to eight months after the radiation was completed."
Patchin said doctors also told her and her husband, Doug, there is a 60% chance of a tumor on the brain recurring.
"They have told us if it returns, they cannot radiate again," said Patchin. "If it does come back, they will continue to take out the tumors until there is too much scar tissue and cannot operate safely."
The Patchins, who live in Creve Coeur, are members of Temple Israel. In addition to Drew, they have a younger son, Tyler, who is 4.
Back Home
"Since Drew has been home the two boys are so happy to be together," said Patchin, adding that they did see each other in Memphis, too, when Tyler and his dad would visit on most weekends. The family was able to spend Thanksgiving together in Memphis as well as Tyler's 4th birthday.
But they decided to postpone any real Hanukkah celebration until Drew's homecoming. On Wednesday, they lit the first night candles. On the eighth night, the boys are getting a very special gift that neither is likely to ever forget (sorry, but I took a mother's oath to keep it a surprise!).
"Right now, we're all about making memories and doing everything we can for our kids," said Patchin. "We're making sure we don't look back and regret things we didn't do. I hope 10 years from now we'll look back and say that we didn't have to do all of this, but we just don't know what the future holds."
As difficult and uncertain as the situation is, Patchin focuses on staying strong and positive for her kids. She also feels tremendous gratitude and thanks. She adds that both the Memphis Jewish community and the St. Louis Jewish have gone "above and beyond" to make sure her family's needs were met.
"We could not have a better village," she said. "I feel for so many of these cancer families that don't have the village behind them that we do. I wish everyone going through this had the support we have. We continue to receive so many messages from people telling us that we are in their thoughts and prayers. I can't tell you what that means to us."
As far as Drew is concerned, he seems to be taking it all in stride. His aunt, Debbie Schultz, says Drew often tells his family he's "famous" because of his brain cancer.
According to many who showed up for the parade Sunday, Drew is better than famous – he's a hero.