Amy Fenster Brown: It's that time of year again. #backtoschool
AMY FENSTER BROWN
Published August 29, 2021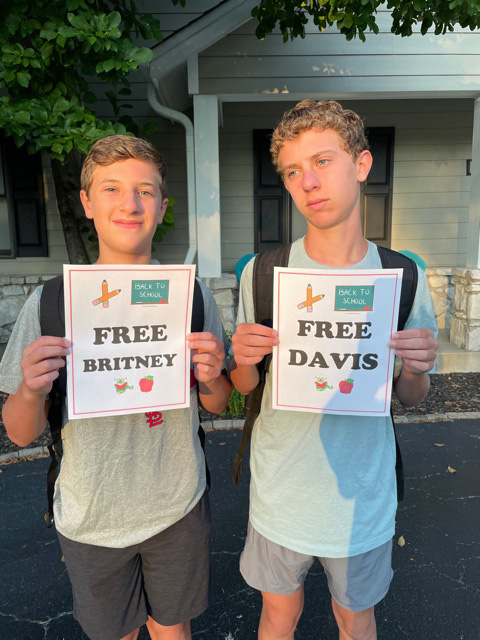 It's back to school time! Kids look forward to seeing their friends and … well, that's about it.
For the most part, kids aren't excited to get up early, sit in classrooms all day and have homework at night. They will rarely admit to liking the structure that the school year brings. Having a routine and set expectations are good for everyone, even though the freedom of summer break is way more fun. #summerfun
I can barely type the words you're about to read, but here goes:  This school year, I will have two sons in high school. I know lots of parents in my same boat cannot believe time flies the way it does, and many wish their little angels went back to being little. I actually have enjoyed all of the ages and stages and truly look forward to watching as my boys become young men.
Officially I'm the shortest one in the house, so I actually have to look up at them to see it unfold. #manchildren
I was once in high school, back in the 1900s. I got amazing grades, excellent marks in citizenship, I respected authority and never had to be reminded to do my homework. Wait, got a little confused here. By "I," I mean my husband, and so far, our kids. #whoops
The daughter of parents who both had master's degrees, one from an Ivy League university, the other who skipped two grades in high school, I understand there is a phenomenon of certain genetic traits skipping a generation.  Well, because I'm not "book smart" I don't totally understand it, but I kind of get what it means. Lucky for me, my kids don't read my column, so if they ever find out the truth, I'll know to blame one of you lovely readers. #storyteller
What I loved about back to school time was shopping for clothes and supplies. At school, I loved being in theater and hanging out with my friends between classes. Sometimes, I enjoyed hanging out with them when classes were actually in session, even though we weren't always in the actual classroom. My parents would see my attendance and wonder how I wasn't in class certain days when they knew they had dropped me off at the school. #mysteries
One year, I took a class called "independent study," which is like a free period during which students should be catching up on homework or meeting with teachers for extra help. In an effort to keep me on track, my mother wrote "advanced math" on that line of my schedule so I could feel like I was skipping a class every single day, hoping I wouldn't skip the others. #solutions
Luckily, my kids take after their father when it comes to school — taking on challenging classes, doing their homework without being asked and getting terrific grades. I'm on task to have activities and schedules marked on the calendar, and I'm generous enough to make the boys breakfast up to three times each school year. #overachiever
I do have one sort of "schoolish" success to report. While making the boys' lunches, I learned to put peanut butter on both sides of the bread with jelly in between, so the bread doesn't get soggy. It's like a sandwich within a sandwich. It's like a real science project. #brainiac
The days are long, but the years are short. The days your kids have honors trigonometry homework are even longer. #askdad
Monthly columnist Amy Fenster Brown is married to Jeff and has two teenage sons, Davis and Leo. She volunteers for several Jewish not-for-profit groups. Fenster Brown is an Emmy Award-winning TV news writer and counts time with family and friends, talking and eating peanut butter among her hobbies.