Winslow's Table debuting babka!
Jordan Palmer, Chief Digital Content Officer
Published September 15, 2022
Sadly, last month there was a disturbance in the force for those of us who love a good babka. Broyt Baking Co., a small baking outlet located in Creve Coeur, announced it was shutting down operations, creating a vast void in the babka-loving world. Fear not, there is new babka to be enjoyed.
Nestled along the stretch of Delmar Boulevard, just west of the Loop, sits the quaint building housing Winslow's Table.
It's one of those charming places that provides locally sourced food, craft beverages and unique gifts. The kind of place that makes you feel excited about weekend brunch. And this weekend there is a new reason to check Winslow's out, babka.
What is babka?
Babka is a yeasted dough that gets rolled out and spread with filling, then rolled back up, cut, and braided before baking. It is traced back to Eastern Europe and after baking becomes a sweet bread typically layered with chocolate, cinnamon and sugar.
"A good babka starts with the best ingredients like farm fresh eggs, good butter and high-quality chocolate," said Winslow's Table lead baker Josh Novak. "Our babka stands out from others because it is twisted into smaller rounds that make it a perfect treat for one or two people to enjoy."
Novack will be baking babka with the two most popular flavors, chocolate and cinnamon, because he says they pair very well with the buttery bread that they are folded into.
"I roll our house-made brioche dough into a sheet and spread a generous layer of melted chocolate with cinnamon sugar across it. Then I roll it up and cut it down the middle to expose the chocolatey layers, which I form into little babka knots," said Novack. "They will be available fresh out of the oven every Saturday morning around 9 am, and will cost around $7.00."
Winslow's Table is located at 7213 Delmar Blvd. in University City. It is open from 8 a.m. to 3 p.m. Wednesday through Sunday.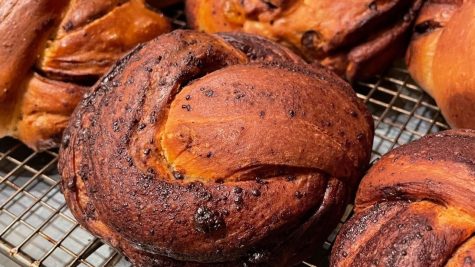 ---
Related: Winslow's Table debuting bagels to see how we like 'em
---